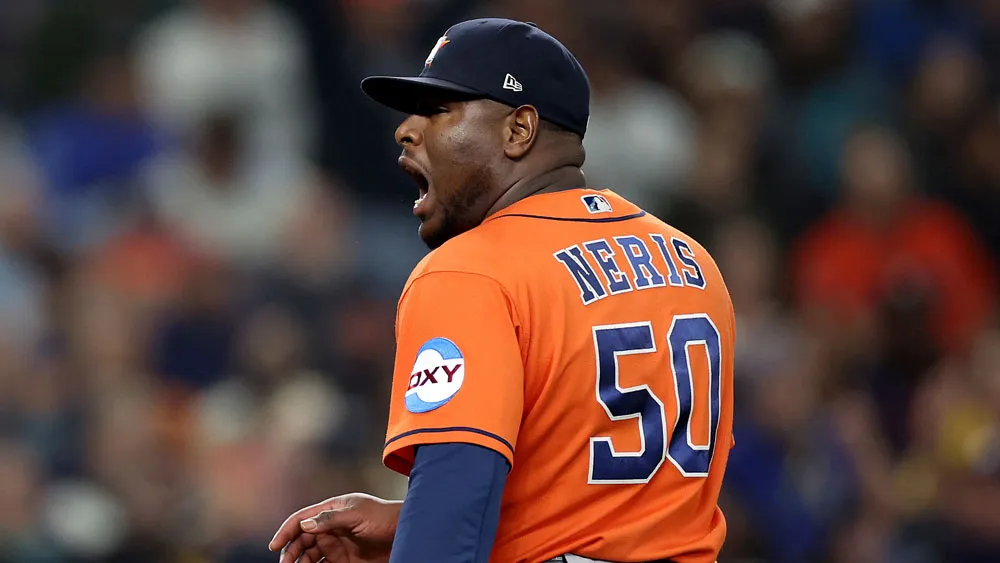 Spanish Anti-Gay Slurs are Making the Rounds on the Field and Off
Over the past few days, public figures have been accused of using gay slurs in Spanish. On a baseball field in Texas and at a political dinner in Colorado.
On the Baseball Field
The baseball incident cleared the benches during a game between the Seattle Mariners and the Houston Astros on Wednesday night. It was said to have been caused by the Astros pitcher Hector Neris use of a Spanish anti-gay slur aimed at Mariner Julio Rodríguez. "Neris started yelling at Rodríguez, who was visibility angered by the pitcher's actions," reported ESPN. "Neris said after the game that he and Rodríguez are friends and downplayed the incident."
"Major League Baseball has confirmed it is investigating the incident in the sixth inning which overshadowed the Astros' victory over the Mariners," adds Outsports.
Mariners third baseman Eugenio Suárez was angered by what Neris said.
"From the beginning I thought it was a joke because before today they have a really good relationship," said Suárez, who was on deck at the time. "And then he started talking bad words in Spanish. He started doing something that is not good for people who speak Spanish."
In his denial, Neris apologized to reigning AL Rookie of the Year Rodriguez and claimed that although he was attempting to engage in "friendly ongoing banter", he should not have approached him in such a way.
Neris wrote in conclusion: "There were reports that I used a homophobic slur, which are simply incorrect.
"That did not happen and any suggestion to the contrary is wrong. My mother raised me to love and respect people for who they are and that is how I live my life."
He later spoke to the press through an interpreter and said: "I was just as surprised as you guys hearing that report when it came out. Maybe it's one of those things that was taken out of context. Maybe I should have smiled at the end of it. It looked wrong, obviously, me charging at him. I didn't say anything else other than what I just said, other than saying 'coño'."
According to Chandler Rome for The Athletic (story behind firewall), the interpreter was asked what 'coño' means and replied: "Like f–. F–ing hit."
"Writing for the Houston Chronicle, Matt Kawahara put it thus: 'An Astros interpreter said "coño" is an expletive that in this instance was used for emphasis. The word's meaning can vary based on how and where it is used, according to online language references," reports Outsports.

Our Esquina (@OurEsquina) reports in a tweet: "According to @kory_kosky, Neris told Rodriguez, ""Batea, Batea, batea coño, va de ahí"
Coño means different things throughout Latin America.
Neris essentially said, "Hit it, hit it. Hit it (f-cker). Get out of here."
"Several lip readers and linguists on social media had already identified that as the word Neris used and discussed its context," adds Outsports.
Rodriguez did not speak to reporters immediately after the game, waiting until Thursday to address the incident in quotes carried on the MLB website.
Referring to Neris, Rodriguez said: "As somebody that I had a lot of respect for and that I've known for quite a long time dating back to 2020 during the pandemic, I just feel I deserve a little bit more respect."
And at a Colorado Political Dinner
As reported by LGBTQNation (by way of the Pueblo Chieftan - link behind firewall), "Pueblo County Commissioner Epimenio "Eppie" Griego (D) has been accused of using a Spanish anti-gay slur to refer to City Councilor Vincente Martinez Ortega (D) at a September 16 dinner for the Southern Colorado Labor Council.
"According to Martinez Ortega and Pueblo County Democratic Party chair Bri Buentello, the only other person who witnessed the incident, Griego ended a brief, contentious interaction with Martinez Ortega by saying, 'Laters, j**o boy.'"
Buentello asserts that Griego tried to justify his use of the word, calling it Spanish slang. "He didn't turn around and deny it when I publicly confronted him," Buentello said. The conversation was corroborated by Buentello's spouse, Colorado state Sen. Nick Hinrichsen (D), who said that Griego tried to justify his use of the word Griego reportedly left the event soon after speaking to Buentello.
In a second report, the Pueblo Chieftan wrote that Griego released a message on Thursday night through a county spokesperson. "I respect the communities that I serve, including the LGBTQ+ community," Griego wrote. "As reported I did not utter the word that is being accused of me. This was a private conversation and not a public comment. It's unfortunate that someone has decided to disclose a private conversation."
On Thursday, the Southern Colorado Equality Alliance, a local LGBTQ+ advocacy organization, sent a letter to county commissioners demanding an apology from Griego and asking the Board of County Commissioners to censure him. The Southern Colorado Labor Council and the executive board of the Pueblo County Democratic Party co-signed the letter.
They wrote word allegedly used by Griegio "has a long and violent history as a Spanish pejorative slur against the LGBTQ+ community."
"Since the word is often connected with anti-LGBTQ+ violence and hate crimes, when heard on the street it is usually safer to shoulder it and carry on, but when the word is used by an elected office-holder in our community, there must be consequences," the letter continues. "Pueblo deserves better from its elected leaders."
Griego is something of a renegade amongst Democrats. He was censured by the local Democratic party in 2022 for endorsing Republican candidate Zach Swearingen in a race for an open commissioner seat. Griego was also removed from his position on the Pueblo County Democrats' central committee.
---