Gay Los Angeles: The Latest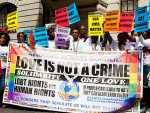 A human rights lawyer in Uganda says 75 people will be charged in court after police raided a gay-friendly bar. Activists call it the latest attack on the LGBT community.
Former U.S. President Jimmy Carter was going into surgery Tuesday morning at Emory University Hospital to relieve pressure on his brain, his spokeswoman said.
On Veterans Day, President Donald Trump paid tribute to America's troops at a New York City parade as top 2020 Democratic candidates outlined their plans for the Department of Veterans Affairs, such as naming a woman to run the agency for the first time.
Hillary Clinton says she's "dumbfounded" that the U.K. government has failed to release a report on Russian influence in British politics as the country prepares for national elections.
A federal judge in Washington has dismissed a lawsuit from President Donald Trump against New York officials aimed at preventing the release of his tax returns.
Two well-known scientific groups have dropped job postings from their websites from Brigham Young University because of the school's LGBTQ policies, igniting a debate on whether research organizations should take a stance on social issues.
Sen. Amy Klobuchar says she and other top female presidential candidates wouldn't be on the debate stage if they had the same experience as Mayor Pete Buttigieg.
After Michael Stipe opens a gate to the abandoned Manhattan storefront that serves as his studio, you find a man easily traversing his past, present and future creative lives.
Disney will sprinkle its pixie dust on the streaming arena Tuesday, as its Disney Plus service debuts with an arsenal of marquee franchises including Marvel and Star Wars, original series with a built-in fan base and a cheap price to boot.
More than two decades into his career as a commentator at Fox News Channel, Andrew Napolitano reached a milestone of sorts when he was called a "fool" on his own network.

Paris authorities say British singer Pete Doherty has been arrested for the second time in the space of a week.
Officials in southwestern Wisconsin are going ahead with a meeting on a resolution that calls for prosecuting journalists who edit an upcoming news release on a water quality study.
The Justice Department's top antitrust official warned Big Tech companies Friday that the government could pursue them for anticompetitive behavior related to their troves of user data, including for cutting off data access to competitors.
Sen. Elizabeth Warren's plan to pay for "Medicare for All" without raising taxes on the middle class departs from how the U.S. has traditionally financed bedrock social insurance programs.
An earthbound jet known as the Bloodhound became one of the world's 10 fastest cars last week, on target for its goal to set a new land speed record.
Ben & Jerry's is facing a lawsuit accusing the ice cream maker and its parent company of false advertising by saying the milk and cream in its products comes from "happy cows."
A rash of attacks in Portland, Oregon, have occured as the city responds to a growing number of 911 calls for patines in mental health or drug-related crises.
Travel vlogger Jon Barr offers 10 insider tips for visiting New York City.

Boston police are investigating an alleged assault on three men which took place early Saturday morning outside Jacque's Cabaret, Boston's oldest gay bar.