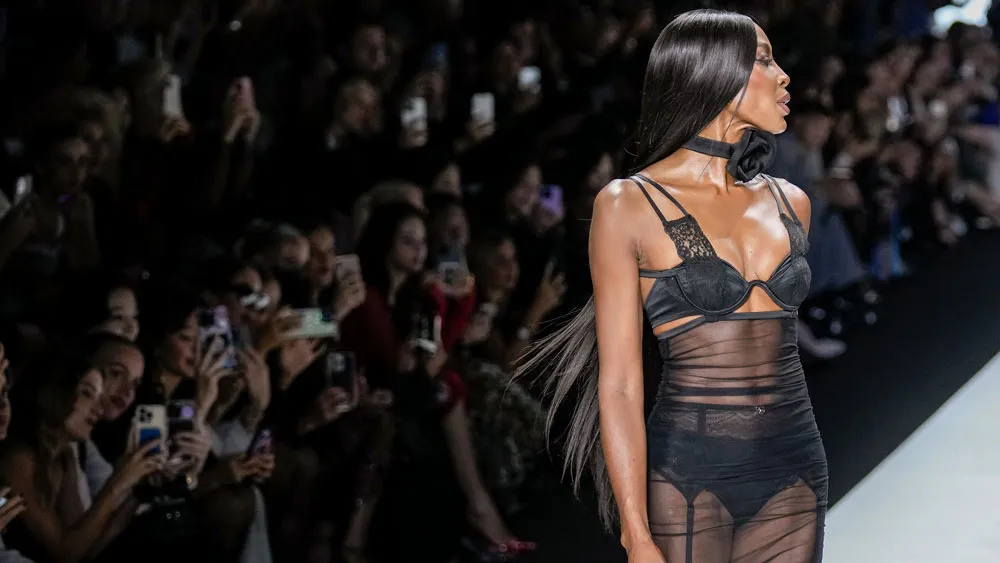 Milan Fashion Photos: Naomi Campbell Stuns at Dolce&Gabbana in Collection Highlighting Lingerie
The Milan fashion world has become a designer carousel. Powerhouse Gucci and Swiss luxury brand Bally both introduced designers this season, while Tod's bade their creative director farewell and Moschino is in an interim phase.
The question on everyone's minds: Where will former Gucci creative director Alessandro Michele, who has been out of circulation since stepping down last November, next pop up? Rumors are flying.
Some scenes from Milan Fashion Week womenswear preview shows for Spring-Summer 2024 on Saturday:
Dolce & Gabbana Take Lingerie Out Of Bedroom
The fashion crowd at the Dolce&Gabbana show almost revolted as Billie Eilish's "Barbie" anthem "What Was I Made For" looped yet again, 45 minutes after show time.
Eilish can blame Kylie Jenner, who was late for the show, for having Milan fashionistas want the song off their playlists.
With Jenner comfortably seated, the curtain opened on a Domenico Dolce and Stefano Gabbana's latest collection, exploring to the tiniest detail the beauty and artisanal qualities of corsetry, and all manner of lingerie.
Sheer tailored dresses did the job of showing off the workmanship. But even more mainstream daytime dresses, button-down pinstriped suits and print dresses were tailored to offer a hint of a brassiere, a peek of a slip. And in keeping with a bodycon trend that has made corsets, bra tops and tiny culottes part of an everyday wardrobe, some looks came down the runway completely al fresco, with perhaps a sheer stocking and garter.
Dolce & Gabbana also apparently checked the weather forecast and offered tailored raincoats. They would have been handy during a hailstorm that hit during the long pre-show wait.
The Dolce & Gabbana front row and runway alike were star-studded: Halle Bailey stood out in bright yellow in a front row of mostly black-and-white clad personalities, including Jenner, who wore sunglasses and hair pulled in a tight bun.
On the runway, Ashley Graham wowed in a sheer halter slip over black bra and panties. Naomi Campbell commanded the runway in a sheer three-quarter slip over lingerie, a look that was finished with a rose choker.
–With AP Photographer Antonio Calanni.
Bottega Veneta's World Of Possibilities

Bottega Veneta's Matthieu Blazy offered some crazy proportions for next summer, while also being one of the only Milan designers to take into account warm weather pastimes: beach and travel. Most collections on other runways seemed stuck in the city.

Blazy said the collection was inspired not by travels, but by fantasy-fueled childhood maps on the back of cereal boxes.

That is the only way to make sense of the oversized – meaning huge – intrecciato bags. Or the exaggerated hips on a dress, or big cuffs and collars on a men's shirt, their size emphasized by the zig-zag cut. Or the enormous leather pom-poms stuck on the side of a dress.

Blazy teased his ideas, opening with an old-fashioned black swimsuit, shifting back to workwear, before again appearing with a culotte and raffia bag, as his character went back-and-forth from work to holiday, until finally giving in full-on to the fantasy.

"It not about how you put your suit anymore,'' Blazy said. "It is about how you can almost become this wonder, this dream."

–With AP Photographer Antonio Calanni.
Bally Relaunches With Edgy Basics
The task facing Bally's new designer, Simone Bellotti, is to attract an edgier, perhaps younger, client while staying true to the Swiss luxury fashion house's customer base.
Bellotti's debut collection tackles the quandary with office basics elevated with tailored flair, inviting a new audience with a slight bias cut on a midi skirt, or short shorts with a leather blazer. The collection grew bolder with a twisted plaid miniskirt, which evolved into 3-D floral skirts that bloomed out of overcoats. Underlining the transition, pointy Maryjane flats had a studded version.
Bellotti added a Swiss touch with leather clad cowbells on bags, and edelweiss hanging by a chain in a mesh pouch.
"Many of these clothes that you see, I think they are good for everyone. They are nice on a 20-year-old girl or boy, but I can see them even for a person like me, I am 45, because those are classics,'' Bellotti said. "It depends on how you where it, and who is going to wear it."
Front-row guests included Adrien Brody and Quinta Brunson along with brand ambassador DK of the South Korean supergroup Seventeen, who was met by a crowd of screaming fans outside.
–With AP Photographer Antonio Calanni.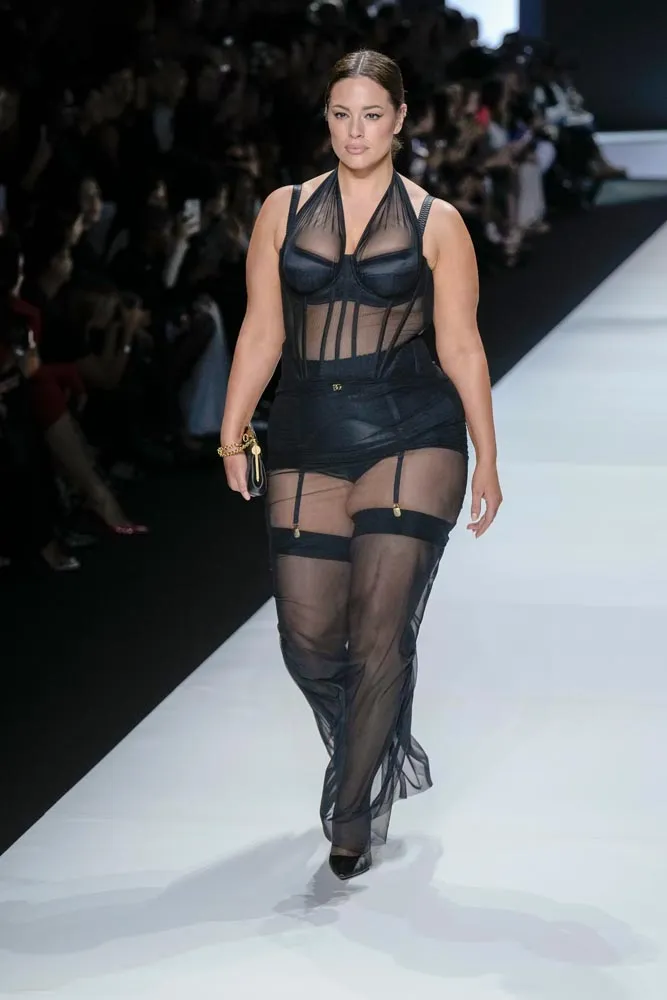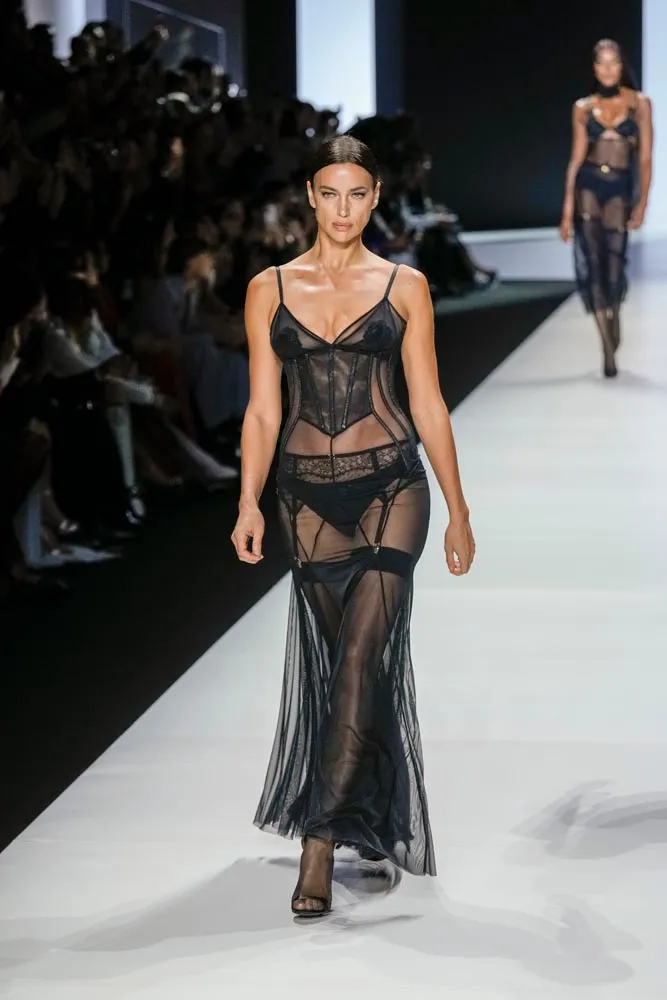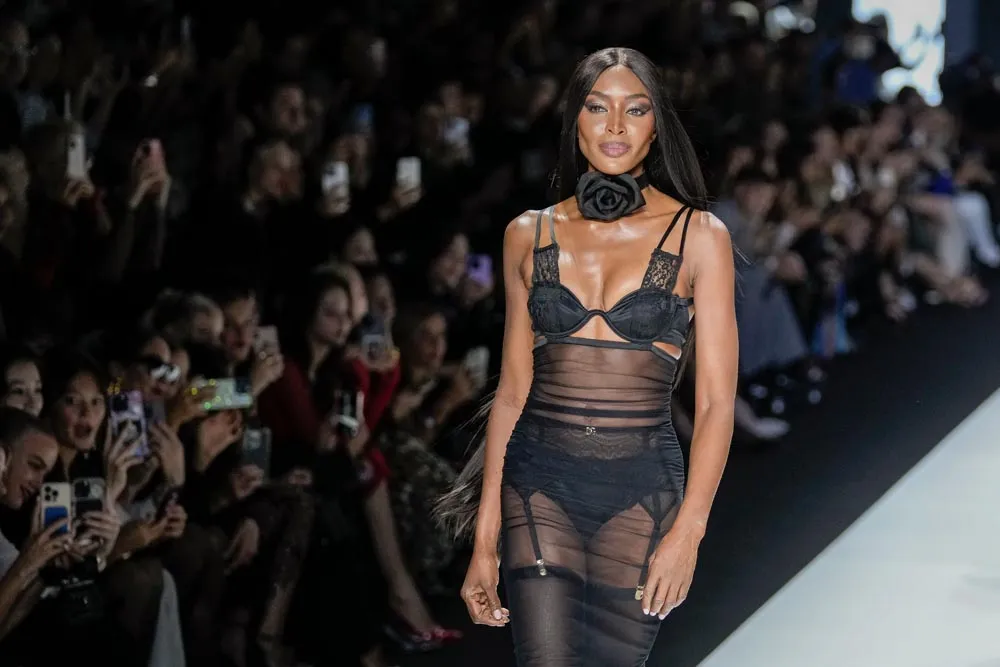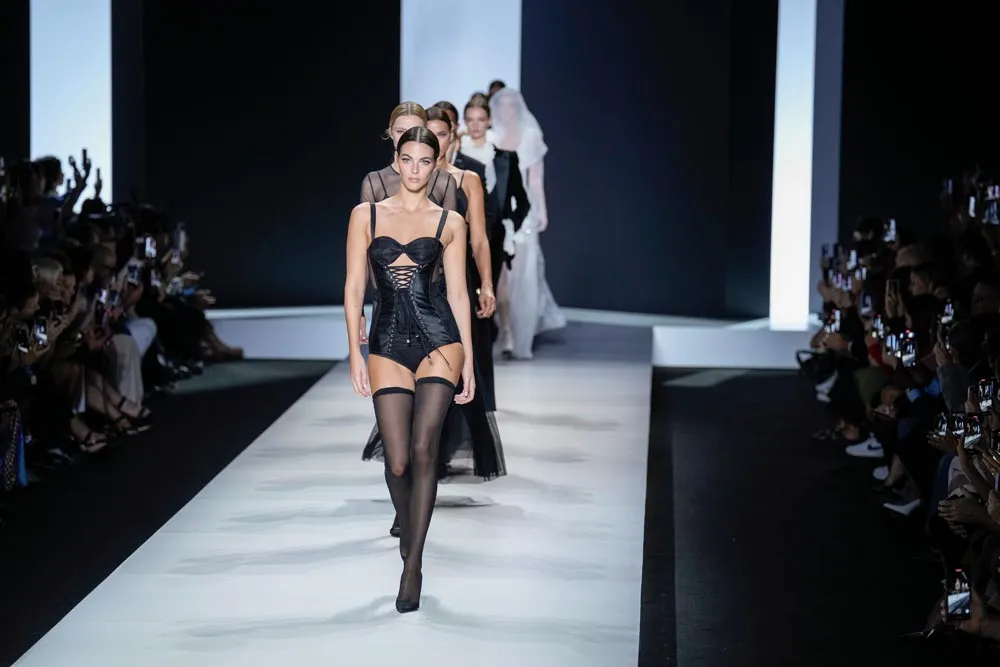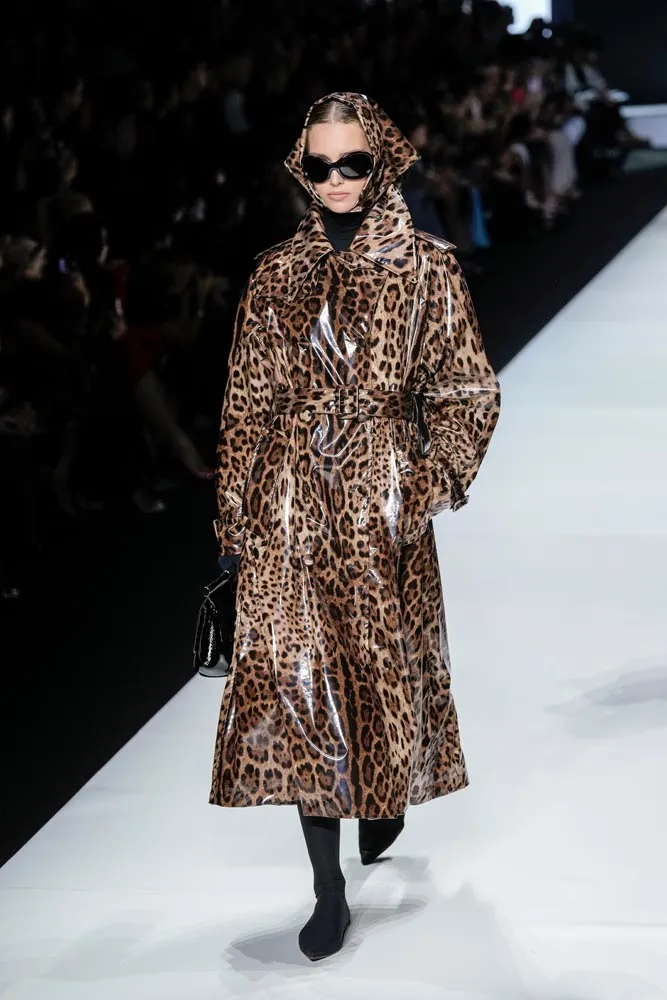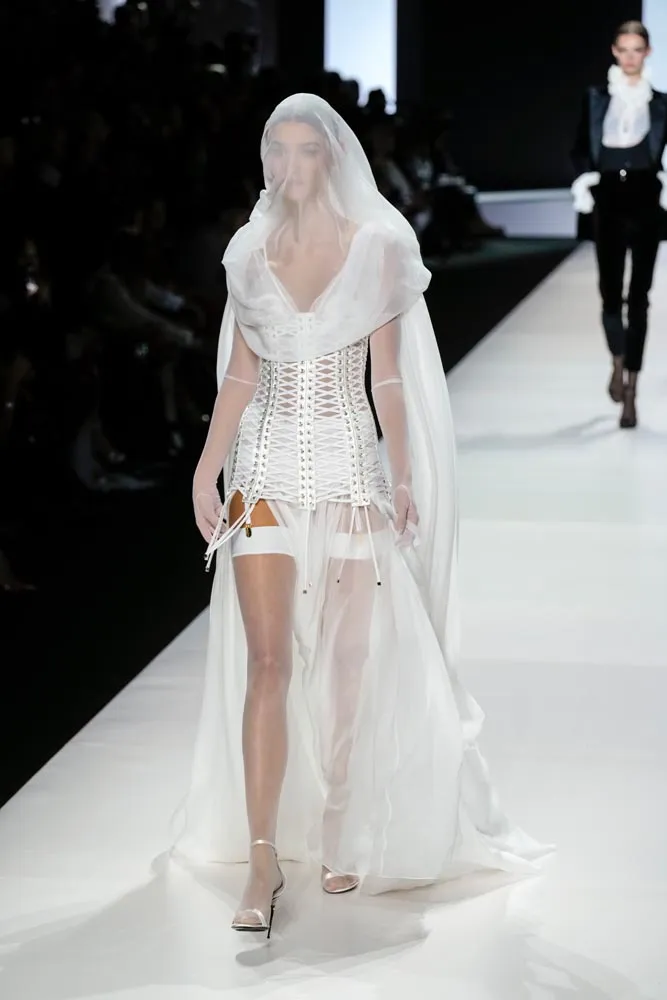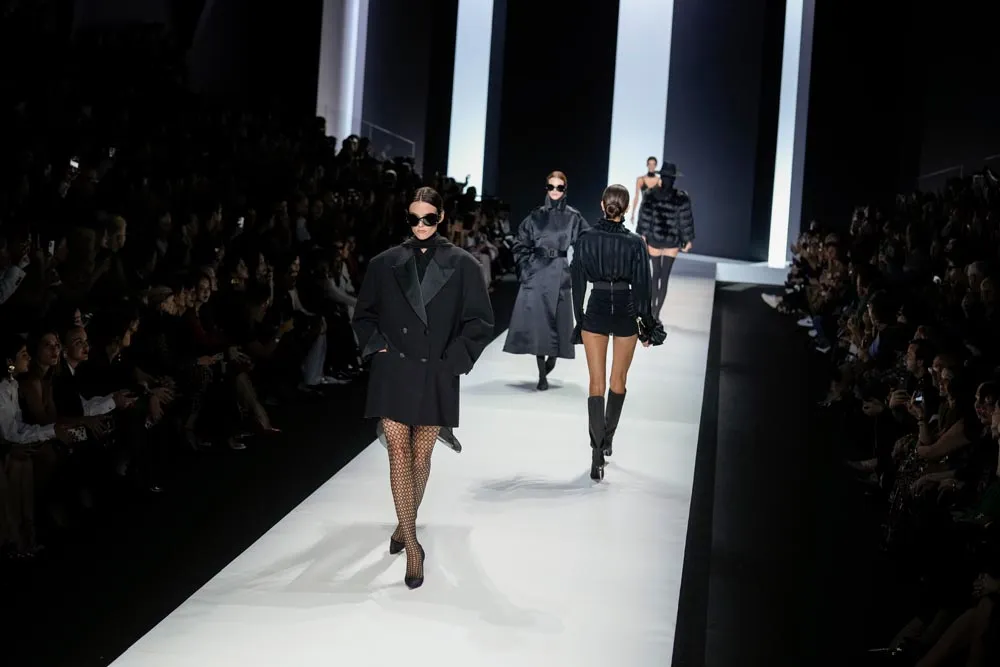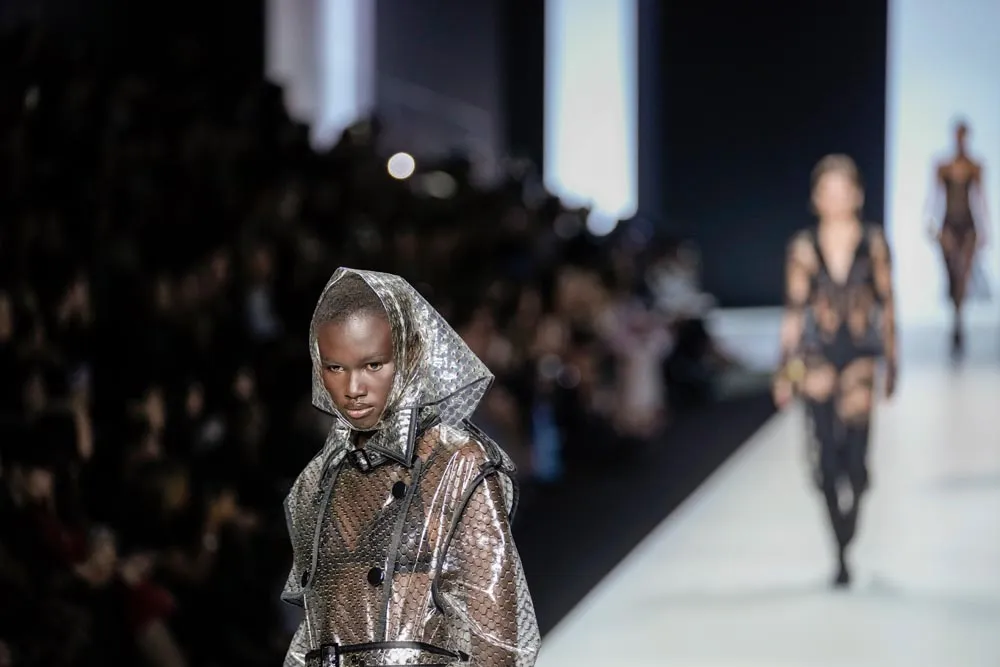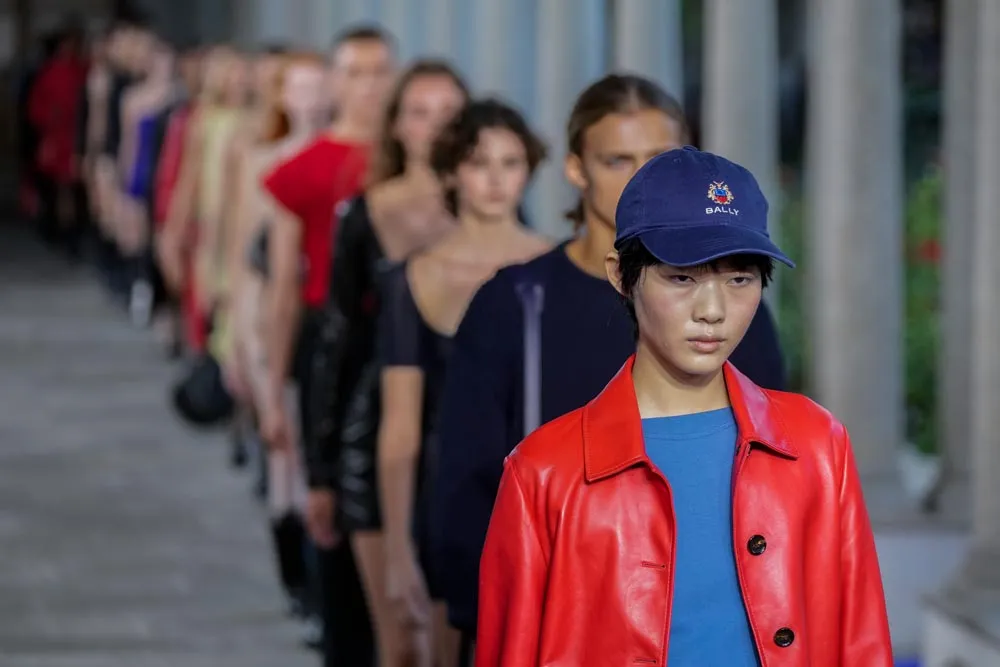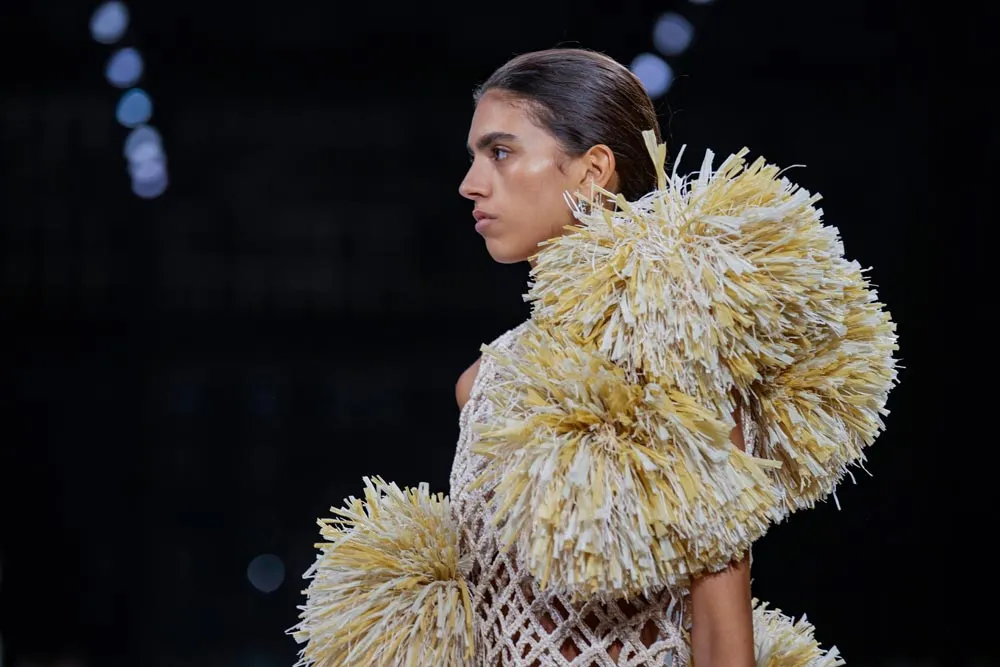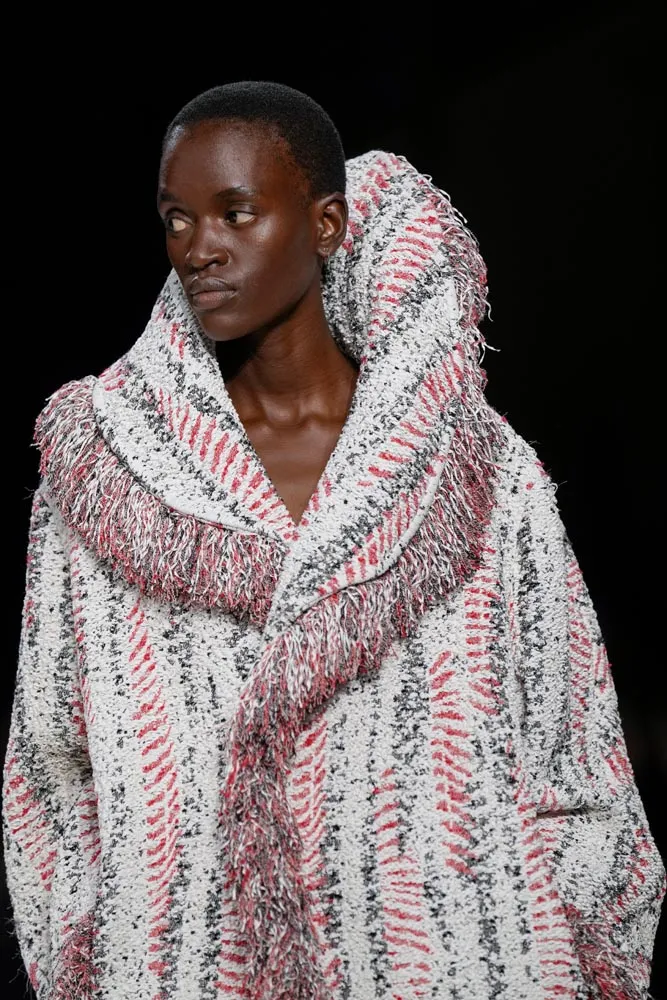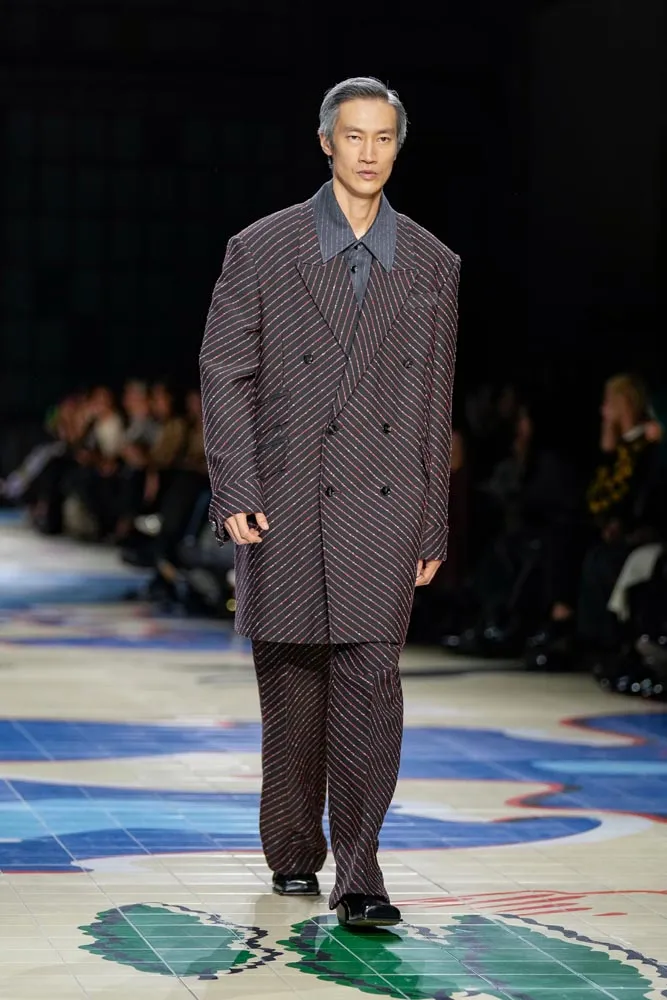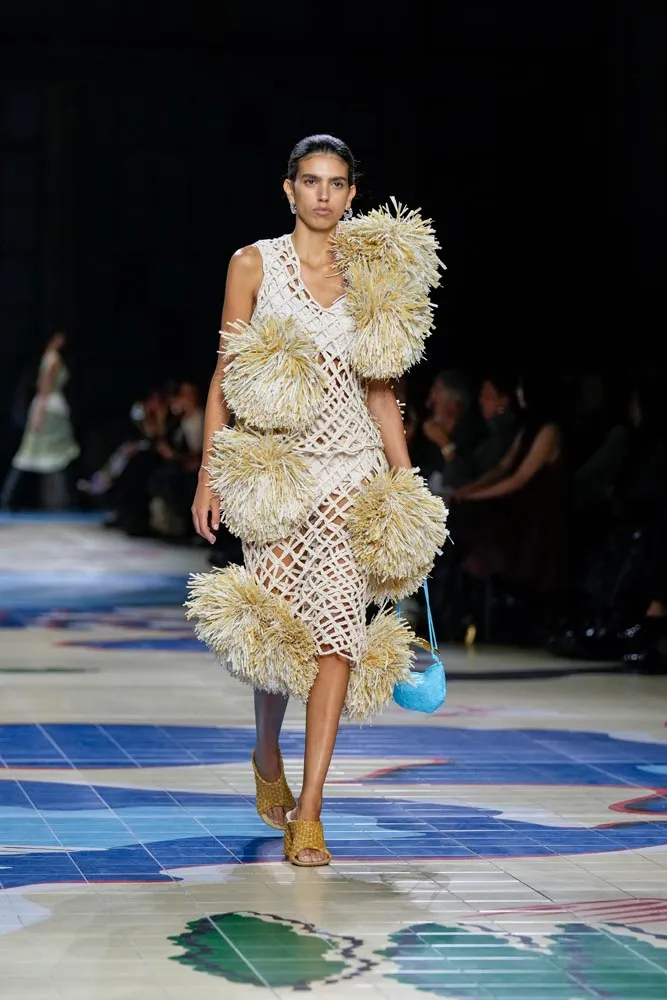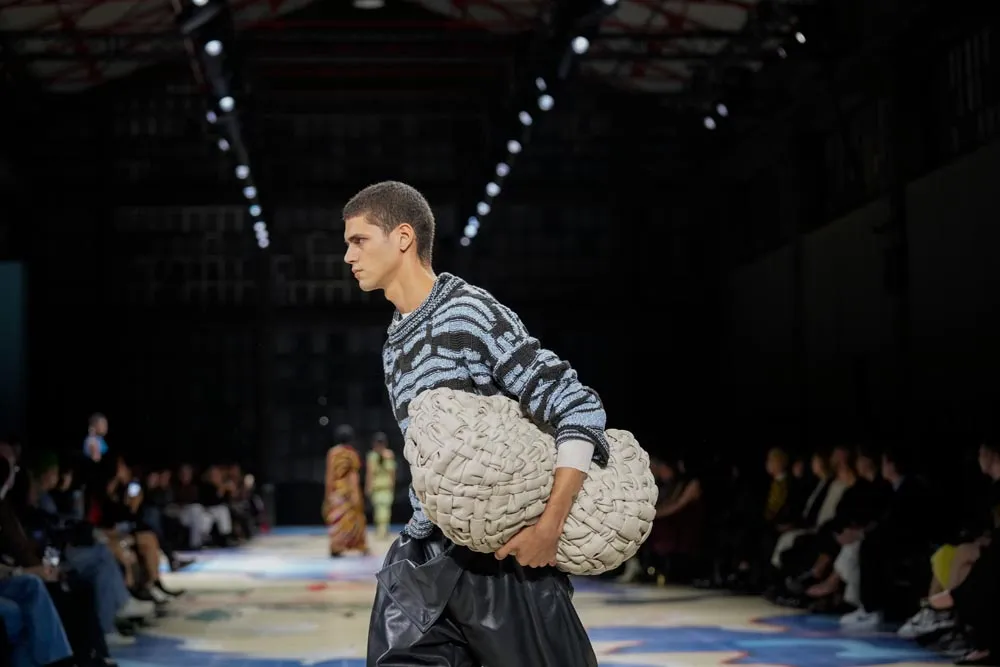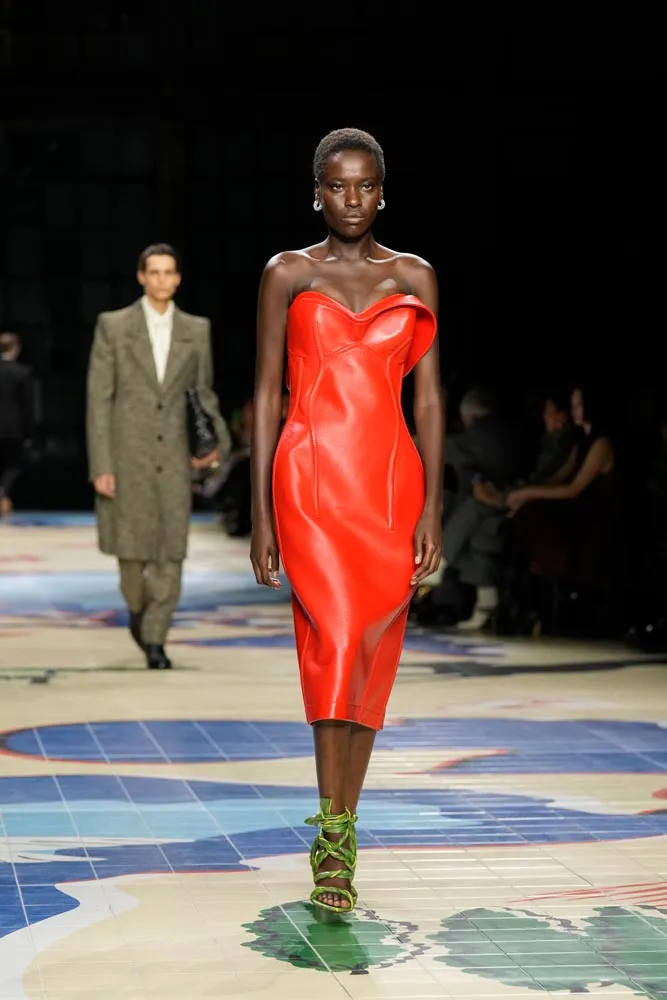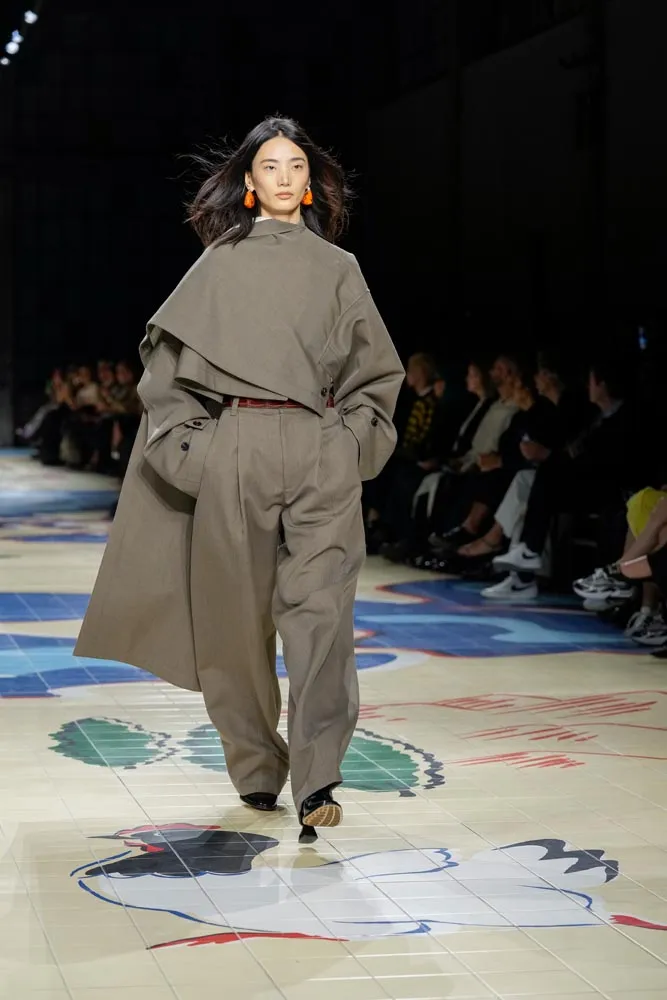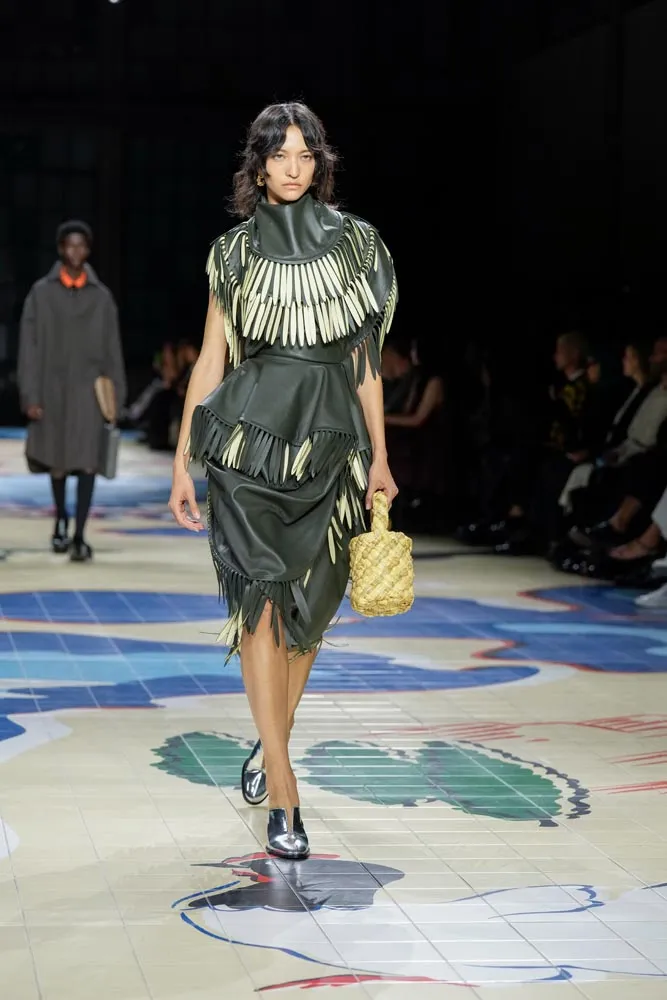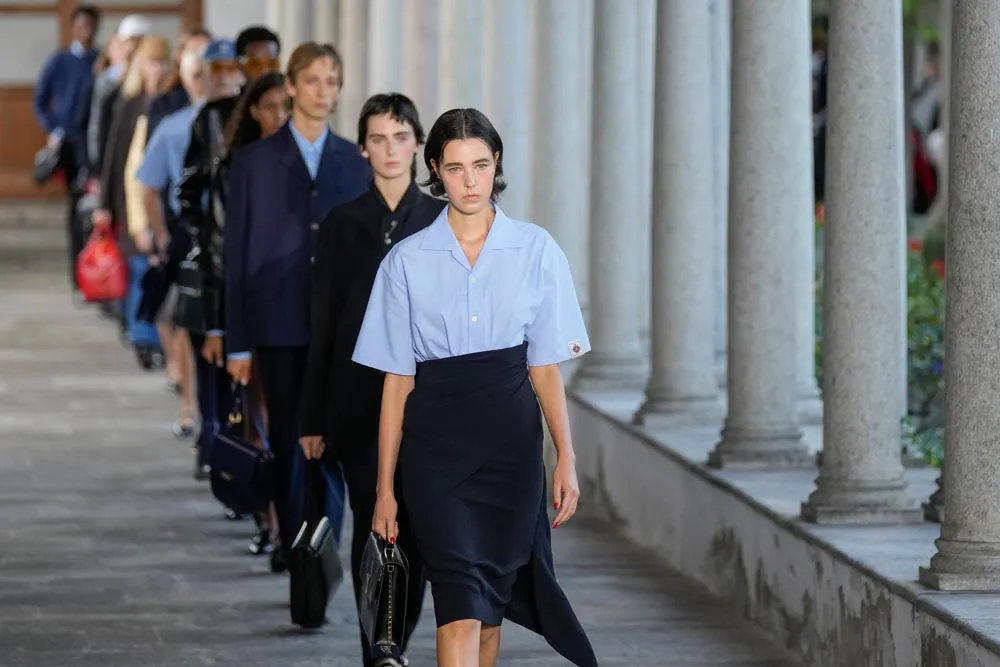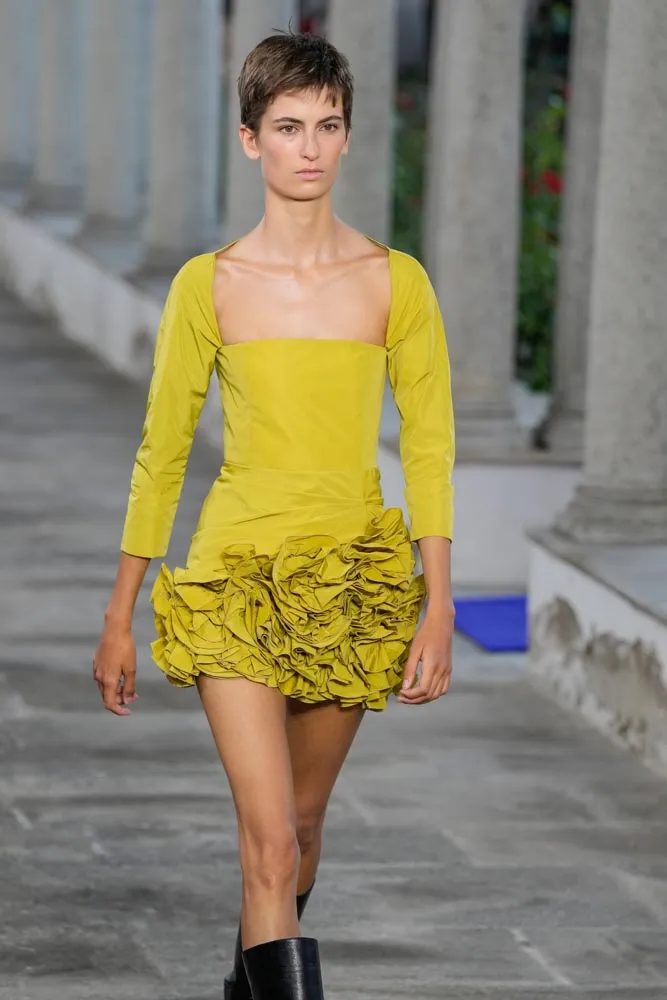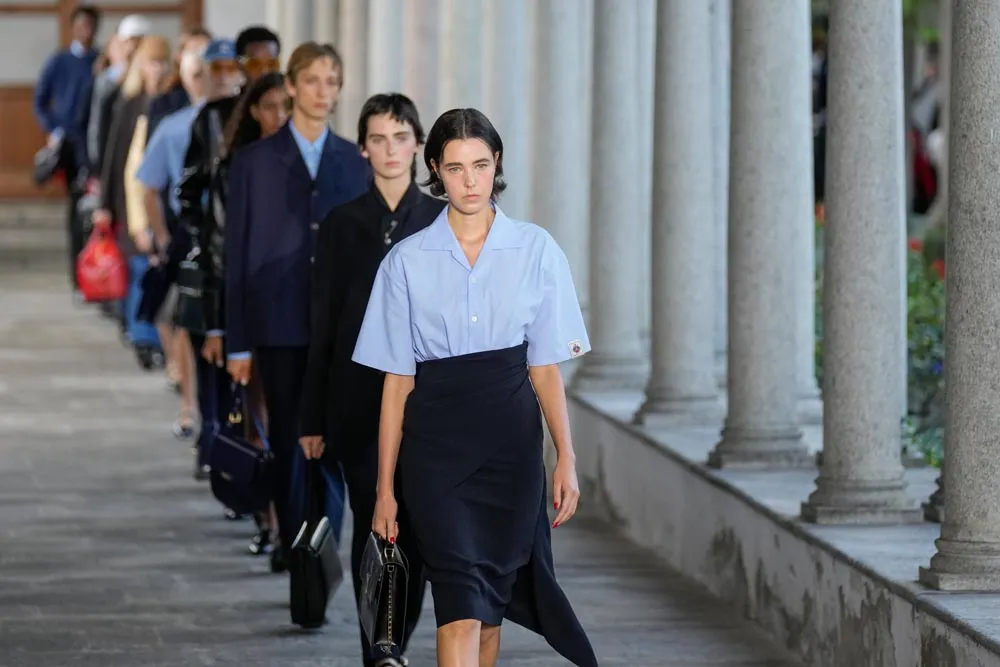 ---