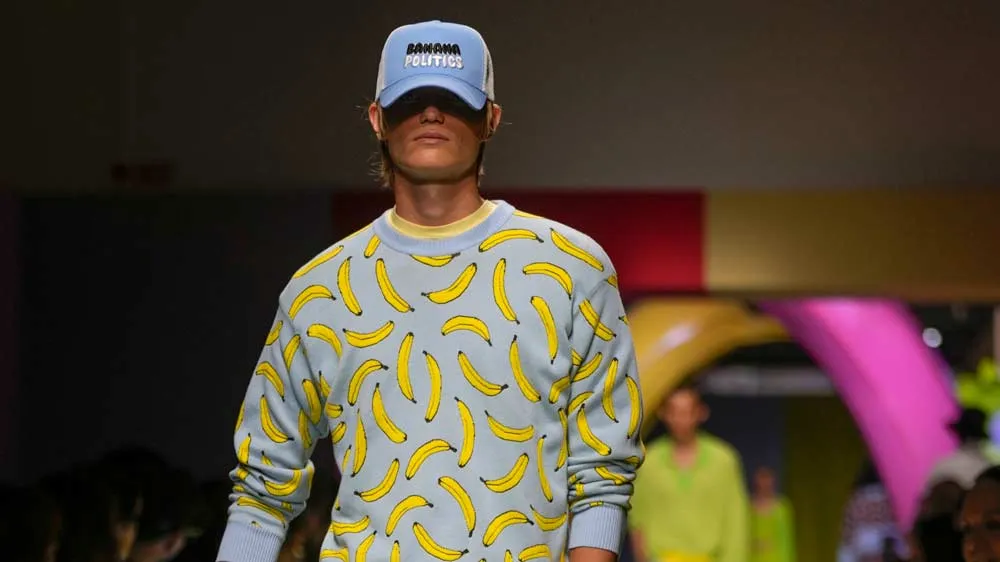 Tom Ford Relaunches under Peter Hawkings and Moschino Celebrates 40 Years
Colleen Barry
READ TIME: 3 MIN.
Milan Fashion Week continued Thursday for the second day with mostly womenswear previews for next spring and summer under a steady rain.
Here are some scenes as Milan designers try to keep the focus on warm weather:
TOM FORD RETURNS TO MILAN ROOTS
Peter Hawkings has come full circle, making his runway debut as creative director of the Tom Ford brand Thursday in Milan, where he started working with Ford at Gucci 25 years ago.
Fashionistas entered the Tom Ford world through plush, champagne-colored carpet, beckoning luxury.
Models trod comfortably on stiletto heels, showing leg in shorts worn with tailored jackets, revealing their form in clingy, floor sweeping dresses, and fully inhabiting sexy velvet suits with silken shirts with the trademark Tom Ford plunging neckline.
Hawkings freely acknowledged that his design codes owe a lot to the 25 years he worked alongside Ford, who passed the torch last April. "The design ethos is ingrained in me,'' he said backstage.
The collection was inspired by Donyale Luna, a Detroit-born Black supermodel who was a muse to Andy Warhol and Richard Avedon.
But Hawkings said his wife, Whitney, equally embodies the Tom Ford woman, one with strong opinions. The pair met at Gucci back in the day.
"I run everything by her. She will tell me whether she loves something, hates something, how it fits, how comfortable it is. I can't try the clothes on, but she can. And she can give me constant feedback," he said.
Whitney wiped tears after the show. "I feel hugely emotional about the whole thing,'' she said. "It is like going back, but it is a huge step forward. It's a lot going on. It's family after all."
–With AP Photographer Antonio Calanni
Moschino Empowers Women as it Marks 40th Anniversary
Moschino briefly passed the torch to four top female stylists as the brand marked its 40th anniversary with an homage to founder, the late Franco Moschino.
Fashion designer Carlyne Cerf de Dudzeele created a high-low, mix-match collection that can go anywhere and suit any woman. Gabriella Karefa-Johnson tapped a rap vein with high-energy hip looks featuring ruffled, tiered skirts, denim and granny squares that were size-inclusive.
Lucia Liu tapped Moschino's romantic vision, capping her collection with a cake-topper dresser with layers of pink bows, rosettes and boas, fit for the Barbie-moment. And Katie Grand let loose with dancewear from leotards with humorous graphic references and cutouts, exaggerated tutus and ironic slogans like Loud Luxury. Her models – professional dancers – brought the runway to life with a writhing, grinding, irreverent routine.
"We found the codes that we thought would be the most visually dissonant from one another,'' Karefa-Johnson said. "The challenge was creating cohesive looks within that, which is what I love as a stylist.''
A successor to Jeremy Scott, who stepped down in March after a decade as creative director, is pending. But the spirit of Franco Moschino lives on.
–With AP Photographer Antonio Calanni
Benetton Reaches Across Generations
There's a lot of floral-on-floral action in Benetton's new co-ed, generation-spanning collection for Spring-Summer 2024, unveiled Thursday on the second day of Milan Fashion Week.
The Italian brand known as much for its consciousness-raising ad campaigns as for its bright knitwear is not looking to nudge into the luxury space, but rather into the every-day rotation of colorful dressers looking for elevated basics.
Andrea Incontri, in his third collection for the brand, reimagined Benetton's mainstays and injected fun with bright monochromes that segued into the season's upbeat strawberry and banana motifs, closing with tight floral prints that the designer treats as a wildflower patch: mix and match at will.
Denim looks punctuated the color, in two sweet miniskirt-jacket combos for her and shorts for him. The collection was mirrored across generations, underlined by babies and children accompanied by model parents.
Incontri said backstage that his aim is not to create iconic pieces so much as make the wearer feel that "you are iconic. You are expressing yourself with style."
–With AP Photographer Luca Bruno
---