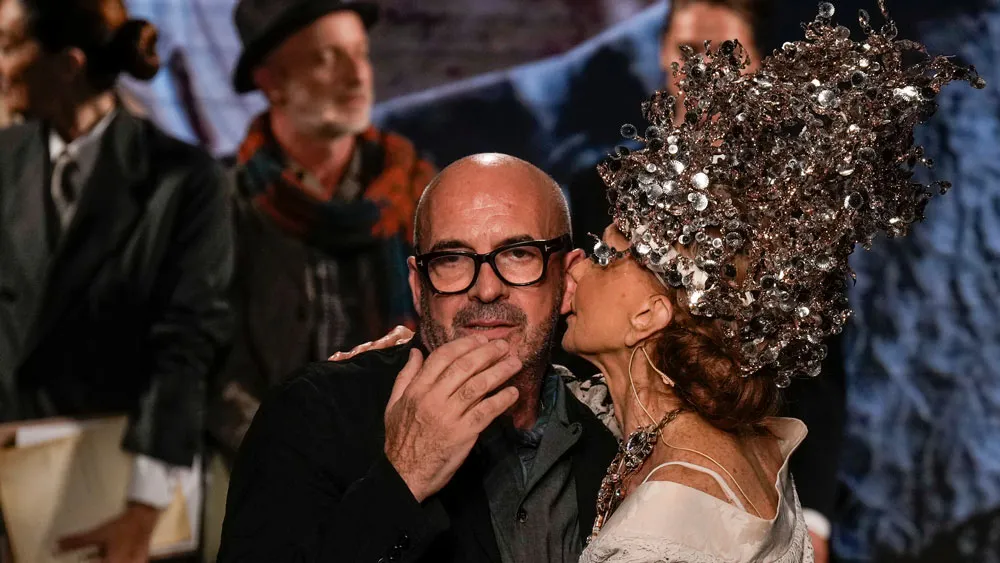 Milan Fashion Photos: Scenes From Cavalli, Marras and N. 21 Shows
Colleen Barry
READ TIME: 25 MIN.
MILAN – Milan Fashion Week kicked off Wednesday with a flurry of shows, including a rainy visual spectacle by Diesel and supermodels taking in Fendi's latest collection.
Other designers including Cavalli, N. 21 and Antonio Marras debuted their newest collections. Here are some highlights of their shows:
Antonio Marras' "Never Happy" Diva
It's never just about the runway for Antonio Marras. He creates worlds for his fashion shows.
The one he created for his Spring-Summer 2024 collection, previewed Wednesday during Milan Fashion Week, starred U.S. actress and model Marisa Berenson, who lent her considerable screen credits – having appeared in films by such greats as Luchino Visconti, Stanley Kubrick and Bob Fosse – to Marras' mock movie set.
Skipping between English and Italian, Berenson played a diva lamenting a warm Bloody Mary and her missing playboy husband, in a performance really about the fear of losing relevance.
Marras has nothing to fear there. He created a summer collection that is an edgy take on a 1940s and 1950s diva and divo wardrobe, with looks perfect for a stroll through town, for a trip to the beach, or for an elegant night out.
The designer said the collection was meant to show volumes, as if windswept. So, divas wore flowing silken caftans, lightly layered. Miniskirts appeared inflated, fitted with a tight bodice. Marras also put volumes in asymmetrical bow or bubble sleeves. For a business meeting, the diva wore fitted jacket tops that flowed into poodle skirt proportions. The divo's suits were mostly with shorts – sometimes silken, sometimes tweed with lurex threading, sometimes leather – with a loose jacket or perhaps an intarsia sweater.
Marras' movie set was inspired by the 1968 film "Boom!" starring Elizabeth Taylor and Richard Burton, filmed in the designer's native Sardinia. Colors were soft: camels and pastels, often accented with a black floral motif, and prettily decorated with lace and crystals. Rhinestone jewelry accented the looks.
The diva/divo is "maicontentu," Sardinian dialect for "never happy," which appears on garments.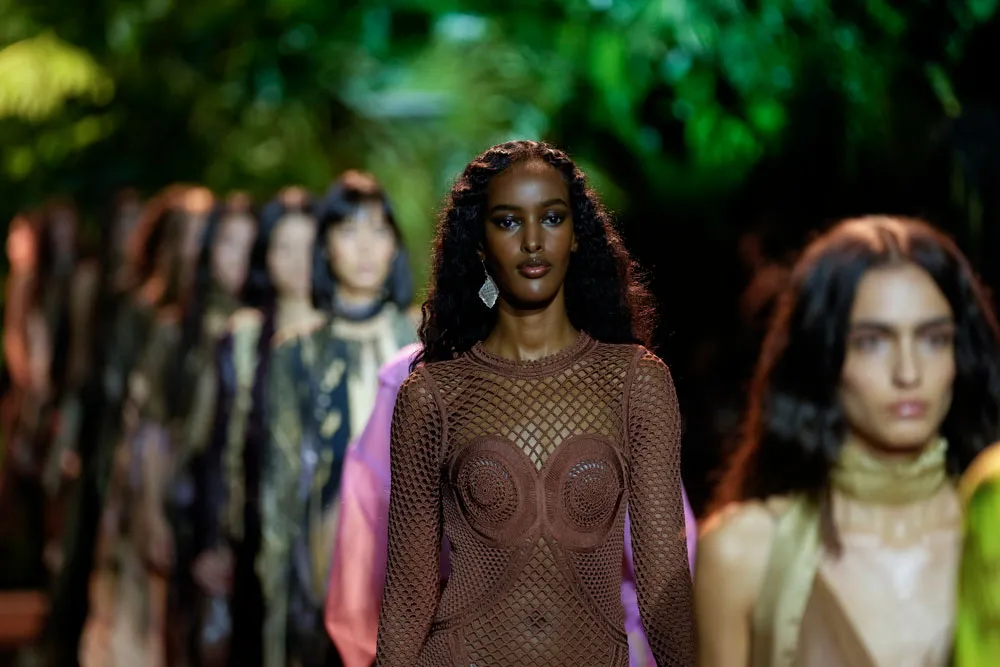 Tropical, Lush Cavalli
Against a background of lush greenery, Fausto Puglisi presented his version of a tropical Cavalli.
The collection is all about movement. Long chiffon dresses and caftans catch the air. Just about everywhere, something flutters: leaf-shaped cutouts, feathery details, trailing strips on sleeves or hems. Colors are strong: pinks and green; and prints bold, enlarged from the archives.
It is a collection for the body confident. Long printed caftans are sheer, showing while covering; necklines plunge to the bellybutton. Crocheted bra tops are worn with hip-hugging trousers, recalling the 1970s.
"It's a declaration of freedom for women,'' Puglisi said backstage. "Women don't need to show anybody (for approval), not to men, to fathers, to brothers. They just want to be happy. They want to be free."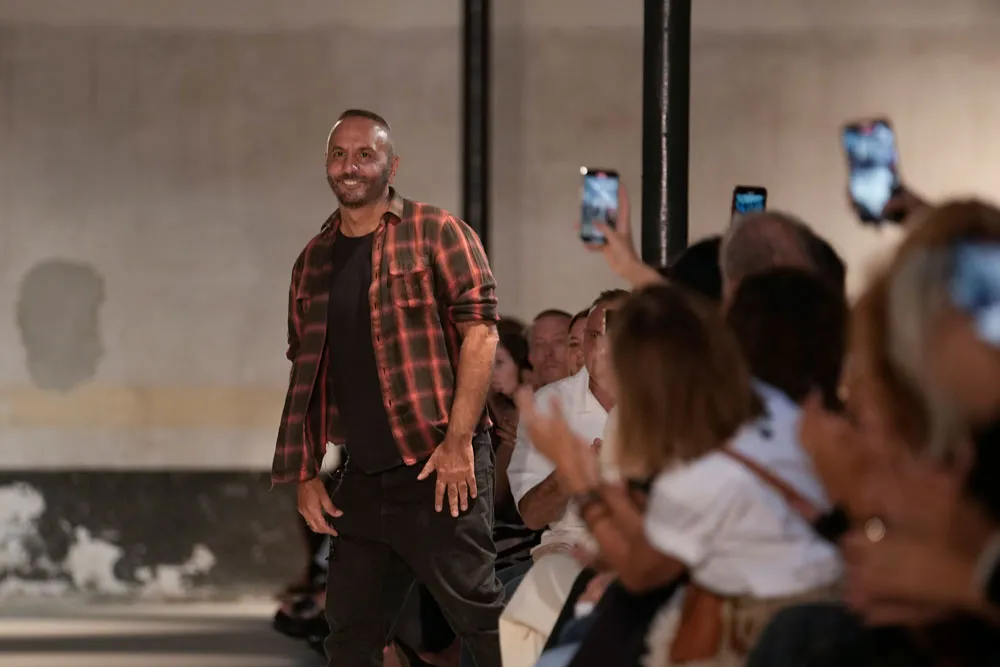 N. 21 Explores Naples
Some 40 years after N. 21 designer Alessandro Dell'Acqua departed his native Naples for Milan, the designer has for the first time dedicated a collection to his native city as it enjoys a Renaissance.
''This time I wanted to work with Naples' two souls: the aristocratic soul, and the more populist soul, let's say erotic, carnal,'' Dell'Acqua said. "They cohabitate very well together as contrasts."
The mostly white, then black, collection was sensual to a fault. Bodysuits unbuttoned to show an old-fashioned brassiere; a satiny jacket is slipping off the shoulder, as if in the process of rushing out. The feminine sheers and sequins contrasted with ribbed T-shirts, cut off at chest level, creating a sort of natural ruffle. The season staple bra tops were paired hip huggers or super minis grabbing the hipbones.
Finishing the looks, models wore pretty lace veils, held in place by a headband and just covering the eyes – a nod to tradition.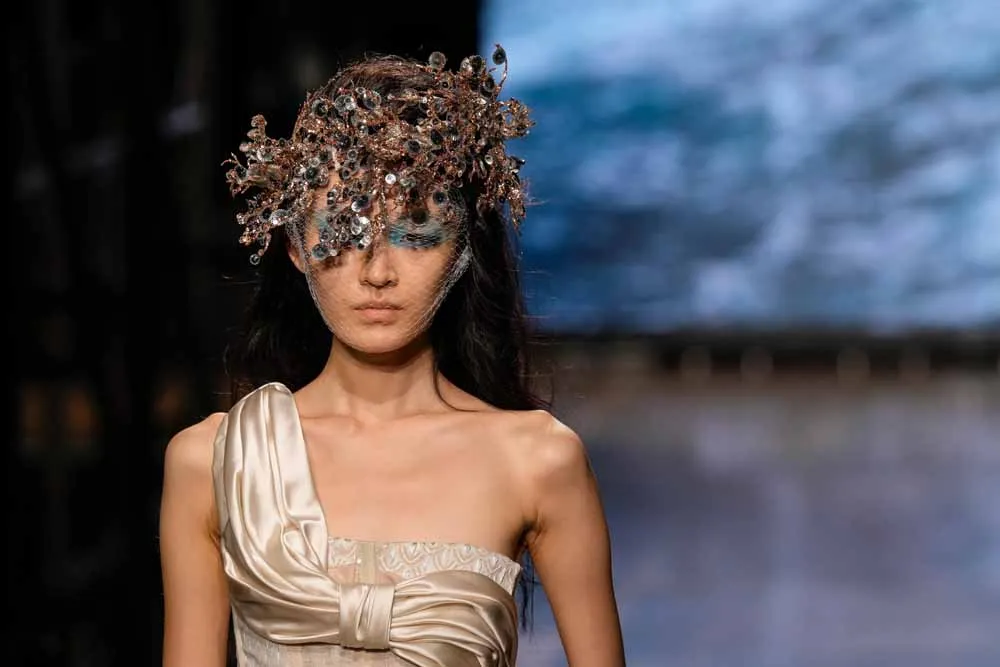 More Antonio Marras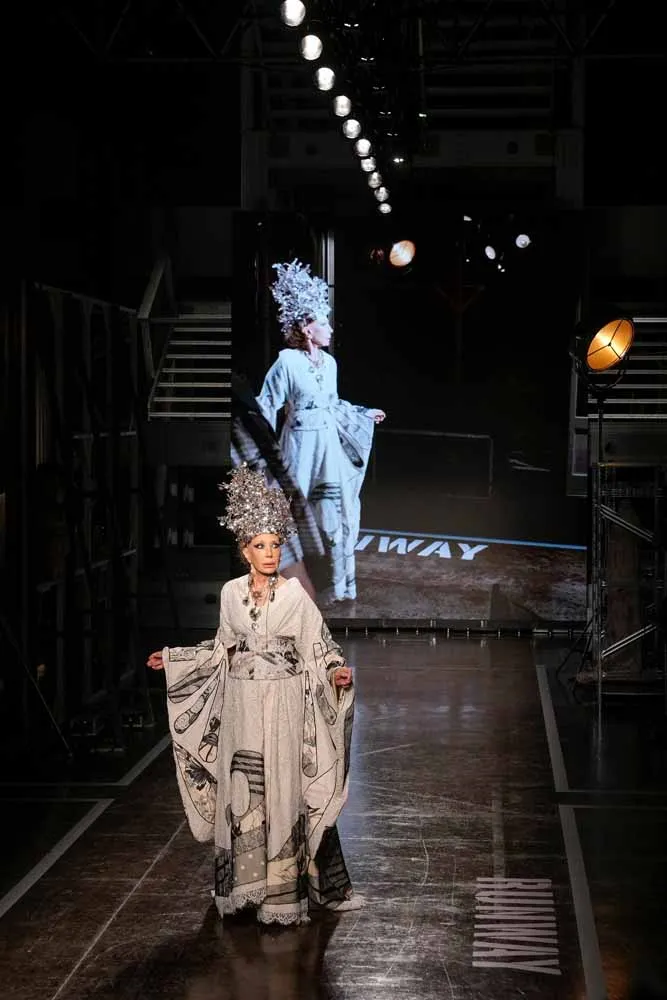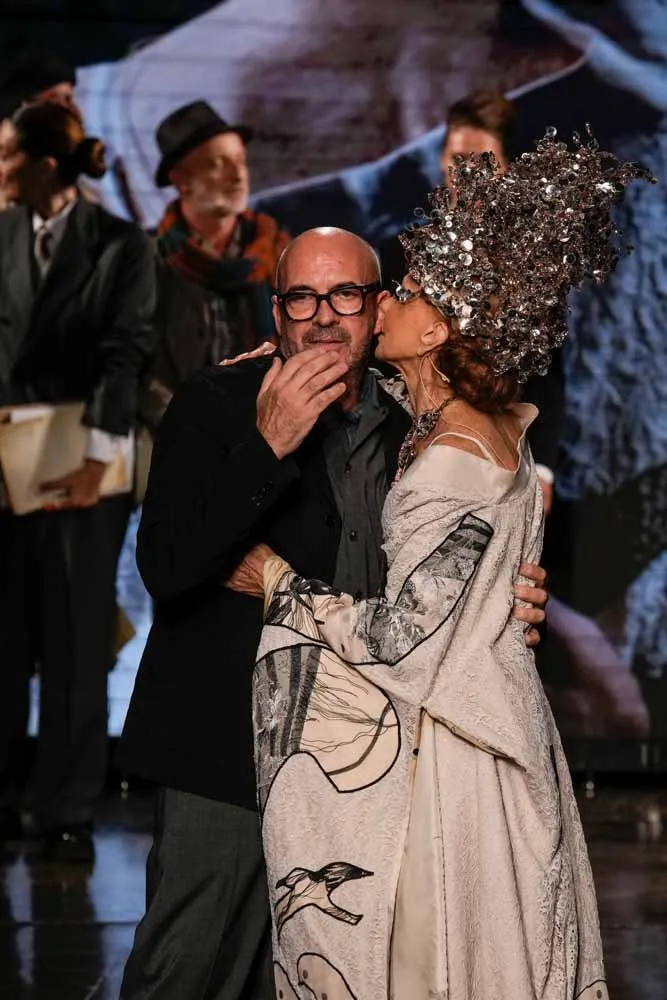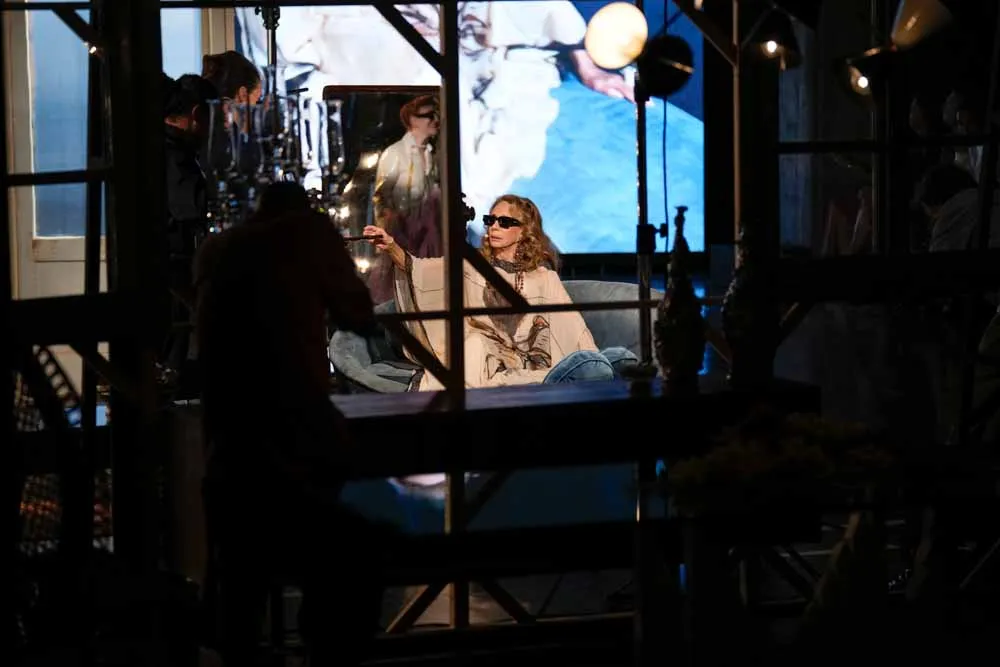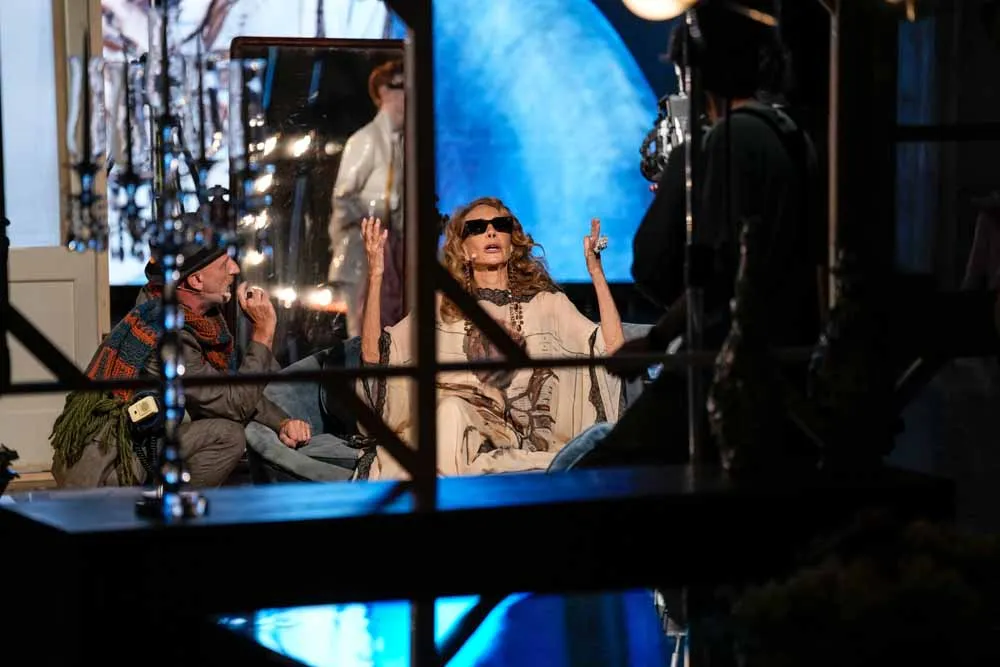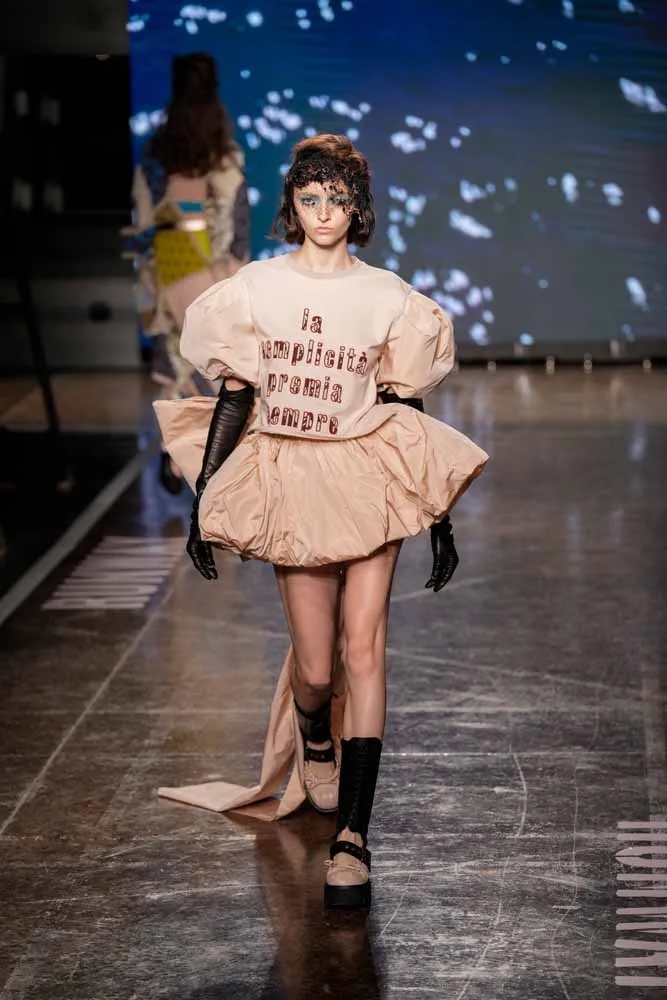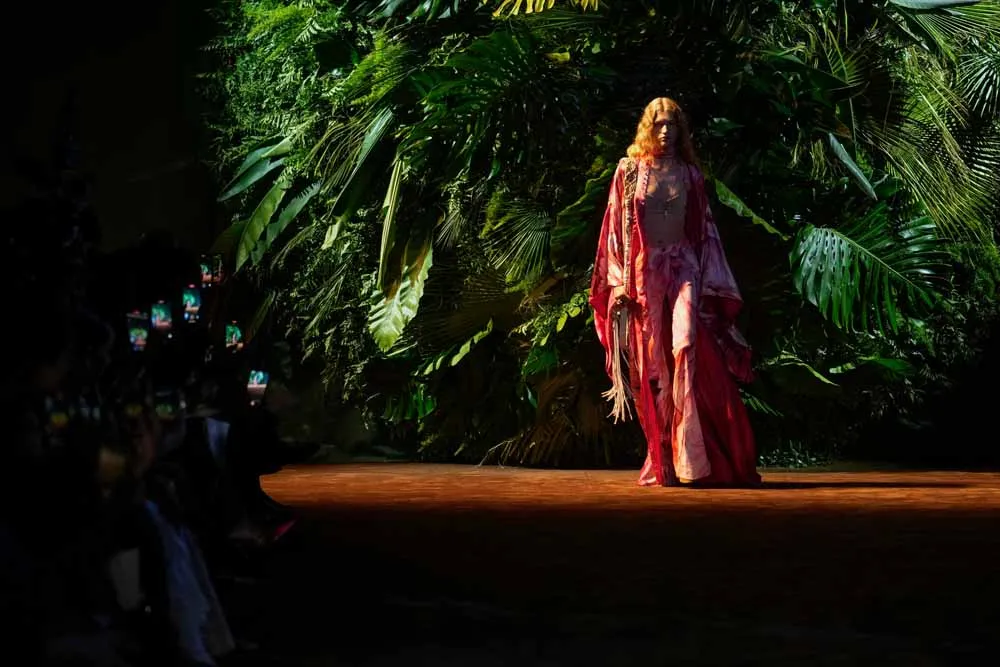 More Lush Cavalli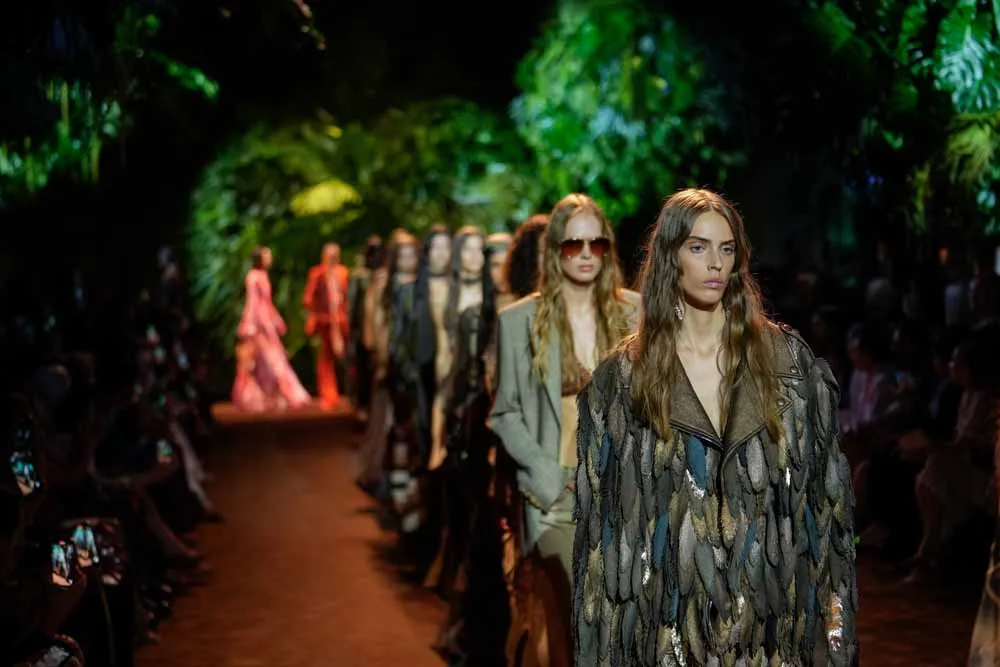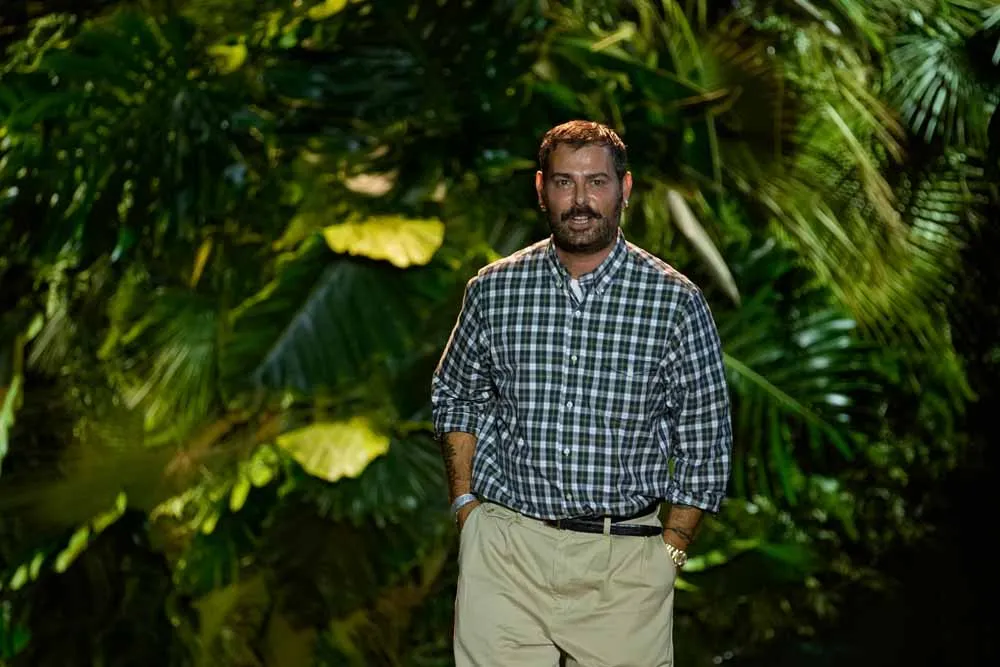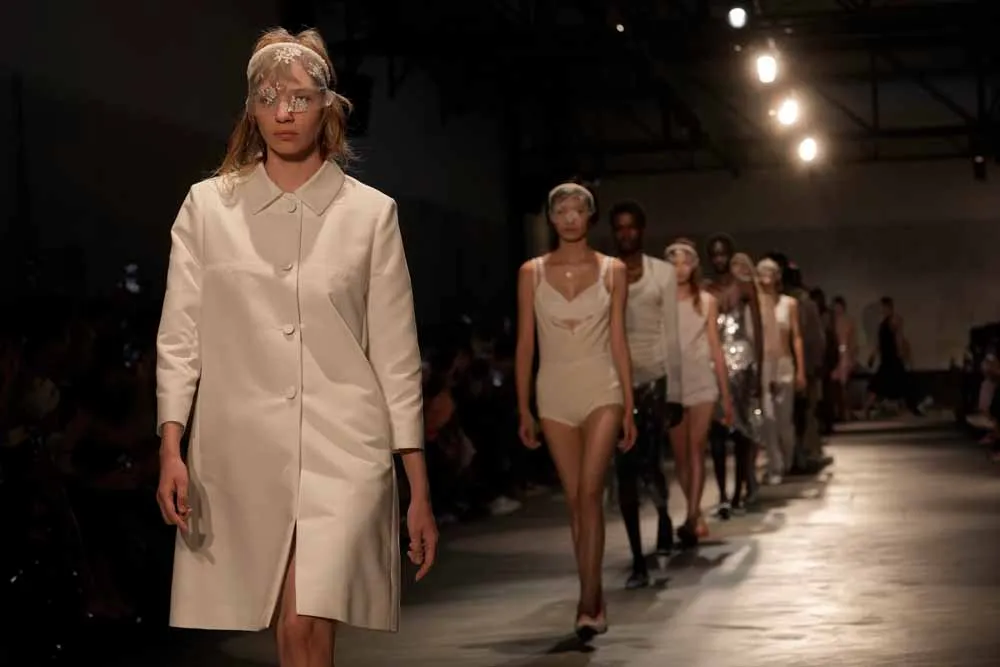 More N21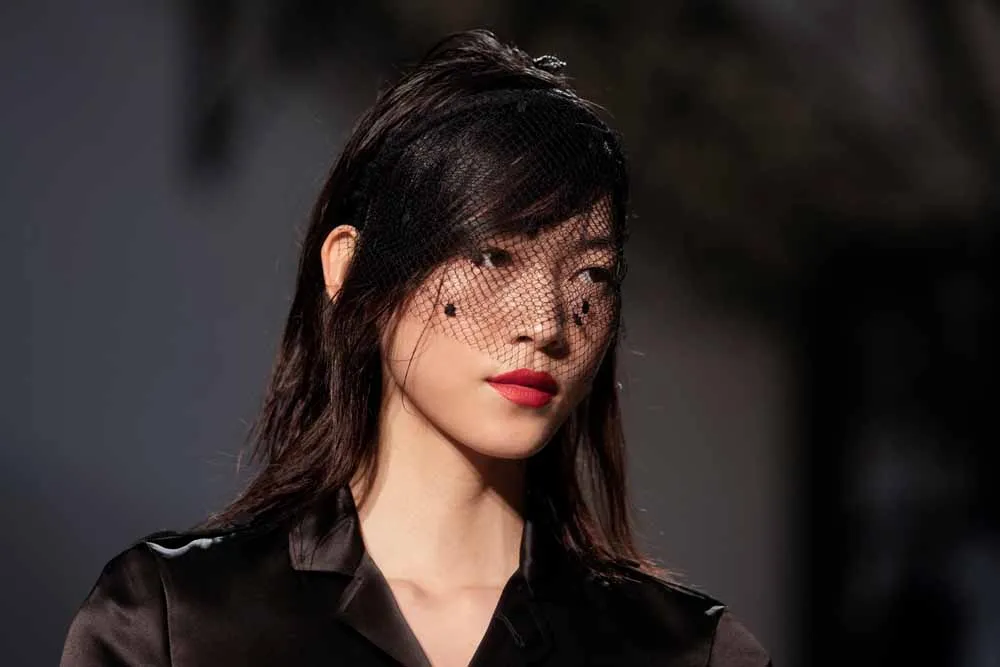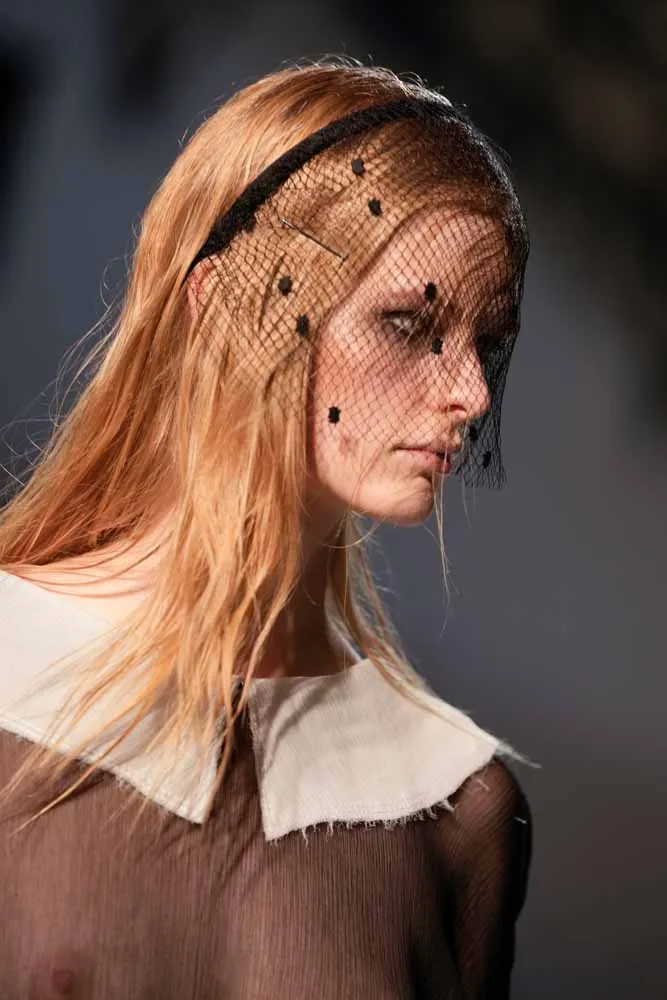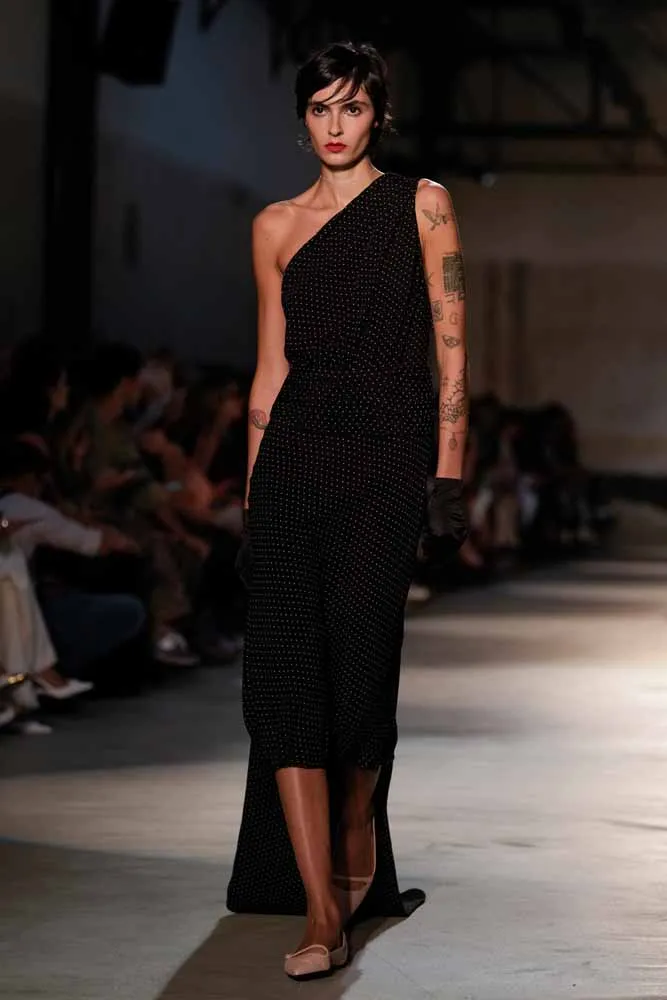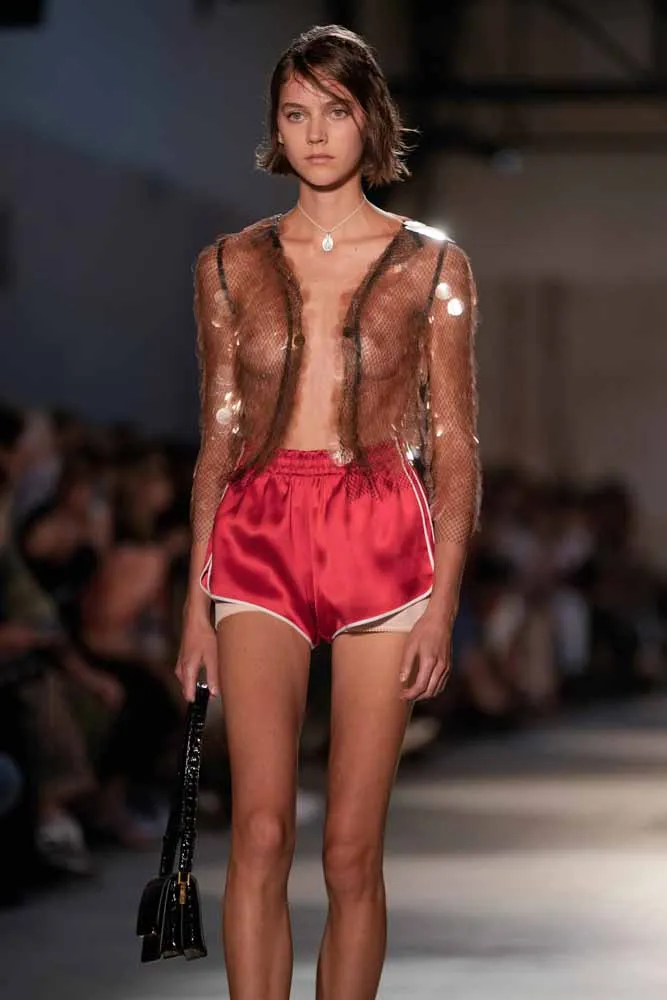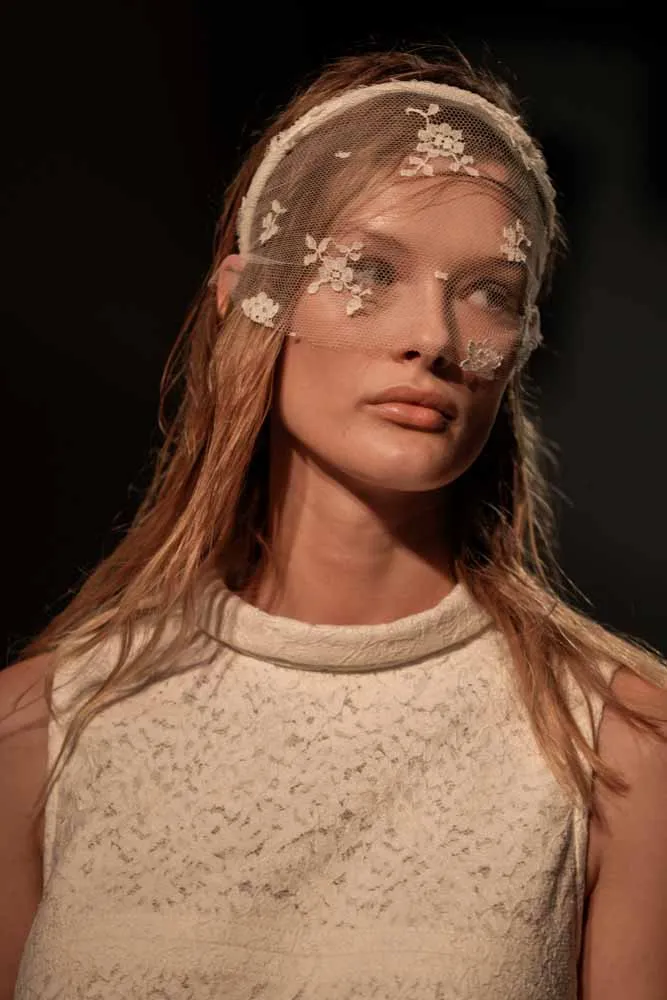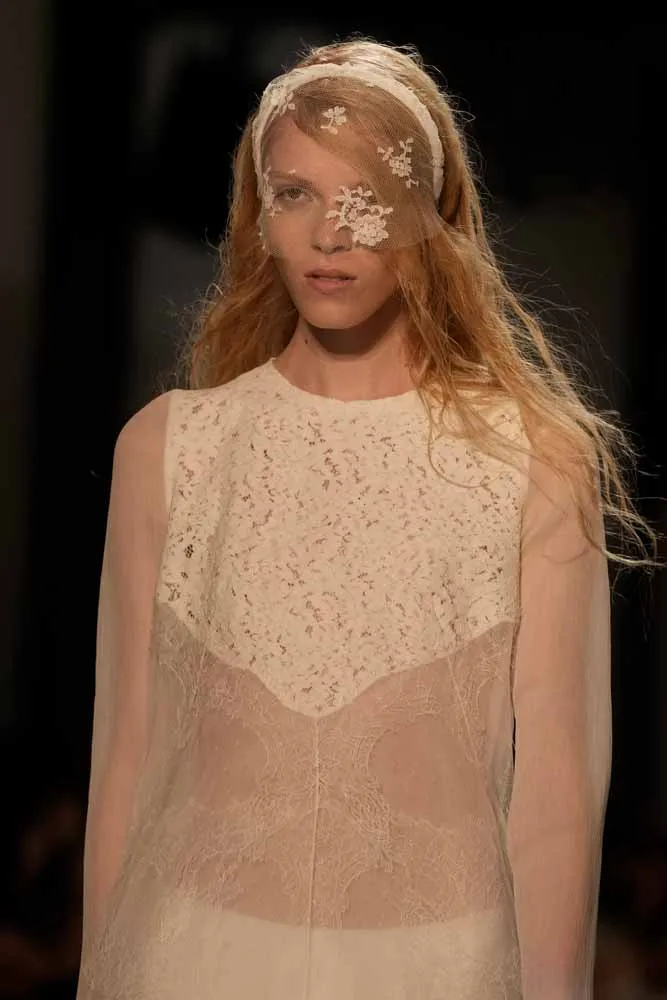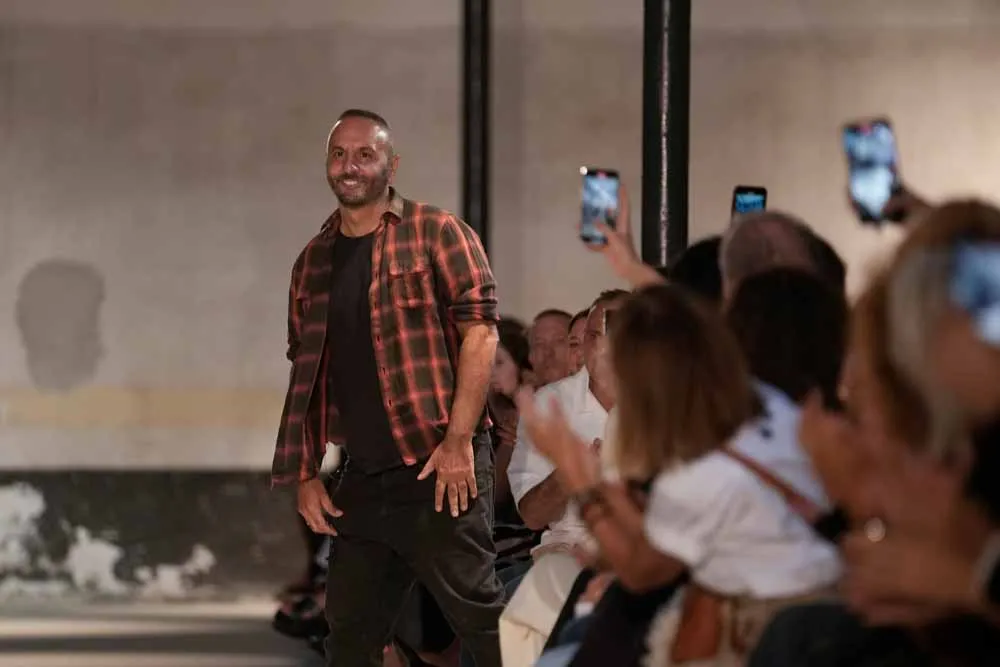 ---