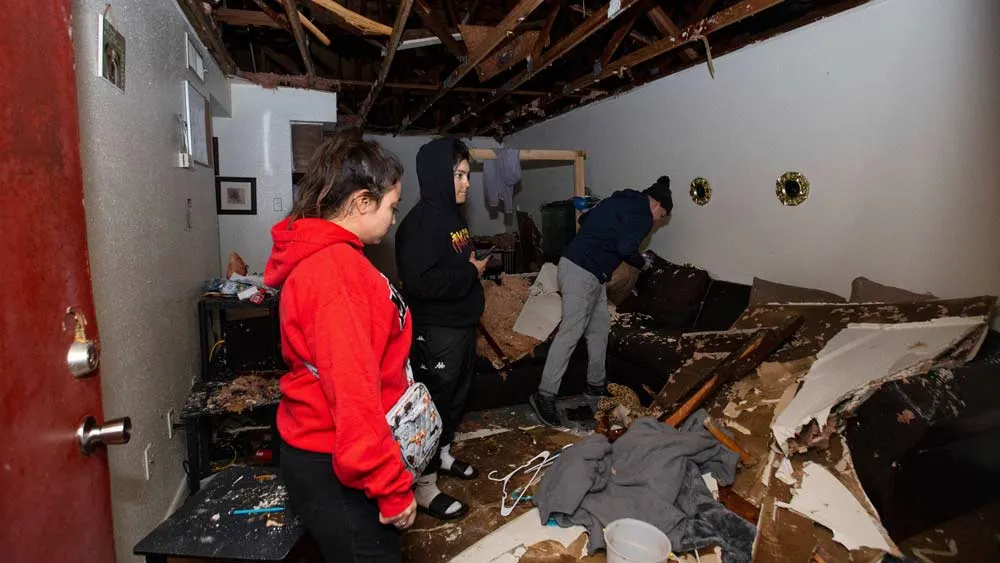 What to Know about Renters Insurance and What it Does and Doesn't Cover
Cora Lewis
READ TIME: 4 MIN.
When the unexpected happens – whether fire, hail, or human error – renters insurance can provide much-needed stability. But many choose not to purchase coverage, including in places most frequently and hardest hit by natural disasters, new research shows.
Linda Klamm, who works as an attorney for insurance policyholders after catastrophes, lost her home to a firestorm in Oakland, California, in 1991, and has firsthand experience with the challenges of collecting on a policy.
"The sky went from being a reddish color to the sun looking bloodied. Then it quickly became black," she said, of that year. "I loaded my 3-year-old and not-quite-6-year-old into the back of the car. We got a few things – our dog, one of our three cats, the kids. There were two ways out. By the time I was leaving, one was engulfed in flames."
In the wake of subsequent fires, including wildfires in California and other states, Klamm offers assistance to policyholders on recovering funds. While homeowners tend to have more financial stability, renters more often face the burden of losses without a financial cushion, she said.
For those who do acquire a policy ahead of time, which Klamm encourages, fire and many other "catastrophic events" are typically covered to a point, but most policies still exclude earthquakes and floods.
Replacing the bare necessities is "all-consuming and exhausting," Klamm recalls, of the days after the firestorm. "When I wasn't driving or at work, I was working on the claim or shopping. My youngest cried every night and begged to go home."
Even though she had trained to handle insurance claims, Klamm found the process of re-acquiring possessions, communicating with the insurance company, and rebuilding her life grueling – and that's with a policy in place.
The average cost of a renters insurance policy in 2023 was $148 per year, or about $12 per month, according to the most recent analysis by NerdWallet. That number's based on a policy for a hypothetical 30-year-old with $30,000 in personal property coverage, $100,000 in liability coverage and a $500 deductible, but coverage rates vary widely by state and policy choices.
Only about 40 percent of rental households purchase renters insurance, according to a 2022 report by the Joint Center for Housing Studies by Harvard University, compared with 88 percent of homeowners who purchase coverage, according to a 2023 study by the Insurance Information Institute.
A new analysis from the nonprofit Financial Health Network has found that the uneven distribution of insurance coverage tends to leave low-income households lacking policies, especially in states that have experienced the greatest losses due to climate disaster.
"The cost of insurance products can act as a barrier," the researchers found. "Some consumers prefer not to purchase insurance, especially if they are unaware of their risks or perceive their risks to be manageable."
Asked why they choose not to purchase renters insurance, more than one in three polled said the cost was "too expensive" and they felt they had "no need for it," according to the Financial Health Network.
States with higher-than-average annual losses include California, Florida, Louisiana, Texas, and Washington, according to the Financial Health Network. The losses are incurred by flooding, hurricanes, landslides, and wildfires, among other unusual weather events, such as tornadoes.
"Losses from natural disasters are an equity issue," the study's authors write. "Those living in high-loss states were more frequently financially vulnerable than residents of low-loss states."
Following a disaster, renters are not responsible for financing repairs to the building where they live, but still need to replace or repair belongings that are damaged or destroyed. As renters typically have lower incomes, less wealth, and lower financial health than homeowners, the difficulties have a compounding effect.
The authors of the Financial Health Network report recommend structural policy changes. They suggest states mandate grace periods for consumers who experience financial hardship and struggle to pay insurance premiums, to help renters keep coverage if they experience cash flow issues. They also recommend landlords increase the uptake of rental insurance by making it a default expense for renters, which they would choose to opt out of, rather than opting into.
Here's what to keep in mind:
WHAT SHOULD I KNOW ABOUT ACQUIRING RENTERS INSURANCE?
Many insurance companies will give you a discount on your renters insurance if you buy it along with another policy – such as auto insurance – which is known as "bundling." For consumers who live in high-risk states, Klamm said, "the first piece of advice is to get it – renters insurance – and then to consider cash value versus replacement cost."
Insurance companies make this distinction between the kinds of compensation a policyholder receives after losses. Essentially: Would you prefer to receive the dollar value of what you own (the "cash value"), or the cost of replacing it (which tends to be higher, as goods depreciate over time)? If you opt for the "replacement cost," you'll pay a higher monthly premium.
WHAT'S COVERED BY RENTERS INSURANCE?
Most renters insurance policies include:
– Personal property protection. If your belongings are stolen or destroyed, the insurance company pays (minus your deductible).
– Liability and medical costs. If you're found responsible for a person being injured or property being damaged in your home, the insurance company pays.
– Loss of use. If you need to relocate after a disaster while your home is being repaired, the policy may cover hotel bills and other unexpected expenses in the interim.
REMEMBER TO UPDATE THE POLICY OVER TIME.
Klamm advises policyholders to check in and make changes to their coverage choices over the years.
"While people tend to get a policy and pay on it without changes, the limits get completely askew with reality as to what things might cost over time," she said. "So check in on those and see that they're adjusted, as you do tend to acquire more things."
___
The Associated Press receives support from Charles Schwab Foundation for educational and explanatory reporting to improve financial literacy. The independent foundation is separate from Charles Schwab and Co. Inc. The AP is solely responsible for its journalism.
---