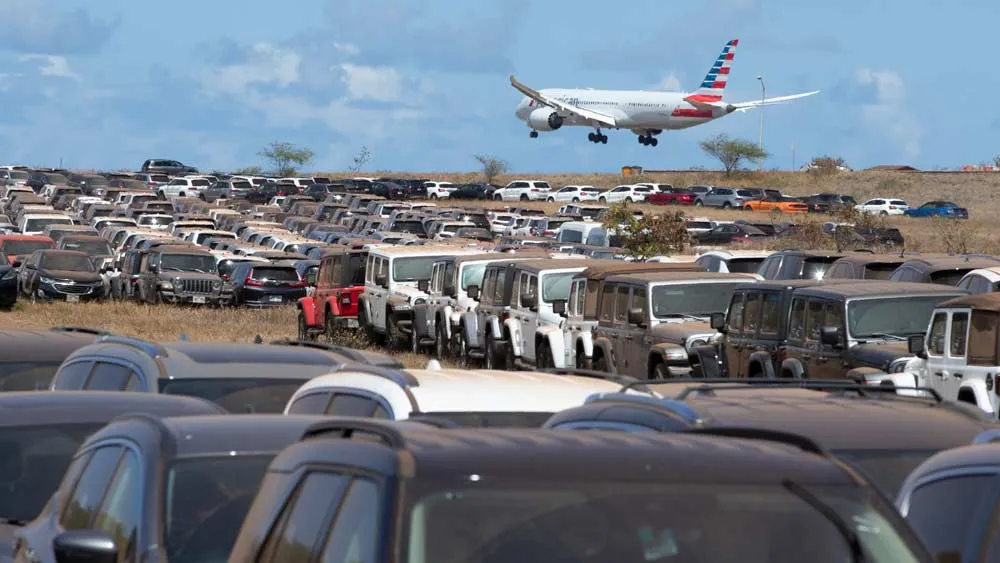 Maui Beckons Tourists to Stave Off Economic Disaster after Wildfires
Audrey McAvoy and Jennifer Sinco Kelleher
READ TIME: 4 MIN.
Richie Olsten has been in Maui's helicopter tour business for a half century, so long he's developed a barometer for the tourism-dependent economy: Rental cars parked at the island's airport.
There are so many since wildfires killed at least 115 people in the historic town of Lahaina that Olsten is worried about a full-blown economic catastrophe. Restaurants and tour companies are laying off workers, and unemployment is surging.
State tourism officials, after initially urging travelers to stay away, are now asking them to come back, avoid the burn zone, and help Maui recover by spending their money. Airlines have started offering steep discounts, while some resorts have slashed room rates by 20% or are offering a fifth night free.
"I know what a terrible disaster that was. But now we're in crisis mode," Olsten said. "If we can't keep the people that have jobs employed, how are they going to help family members and friends that lost everything?"
The number of visitors arriving on Maui sank about 70% after the Aug. 8 fire, down to 2,000 a day.
Olsten's Air Maui Helicopters now operates one or two flights a day, compared with 25 to 30 before the fires.
As Air Maui's director of operations, Olsten said his company has laid off seven of its 12 dispatchers. Pilots have been spared because they only get paid when they work. Typically, they fly eight times a day, four to five days a week. That has fallen to one day a week, and only one or two flights.
Many Maui hotels are housing federal aid workers and Lahaina residents who lost their homes. Even so, only half of available hotel rooms are occupied, said Mufi Hannemann, president of the Hawaii Lodging & Tourism Association.
Even those in South Maui, 30 miles (48 kilometers) south of Lahaina, are half empty. Hannemann called the situation "pretty grim."
One of Maui's most venerable restaurants, Hali'imaile General Store, laid off about 30 workers and temporarily closed after business shrank to one-tenth of pre-fire levels.
"It just fell off a cliff," said Graeme Swain, who owns the place with his wife, Mara.
They cut staff to preserve cash and spare Hali'imaile the fate of the San Diego software company Swain was running in 2008. When the housing bubble burst and the U.S. plunged into recession, he kept all employees "to the bitter end," crushing the business.
Swain wants Hali'imaile – which was founded as a general store for pineapple plantation workers a century ago and became a restaurant in 1987 – to last decades more.
"It takes a lot of soul-searching of what's the right thing to do to protect that place," said Swain, who plans to hire everyone back. He aims to reopen next month.
Mass layoffs are showing up in government data. Nearly 8,000 people filed for unemployment on Maui during the last three weeks of August compared with 295 during the same period in 2022.
University of Hawaii economists expect Maui's jobless rate to climb as high as 10%. It peaked at 35% during the COVID-19 pandemic, but in July was just 2.5%. And this time, there are no pandemic-era Paycheck Protection Program loans for businesses, nor any enhanced unemployment checks for the jobless.
Clothing designer Gemma Alvior estimates that locals make up almost all the clientele at her Kahului store, Pulelehua Boutique. But that may not shield her in a place where the tourism industry accounts for 75% of private sector jobs.
"If they don't have a job, they're getting laid off, how are they going to buy stuff?" she said. "What do they need to buy clothes for if they're not working?"
One reason visitor traffic plunged is that Hawaii's leaders, joined by Hollywood celebrities, told travelers to vacate the island.
The day after the fire, the Hawaii Tourism Authority, a quasi-state agency, said visitors on "non-essential travel are being asked to leave Maui" and that "non-essential travel to Maui is strongly discouraged."
The agency said the community needed to focus on recovery and helping those who had to evacuate.
Around the world, people saw video and photos of travelers jamming the Kahului airport to board flights out.
That message has since changed.
"Maui's not closed," Mayor Richard Bissen said in a recent interview.
People shouldn't go to Lahaina or the surrounding West Maui area – "It's not a place to stare," Bissen said – but the rest of Maui needs tourists. "Respect the West, visit the rest," is the motto some have adopted.
The Hawaii Tourism Authority drafted and publicized a map showing Lahaina and West Maui in relation to the rest of the island, highlighting just how much was still open. The authority is also launching a $2.6 million marketing plan to lure tourists back.
Two days after the fire, Jason Momoa, a Hollywood actor and Native Hawaiian, told his 17 million Instagram followers, "Do not travel to Maui." More recently, he advised: "Maui is open. Lahaina is closed."
Travel to areas outside West Maui should return to pre-fire levels by Thanksgiving, predicted Carl Bonham, an economics professor at the University of Hawaii at Manoa. Discounted airfares and marketing appeals should help, he said.
Gov. Josh Green told a meeting of the state Council on Revenues that he expects authorities to reopen most of West Maui to travelers on Oct. 8, with the exception of fire-damaged neighborhoods. The area, which includes beach resorts in Kaanapali, north of historic Lahaina, has 11,000 hotel rooms. That's half Maui's total.
The disaster prompted state officials on Wednesday to lower their 2023 economic growth prediction for the entire state to 1.1%, down from 1.8%. Next year, they expect 1.5% growth instead of 2%.
Bonham estimated the fires would depress state tax revenues by $250 million this fiscal year but said he was "encouraged" by the plan to reopen West Maui in one month.
The council, which produces tax revenue forecasts, predicted Thursday that state tax revenue would rise 1.3% during the current fiscal year compared with last year. The governor and lawmakers are required to use the panel's forecasts to draft their budgets.
___
McAvoy reported from Honolulu.
---