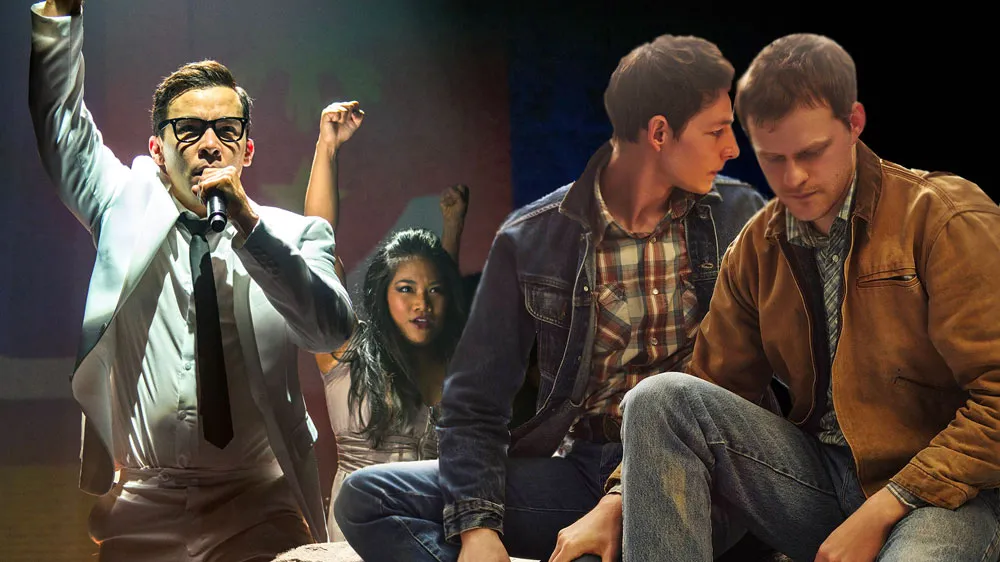 Across the Pond and Back: 'Brokeback' in London and Groundbreaking 'Here Lies Love' in NYC
Much has been written lately on the current state of the American Theater and how the only way to save it may be to totally topple the powers that be and start from scratch, the type of restructuring where the artist is in charge instead of committees or corporations. Specifically looking at the Broadway perspective, producers seem frightfully uncomfortable with any type of risk and will only invest in big above-the-title name shows – usually revivals or jukebox musicals with built-in fan audiences or movies tossed onto a stage and set to (usually) forgettable songs. This is all the more head-scratching because all the juggernaut musical sensations in the last few decades have been shows that not only pushed boundaries but decimated them ("Hadestown," "Hamilton," "Wicked," "Rent").
Straight plays fare even worse since none seem to be able to run for longer than a few months. Of the 25 shows currently on Broadway as of last week, only 4 were plays. What was the last non-musical that ran more than a year on Broadway that didn't have Harry Potter in the title? FYI, the only Broadway play to run for over 1000 performances in the last 40 years was Neil Simon's "Brighton Beach Memoirs" (1983 to 1986). And in today's climate, unless there are stars involved or the play is arriving after a successful run in the UK, what is allowed to bow on the Great White Way is so safe and sanitized, once the show is over, it's hard to recall what you've just experienced – of course that also has to do with our current "everything offends everyone" climate of fear.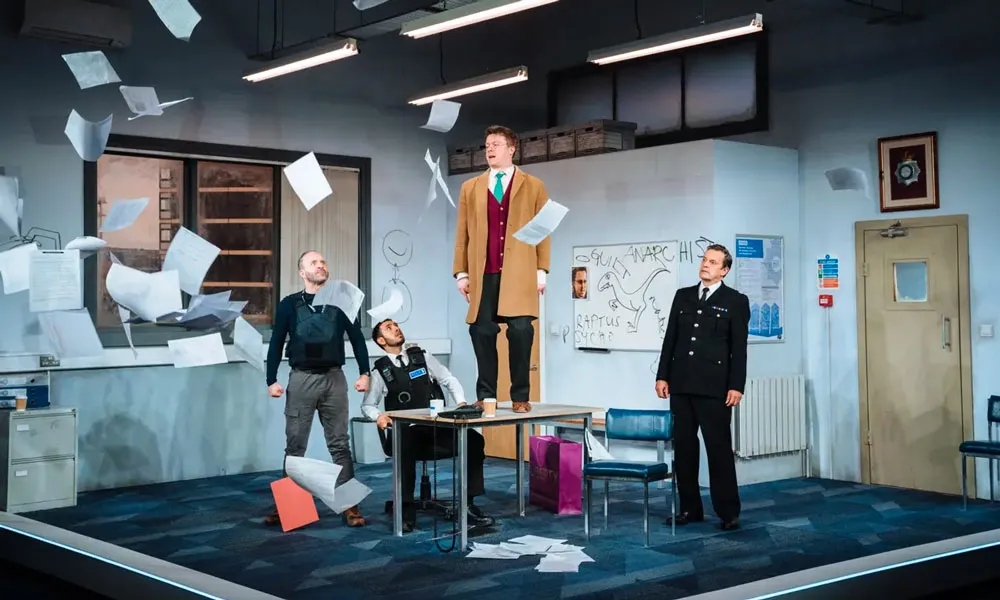 I recently spent three days in London attending three plays on the West End and while two were problematic, all were ambitious and attempted to push quite a few boundaries.
The best of the three was a bold, modernized translation of Dario Fo's classic dark comedy, "Accidental Death of an Anarchist" which was inspired by a horrific incident (which may have been a sanctioned murder) that occurred in Milan in 1969. The play had an ill-fated Broadway run in 1984 (15 previews/20 performances) and starred Jonathan Pryce and Patti LuPone. It was ceremoniously killed by then New York Times critic, Frank Rich, who wielded his show-destroying power quite frequently during his reign and is now a major content producer at HBO. As a young man I saw the production and recall laughing hysterically and being amazed by the work's brazenness.
The Brit adaptation, by Tom Basden, is outrageous in its take-down of both the police and the government AND would probably never make it here simply because it's so scathing in its keen satire. Read: offensive.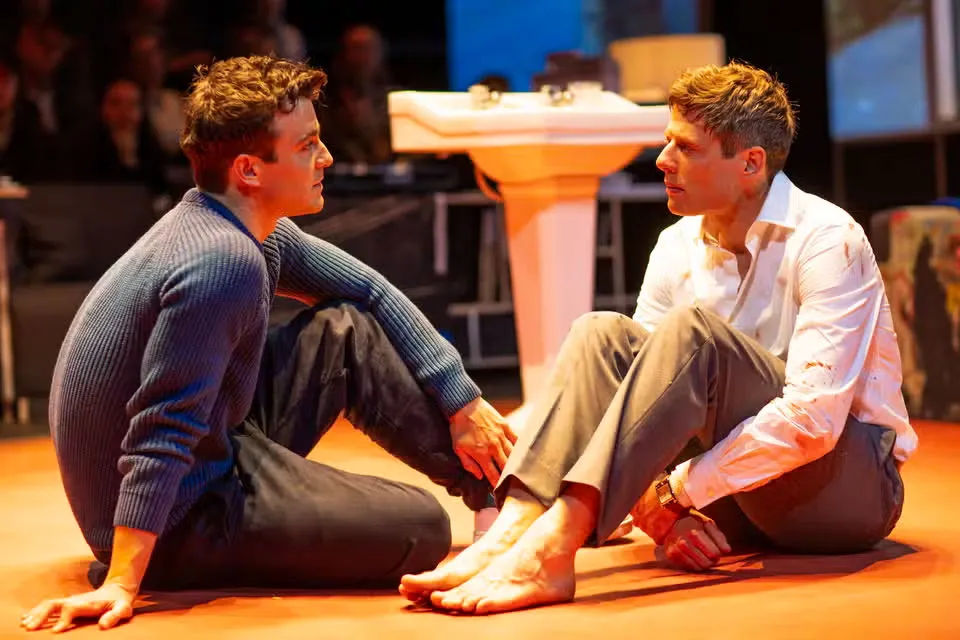 And a full gay-day followed.
I attended a matinee of Ivo van Hove's ambitious, sprawling but grueling, "A Little Life," adapted from Hanya Yanagihara's acclaimed novel which chronicles the bleak story of damaged, gay NYC lawyer Jude (James Norton) who was horrifically abused throughout most of his childhood and adolescence. Jude has a chance at love with his BFF, Willem ("Bridgerton" hottie Luke Thompson), but even that is ultimately dashed. The play is loaded with lots of nudity and sexual situations but also depicts scenes of self-harm, molestation, torture and rape. Norton does astonishing work – the kind that should bring him international stardom. At 3 hours and 40 minutes, van Hove, whose "A View from the Bridge" a few years ago astounded, asks too much of his audience but attention must be paid to the sheer audacity of this production.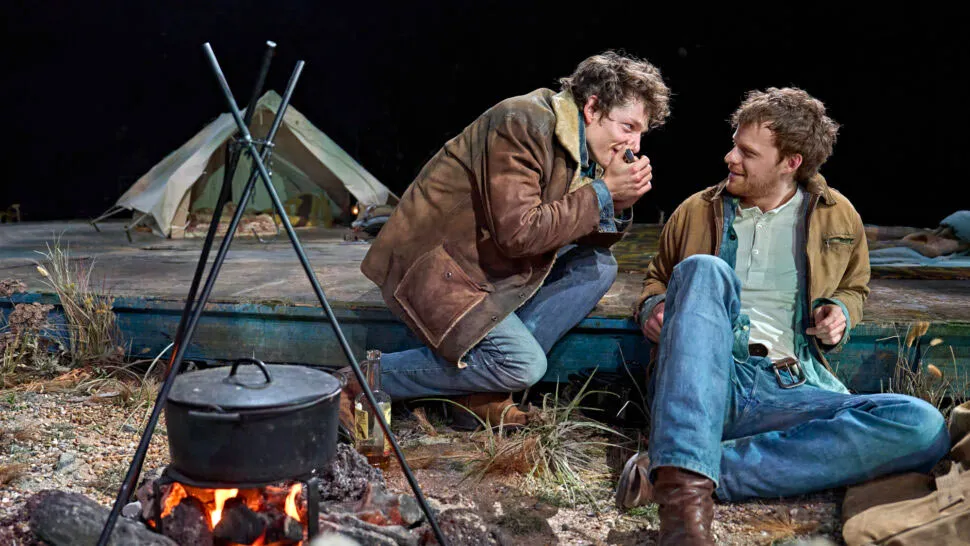 The much-ballyhooed stage version of "Brokeback Mountain" followed. Adapted by Ashley Robinson and directed by Jonathan Butterell, the show attempts to capture the longing, desire and frustration of its iconic cowboys, Ennis (Lucas Hedges) and Jack (Mike Faist), who must navigate their love for one another in a time and place where it could mean risking their lives. The story resonates deeply with queer audiences, but I had a strong "what was the point?" feeling about this endeavor. Ang Lee's film is iconic and forever remembered as proof of Hollywood homophobia when it lost the Best Picture Oscar to the pandering "Crash."
Songs are sung (by Eddi Reader), but we sorely miss the glorious Oscar-winning Gustavo Santaolalla score.
Like Norton in "A Little Life," Faist delivers a captivating, often-cliff-leaping turn that astounds. He reimagines Jack Twist in a way that both pays tribute to Jake Gyllenhaal's interpretation and obliterates it. The same, unfortunately, cannot be said for Hedges. Still, the attempt at creating something different must be applauded.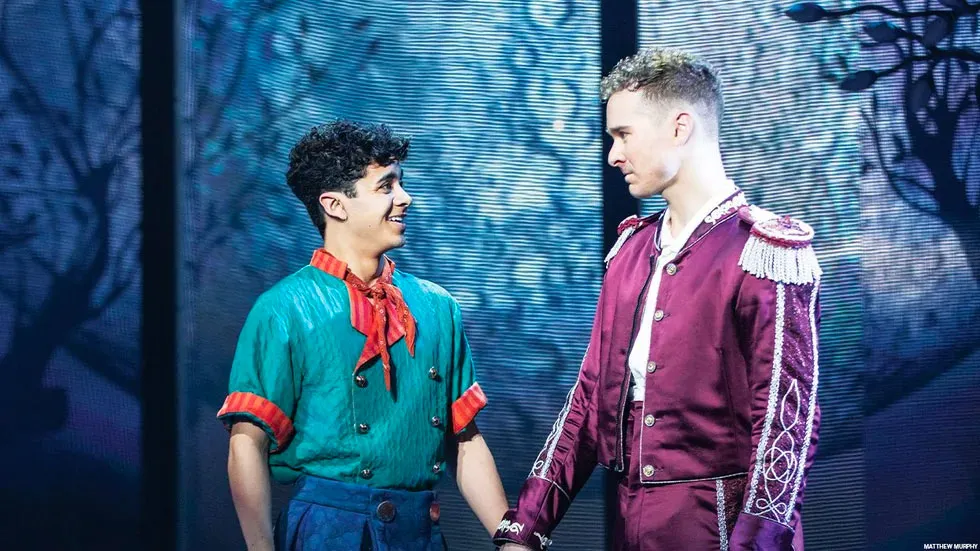 Returning home, I immediately took in six Broadway shows, mostly a bombardment of stage comfort food: a done-to-death quasi-feminist fairytale lazily reimagined with over-produced pop ballads; a beloved overrated '80s blockbuster painfully recreated onstage for nostalgia purposes with new songs that have you grateful you spent $75 on a triple cocktail during intermission; an homage to Noël Coward and Oscar Wilde that feels like it was made for a 1960s audience; and a jukebox musical tribute to a pop icon written in such a facile manner that one wonders if the book writer's main source was Wikipedia.
None of the above shows push many (if any) envelopes except to make sure they check now-mandated diversity boxes and make certain no one is offended by any of the material. But they do entertain, at least, according to the respective audiences' reactions. Although, I do wonder if these constant standing ovations are simply because patrons need to prove to themselves that they didn't just waste a buttload of money on something mediocre.
All these shows did have a performance or two that stood out and made the sit worthwhile.
Nathan Levy and Ryan Steele were delightful as the shy gay couple in "Once Upon a One More Time," which just closed. It's just a shame that their roles were so one-dimensional and had nothing to do with the plot. There was an icky "aren't we cool for being inclusive?" feel about it.
Amidst the cartoonish turns and the DeLorean-as-"Phantom"-chandelier moment, "Back to the Future's" saving grace is the charismatic cutie Casey Likes who does his best to ground the character of Marty in as much reality as he is allowed. Mercifully, Likes is onstage for most of the show to enthrall while everyone else around him mugs and overplays as if they're in a silent film. If only.
"The Cottage" has deftly comic turns by Laura Bell Bundy and Alex Moffat. Oh, and a nice set.
And "A Beautiful Noise: The Neil Diamond Musical" boasts Will Swenson's remarkable transformation, his killer vocal chops, and his ability to transcend Anthony McCarten's incredibly hokey book. McCarten is responsible for the unconscionable screenplay, "The Two Popes," a film that tries to make excuses for Pope Benedict's sanctioning of sex abuse crimes as well as the cine-mess known as "Bohemian Rhapsody," a film bent on de-queering Freddie Mercury. And his recent play, "The Collaboration," managed to make the relationship between Andy Warhol and Jean-Paul Basquiat seem dull.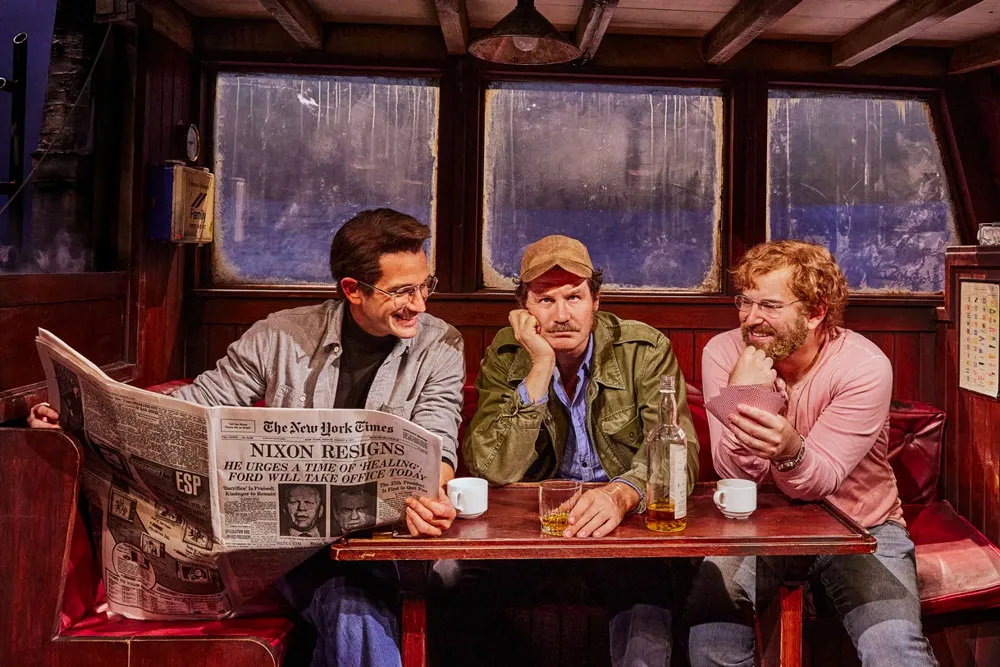 There were, however, two shows that stood out in the sea of the middling, mundane and mind-numbing.
Ian Shaw and Joseph Nixon's funny and thought-provoking play, "The Shark is Broken," is a must for film lovers and, specifically, fans of Steven Spielberg's 1975 success, "Jaws." Shaw is the son of Robert Shaw, who played the cantankerous Quint in the movie and fully embodies his father, warts and all. Alex Brightman deliciously chews all his scenery just as Richard Dreyfuss did onscreen. And Colin Donnell is the peacemaker Roy Scheider in a performance too easily dismissed since he's the straight man. Yet, in a long and seemingly gratuitous scene, he's also the character that strips to his speedos, proudly struts about and begins to sunbathe, giving gay audiences the perfect eye-candy to lap up.
Beyond all the hilarious, name-dropping, and often ironic exchanges, as well as the plethora of daddy issues, the play captures a time not so long ago that scarily mirrors our divided society today. The show reminds us that history does indeed repeat itself. So, perhaps, things aren't as bad as we may think they are.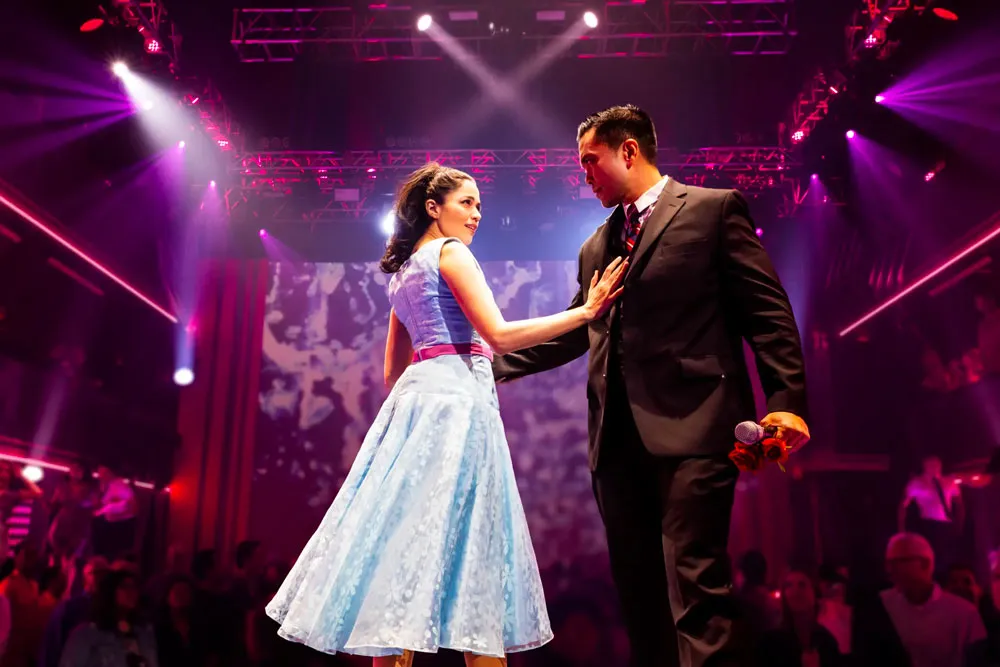 "Here Lies Love" is the one show that can be labeled groundbreaking, it also happens to be ground-shaking. Literally. Leave it to David Byrne, along with maverick director Alex Timbers and co-composer Fatboy Slim to rejuvenate Broadway with an immersive experience that takes the audience on a trip back in time (1950s through the 1980s) as well as to another land, the Philippines, and chronicles the insane rise and naggingly slow fall of former Filipino First Lady and tyrant, Imelda Marcos. Owing its existence (and structure) to Andrew Lloyd Webber and Tim Rice's seminal show, "Evita," the creatives give us a lot to chew on, but they do it in an inventive manner, transforming the Broadway Theater where "Evita" bowed in 1979 into a grand disco.
The show features catchy songs that actually stay with you as well as powerhouse performances by Arielle Jacobs as Imelda, the amazing Lea Salonga in a notable role, and out gay actors Jose Llana as her dictator husband Ferdinand and the stunning Conrad Ricamora as the Che-esque Ninoy Aquino, who led the opposition against these criminals and managed to bankrupt a nation while pocketing billions.
In addition, the show has a definite queer sensibility about it via the music and the disco setting, as well as in Imelda herself, a fascinating survivor who is still alive and kicking at 94, standing at the side of her son, the current president of the Philippines.
"Here Lies Love" asks us to ponder our own collaboration in turning certain powermad despots into cultural icons. That's what great shows should do: leave you asking difficult questions while entertaining you and also providing you with knowledge about something you may not have ever had any familiarity with or interest in.
The problem (and it is a mega-problem) is that according to last week's grosses, both these excellent shows are not selling well, with one of them in dire danger of closing ("The Shark is Broken").
Here's hoping the fall season sees more ambitious and challenging projects bow along the Great White Way, and that audiences will care enough to take chances on them.
---
Frank J. Avella is a proud EDGE and Awards Daily contributor. He serves as the GALECA Industry Liaison and is a Member of the New York Film Critics Online. His award-winning short film, FIG JAM, has shown in Festivals worldwide (figjamfilm.com). Frank's screenplays have won numerous awards in 17 countries. Recently produced plays include LURED & VATICAL FALLS, both O'Neill semifinalists. He is currently working on a highly personal project, FROCI, about the queer Italian/Italian-American experience. He is a proud member of the Dramatists Guild. https://filmfreeway.com/FrankAvella https://muckrack.com/fjaklute