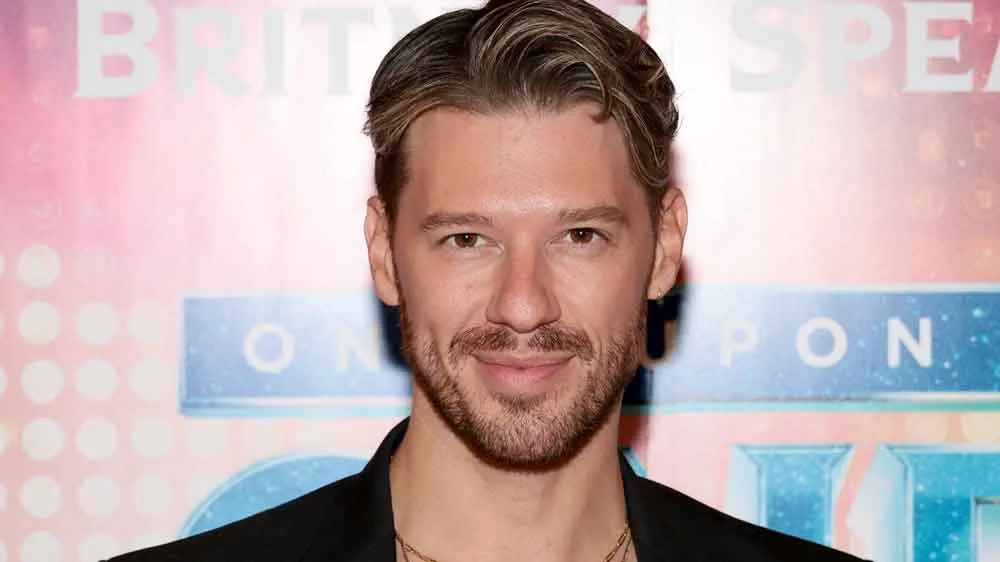 Constantine Rousouli Lives His 'Best Gay Life' After Creating Bonkers Zany 'Titanique'
With his stunning movie star looks, his dazzling charm and yet modest demeanor (okay, modest and flashy!), actor turned writer Constantine Rousouli has managed to create an enchanting show (along with force of nature Marla Mindelle and director Tye Blue) that's become a theatrical phenomenon.
The show is bonkers-zany "Titanique," and New York audiences cannot get enough of it, many patrons returning numerous times to get their fill of the irreverent insanity of it all.
The idea for this particular parody musical hatched from the madcap Martini-soaked brain of Rousouli one night after a dinner theater performance in LA. Take the plot of the classic James Cameron film "Titanic," add as many Celine Dion songs as possible (as well as Celine herself), and satirize the shit out of it. That's exactly what he and Mindelle have been doing, first out on the West Coast, then virtually during the pandemic, and eventually (though probably not finally) bowing Off-Broadway at the Daryl Roth Theatre (Union Square), 101 East 15th Street, NYC.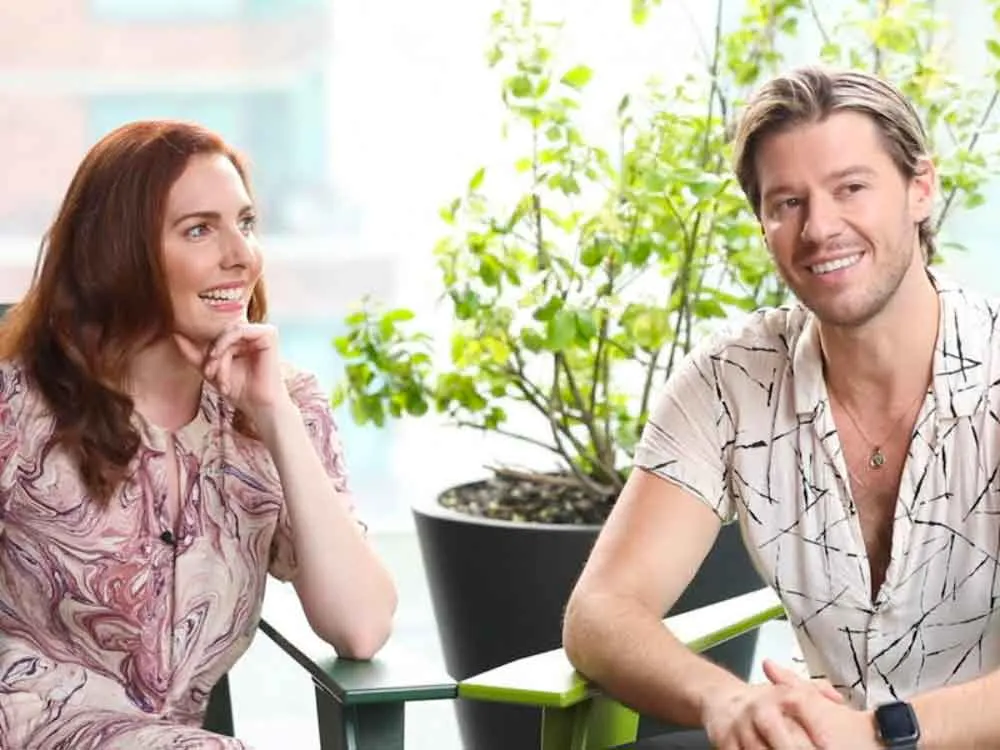 The show has picked up a slew of awards and nominations along the way, including winning Best Musical and Best Lead Performance in a Musical (Mindelle) from both the Lucille Lortel Awards and the newly-minted Dorian Theater Awards.
Both Rousouli, who is simply hilarious as a broader but still DiCaprio-esque Jack, and Mindelle, who kills as Celine, have taken a break from the show...for now.
Rousouli got his start, while still in high school, as Link Larkin in a tour of "Hairspray" before making his Broadway debut in that same show. He went on to play Fyero in "Wicked," and starred in the short-lived "Ghost" musical. Other stage appearances include Valmont in "Cruel Intentions: The Musical," Off-Broadway, and "Legally Blonde," regionally.
His TV credits include "AJ and the Queen," "Charmed," "How to Be a Vampire," and "The Other Two."
EDGE chatted with the endearing artist about "Titanique," his career, coming out... and Patti LuPone. (The interview has been edited for length and clarity.)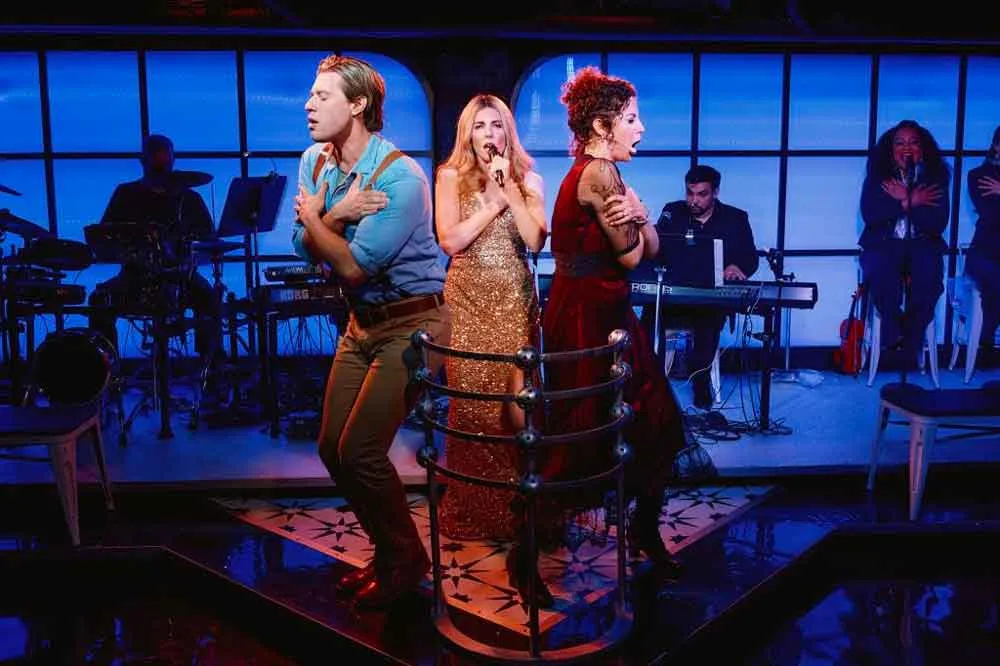 EDGE: "Titanique" is fab nuts. I loved it. Can you share a bit about when and how the show was birthed?
Constantine Rousouli: Our little baby was birthed about seven years ago. Marla and I were living in LA after we moved from New York to try and do more TV and film. We were doing these parody musicals at Rockwell Table and Stage in Los Feliz, which was an immersive dinner theater – $75 a show that gave us fish and red sauce every night...
I remember, we were doing a parody of "Scream," and I was looking around at all these people who were New York transplants and I was like, 'Guys, we need to write our own shit. [This is] not that funny.' So, two martinis deep, after that show the creative juices started flowing and I was like, 'Wait, I think our next show should be "Titanic" with all Celine Dion [songs]. Marla, you'll play Celine, I'll be Jack.' And she was like, 'Queen, never gonna happen.' I went home that night and the Spirit of Christ came through me. I was at my computer, writing out an outline and put all the songs of her catalogue [in]... and it magically seemed to work. So, I called Marla. And then I called Ty, our director, and I said, 'Hey, why don't you guys come over and watch the movie and see if this works?' And it worked.
EDGE: How did you get the rights to the music?
Constantine Rousouli: There's this woman, Janet, who is the liaison between Broadway and the music industry. She basically got us all the music rights. She did 'Moulin Rouge,' 'Rock of Ages.' I met [her] while I was doing 'Cruel Intentions,' and I said, 'Hey, I have this weird, crazy Celine Dion musical. How hard would it be for me to get the rights to her songs?' She was like, 'It wouldn't be hard, but it's going to be expensive as hell.' And then I ended up meeting David Foster's PR guy in Mykonos. And that's how this all happened.
EDGE: Like, randomly?
Constantine Rousouli: Randomly. It was a random trip, four years ago. I was in Greece, living my best gay life with my boyfriend. And we were at this bar, and these two guys were talking to us... and we became friends. And the last night [at dinner] he's like, 'What are you working on?' I said, 'This weird musical. All Celine Dion music. "Titanic"... Doesn't that sound amazing?' He's like, 'It's very funny. It's just weird how the world works. I'm gonna be in Italy next week with David Foster... I'm David's PR manager.' I was like, 'What?' [laughs] We were doing a pop up in New York at Greenroom 42, three weeks after this trip... He ended up coming, and fell in love with it and said, 'You need to do this for David. We're going to take the whole cast back to LA in a month.' And that's how we got David involved. And we got more of the rights. It was all kismet, the universe, Buddha, Barney, Jesus, whoever's upstairs. I will fucking take it. Thank you, everybody. That's how it happened. You can't write this shit.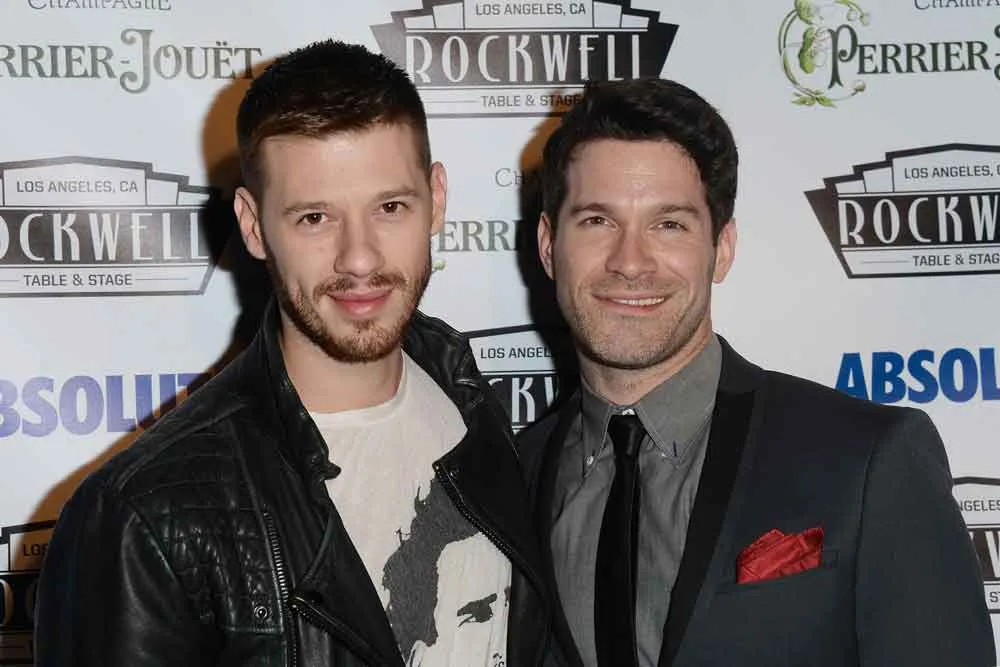 EDGE: And then, boy, did it snowball. Now it's a phenomenon.
Constantine Rousouli: Thank you. Honestly, thanks to my gays. The word of mouth has [been] like no other. Truly, it has been wild. In LA, we did it just for a bunch of friends first at this weird, tiny studio in Burbank. No AC in this studio. We invited, like, 100 of our friends and producers just to get it on its feet. People went apeshit, and Marla turned to me, 'cause she's a little pessimist. "Well, it's LA funny, we don't know if it's New Yorker funny yet"... So, that's when we did all these pop ups to see if New York was going to get it... It's very irreverent. It's very much like 'SNL' on stage. I don't know if people are gonna like this. I hope so.
EDGE: Let's talk about the queer sensibility inherent in the show.
Constantine Rousouli: We call it A Gay Fantasia. It's our Gay Fantasia. All of us are queer and gay, the whole creative team... It's just our humor. I'm so happy we didn't have anybody above us [saying], "You can't put that in. That's too gay. We need to make this more family friendly." We were the bosses. We're like, "This is going to work, and if it goes over their head, it goes over their head. Moving on. Next joke." We kept it so authentic to ourselves. And I'm so happy the whole country has come around [to] it. It's fantastic.
EDGE: I loved how unabashedly audacious it is. It's a tonic from all the current shows that are so sensitive about everything.
Constantine Rousouli: Myself, Marla, and Ty call it "wokesicles." If we see another fucking wokesicle, I'm going to murder myself. Can we let this be what it's going to be – let people have fun. I want people to laugh. I don't want to teach you anything. I don't want to say you're doing this wrong, you are bad, you need to look at yourself in the mirror. We get it... We've been through a fucking pandemic. Can we all come together and not be, like, slapped on the wrist, like, "Oh, you're doing everything totally wrong, and you should be aware that you're making every mistake possible" when all you're trying to do is climb up a fucking hill that is throwing shit at your face 24/7. Let's just have fun... I'm so happy that sole purpose has still trudged through.
EDGE: What is it about "Titanic," not just the film but the story, that just never seems to get old? It keeps coming back in different forms.
Constantine Rousouli: It's like a revolving door... It's crazy. It will forever be in the zeitgeist. I don't understand. I mean, as tragic as this whole thing was – we're not trying to make fun of it, but we wanted to make fun of the movie and just have fun with that... I think we just miraculously struck gold.
EDGE: But something wacky happens in the middle of all the lunacy and satire. You guys managed to create some poignant moments.
Constantine Rousouli: Thank you. You can't go so far past the edge... We wanted highbrow/lowbrow... We wanted it to be ridiculous, but also have that grounded moment. So, thank you. I love that. And towards the end of the show, when she's singing "My Heart Will Go On," I see people crying. Fucking bawling. It's crazy... We spent years finagling the script to make sure those moments do shine through, but also not go too far right or left.
EDGE: I want to talk about the character of Jack. I'm assuming you wrote it for yourself...
Constantine Rousouli: So, selfishly – when you write a musical, you're absolutely going to put yourself in the lead. My whole career has been wonderful. I've had amazing roles. I've done very dramatic shit. I've done some comedy. But no one really got to see my kooky, weird, funny side. Ever. So, I needed to write something for myself that showcases every little bit of me. I wanted to make him really earnest, making fun of a typical musical theater guy. He's kind of dumb, and he's just so innocent. It's been fun to go deeper into it as I continue to do it, because you find new shit, always... He's definitely become quirkier, which I love. No one's ever seen this side of me, so it's really fun to do that.
EDGE: Has Celine seen it?
Constantine Rousouli: Celine, unfortunately, has not seen it yet. But her whole team has, and they are obsessed with it. They love it. They're so happy that we're continuing her legacy, because she's sick right now. She's going through this terrible weird disease that only affects, like, two percent of the population. So, our hearts are with our Queen Celine. She's getting better. Her team has said when she is better, she is going to come and she's going to absolutely be obsessed with this production. She'll probably push Marla offstage and do the show. Marla always says that "if Celine comes, I will die." I will hand her the script and just have her go. Because, you know, she'll do that!
EDGE: You and Marla are besties, aren't you?
Constantine Rousouli: We live together. She's my non-sexual life partner. It's insane. Yes, we're besties. We've known each other for 15 years. We didn't like each other at first. I was like, "Who's this bitch?" She was like, "Who is this basic gay?" And I was like, "I don't like her." And then, when we moved in LA, 10 years ago, we became very, very close.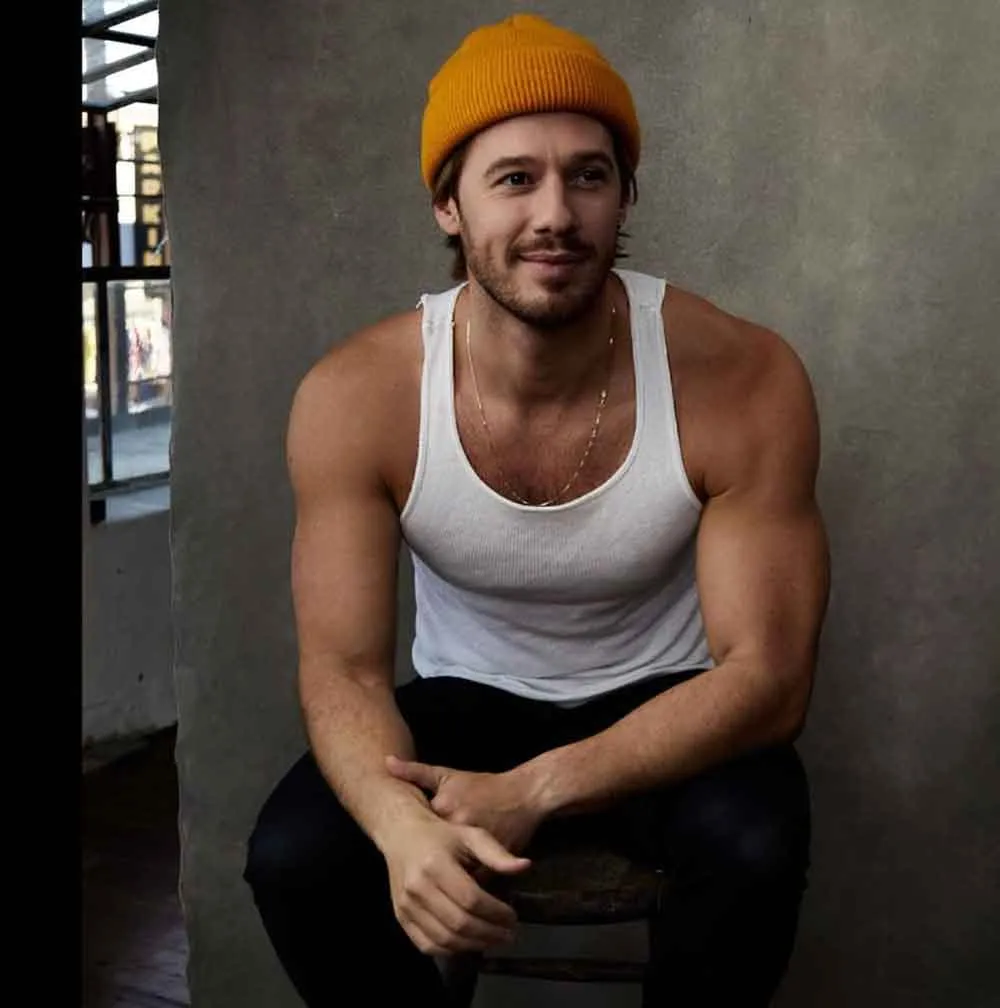 EDGE: Tell me, when did the acting bug first bite?

Constantine Rousouli: I was a ham as a kid. I always remember watching "The Wizard of Oz" and movies, and I was like, "I want to do this... I want to be in that world." I would always do little shows around the house and be a crazy person. Like, at four or five. I grew up in Jersey... My parents were New Yorkers. My mom's from Brooklyn. Dad was from Queens. They would always take us into the city and see Broadway shows... The whole family is musically inclined... I would go to the city and see shows all the time... I would train privately on the side. I played sports, but then, come high school, freshman year, I was like, "I want to be in the musical." And I auditioned with, are you ready for this? "A Moment Like This." Kelly Clarkson. I stayed up all night after she won "American Idol." Memorized the fucking song. Went in the next day. A capella, because who has sheet music to that right after she won? And I sang it for "The Will Rogers Follies," and I ended up getting the show.
EDGE: You were 17, when you got your first show...
Constantine Rousouli: I was 17 when I got the tour of "Hairspray." I'd sneak into the city, audition for stuff... I remember my mentor, and one of my best friends, was my English/chorus teacher at school, Frank DiCoco. I was like, "I have a final callback for 'Hairspray,' for the tour. It's the same time as my [calculus] final." And he was like, 'Call in sick. I'll say that you're sick. Come to school, take the bus into the city, and I'll cover for you.' So, he covered for me, and that's how I booked the job.
EDGE: And from there, Broadway.
Constantine Rousouli: From there, thankfully I started working. Right out of the tour, I closed the Broadway company at 20 with Harvey [Fierstein] and Marisa [Jaret Winokur] when they came back. I jumped to "Legally Blonde." Did "Wicked," then "Ghost." Then, after all those years, I burnt the fuck out. I'm gonna go to LA and see if I can do this TV and film shit. And I didn't work for five years. And, you know, it was the best, most humbling time of my life. I am so grateful that I had the struggles of LA, because I was a little brat just jumping from show to show, being like, "Oh, my shit don't stink," and then, fucking slap of humble pie.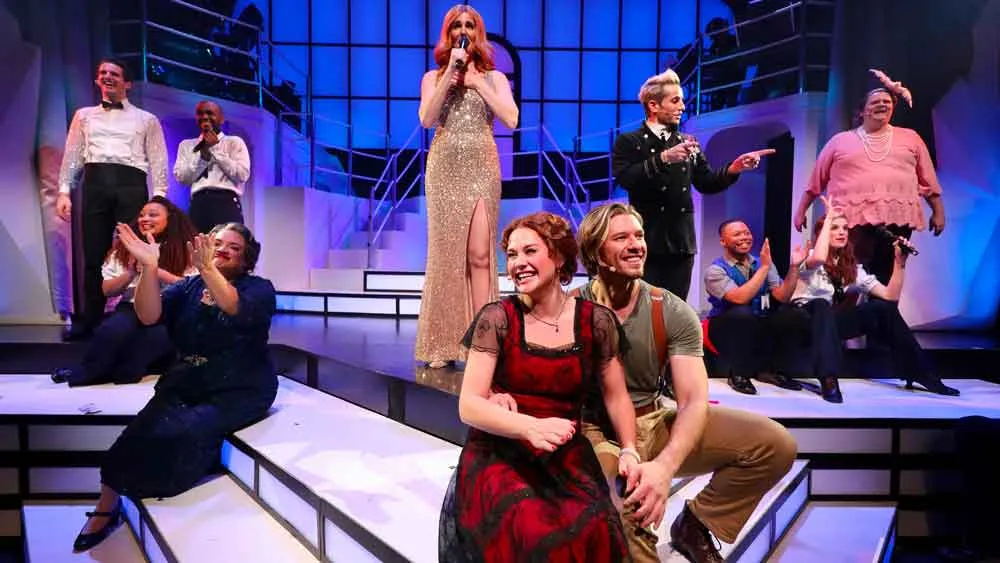 EDGE: That's a real coming of age period. Were you out? Did you always know?
Constantine Rousouli: I came out in, like, random increments. I was 18 and I was out on the tour. So, I was figuring it out. At 21 I came out to my sister. 25, came out to my mom. And then we didn't really tell my dad, because he was very old school Greek. We're not going to talk about it. Later in life, when he [was about to] pass, we had this great, beautiful "Come to Jesus" moment. It was the best gift I could ever receive. And I think the same for him... I grew up on the road. I was figuring myself out. Didn't go to college. I was doing eight shows a week on tour. I grew up really fast... Then the LA of it all! [laughs] I will say, LA is way harder than New York City. Hands down. You are secluded. You're in your car. It's January or July. You don't know what fucking year it is. It's 75 degrees and sunny. Somebody once told me, "LA is a beautiful hell. And New York is a dirty heaven." I would rather be in a dirty heaven than a beautiful hell.
EDGE: How would you say things have changed for out actors from when you came of age?
Constantine Rousouli: Oh my god, so much! I remember agents being, like, "We're not going to say that you're gay. You need to go in and put your straight boots on and be the leading man." I was petrified. Then social media came out and I was like, "Well, I don't want to show that I'm gay. I'm never going to work again..." I remember a casting director once was, like, "He's a little light on his feet." And that sent me into a tailspin. Fuck, okay, let me just retreat more back into the closet. It really fucked with your psyche. I want to be myself. I want to show you what I can do, but then I'm gonna put on this armor. [butch voice:] "This is me being the straight leading man. And I'm going to talk like this and I'm a fucking robot."
We still have a long ways to go, but it's just so nice to see this younger generation be so open and free, being themselves and seeing so many gay storylines and plots and everything on TV and in in the arts right now. It's just wonderful. Everybody's their own unique person. Let's showcase everybody!
EDGE: Amen. I just spoke to Kevin Cahoon...
Constantine Rousouli: Oh, I love him. He's a fucking genius. What a sweetheart...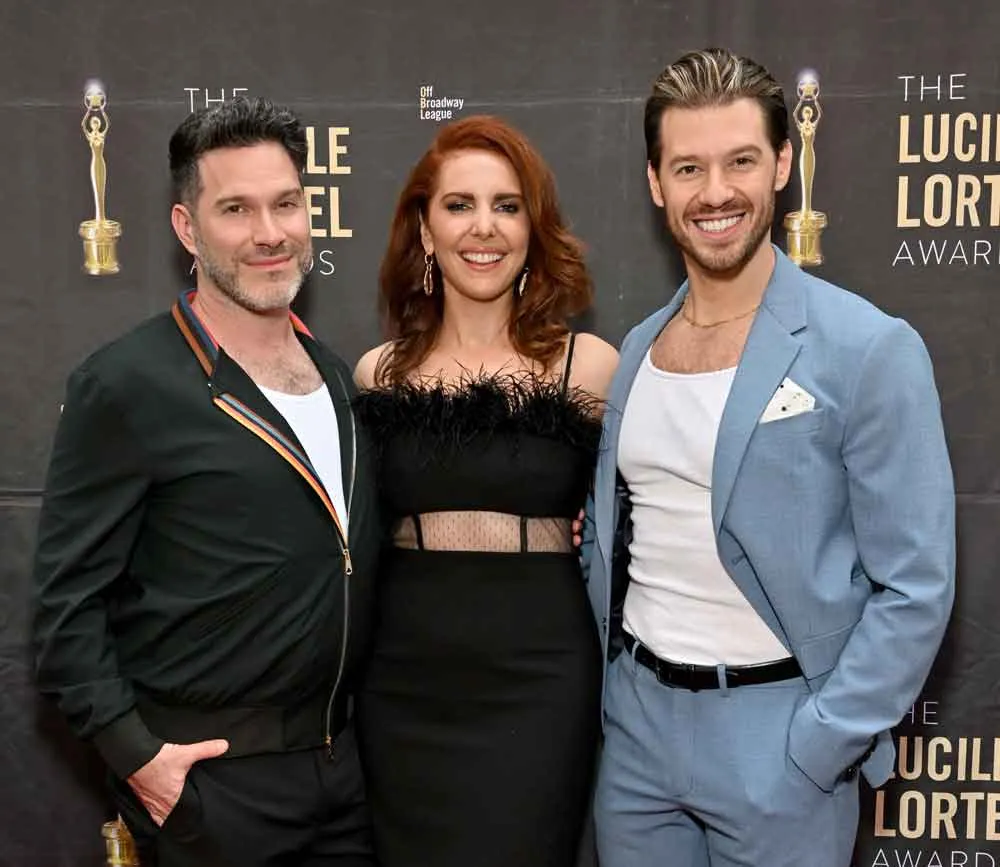 EDGE: He is. And he mirrored so much of what you're saying about how they were trying to change him, that he needed to butch it up...
Constantine Rousouli: Yeah, it's crazy. You're the leading man. You can't be gay. Okay, what am I going to do? I was so petrified of trying to show my funny side because they're like, "Oh, he's just gay." When I show my funny side and Ryan Reynolds shows his funny side, he's fucking gayer than all of us! Why are you coming for me? I always say, "I'm the gay Ryan Reynolds." When I took almost 10 years off from this business, I wanted to come back to New York on my terms. I'm going to give you me. And if you don't like it, you don't fucking like it. I'm not gonna get bent out of shape anymore. I'm just so happy that we wrote something that people can relate to and have fun, and not be pigeonholed into a box.
EDGE: Okay, so, the Patti LuPone life-size cut-out. WTF?
Constantine Rousouli: (laughs) We had to. The reason why the cardboard cut-out is there is because in May of 2021 we did a livestream, during the pandemic, at Le Poisson Rouge, and we were supposed to have a live audience, but then COVID started spiking again... How are we going to live stream this with no fucking audience? It's a comedy. I'm not going to have NBC live musical numbers and then crickets... My idea: "Why don't we, as a joke, get a whole row of cardboard cutouts?" Patti LuPone, Snoop Dogg, Hugh Jackman – we just had crazy, insane, weird cutouts. A llama! We put them all [out] to make it look like we had a live audience... And Marla would make a joke, like, "So, Patti, how do you know this llama?" After we spent most of our budget of these cardboard fucking cutouts, when we start doing the production we had to keep Patti in... I think she knows that she's in the show. But she doesn't know how. Because she's friends with John Riddle, who is our original Cal. So, we're trying to get Patti to come see it. I hope she'll like it, and not want to shoot us in the head.
EDGE: You never know with Patti LuPone.
Constantine Rousouli: You never know. But I "stan" Patti LuPone so much. That's how much we love her. She's a fucking legend. She can do whatever the fuck she wants. Let her yell at an audience member. Let her give away her equity card. I don't care. I support 1,000 percent whatever Patti LuPone does!
For tickets, visit https://titaniquemusical.com
Rousouli's Instagram
https://www.instagram.com/constantinerousouli/
---
Frank J. Avella is a proud EDGE and Awards Daily contributor. He serves as the GALECA Industry Liaison and is a Member of the New York Film Critics Online. His award-winning short film, FIG JAM, has shown in Festivals worldwide (figjamfilm.com). Frank's screenplays have won numerous awards in 17 countries. Recently produced plays include LURED & VATICAL FALLS, both O'Neill semifinalists. He is currently working on a highly personal project, FROCI, about the queer Italian/Italian-American experience. He is a proud member of the Dramatists Guild. https://filmfreeway.com/FrankAvella https://muckrack.com/fjaklute