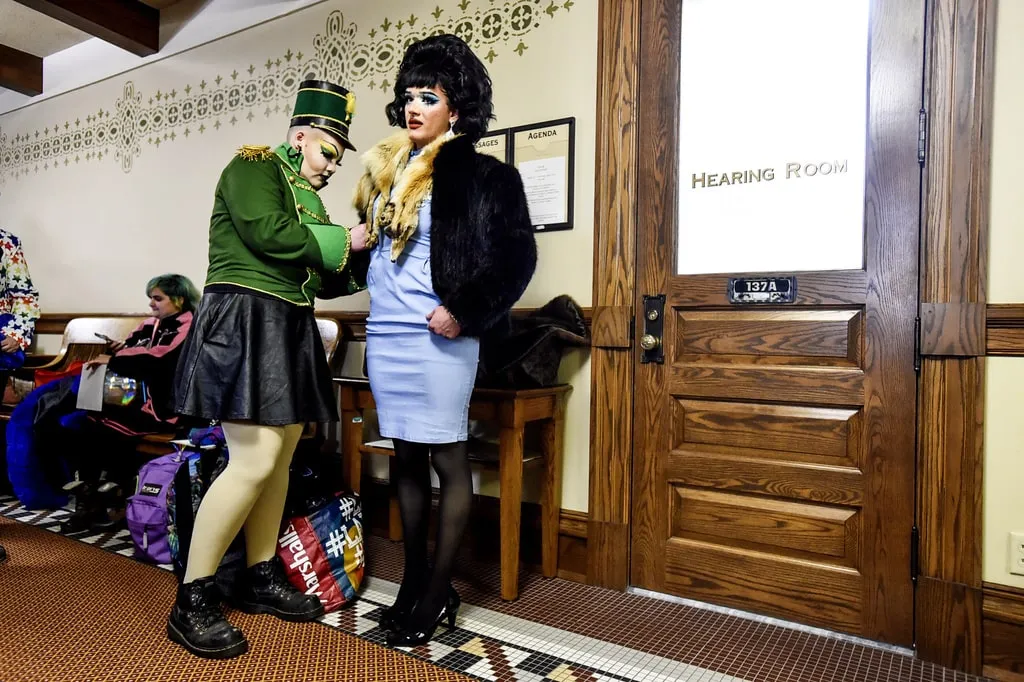 Montana Judge Temporarily Lifts Ban on Drag Performances Ahead of Major Pride Event
Amy Beth Hanson
READ TIME: 3 MIN.
A federal judge in Montana on Friday temporarily blocked a new law that restricts drag performances just days before thousands of people are expected to attend Montana Pride's 30th anniversary celebration in Helena.
The way the law is written "will disproportionally harm not only drag performers, but any person who falls outside traditional gender and identity norms," including transgender people, U.S. District Court Judge Brian Morris said.
The law seeks to ban minors from attending what it calls "sexually oriented" performances, and bans such performances in public places where minors might be present. However, it does not adequately define many of the terms used in the law, causing people to self-censor out of fear of prosecution, plaintiff's attorney Constance Van Kley with Upper Seven Law argued Wednesday.
"Plaintiffs, along with the approximately 15,000 Montanans who wish to attend the (Montana Pride) events, cannot avoid chilled speech or exposure to potential civil or criminal liability," without the temporary restraining order, Morris wrote.
The ruling will allow Montana Pride to advertise and hold some of its events in public places, said Kevin Hamm, president of Montana Pride. The annual LGBTQ+ celebration – which includes a parade, street dance and drag brunch – begins on Sunday and runs through Aug. 6.
"The language used in the (temporary restraining order) is both impressive and should serve as a warning to discriminatory actions by legislators in the future," Hamm said.
A lawsuit filed on July 6 challenges its constitutionality, and seeks a preliminary injunction to block it. The complaint was later amended to add the city of Helena as a defendant and Montana Pride as a plaintiff in order to request the more urgent move for a temporary restraining order. Montana Pride worked with the city to get permits to hold its public events.
The city of Helena supported the restraining order, saying the law put the city in the position of infringing on Montana Pride's constitutional rights of free expression by denying the permit, or subjecting city employees to civil and criminal liability included in the law if it granted the permit. The lawsuit allows a minor who attends a drag performance that violates the law to file a civil lawsuit against organizers or participants at any time over the following 10 years.
The complaint – whose initial plaintiffs include a transgender woman, two small theaters and a bookstore that holds drag queen reading events – calls the Montana law "a breathtakingly ambiguous and overbroad bill, motivated by anti-LGBTQ+ animus."
Judge Morris found that the law did not adequately define actions that might be illegal and appears likely to "encourage arbitrary and discriminatory enforcement."
Montana's law is flawed – like similar laws in Florida and Tennessee that have been blocked by courts – because it regulates speech based on its content and viewpoint, without taking into account its potential literary, artistic, political or scientific value, Morris found.
"Drag is definitionally political and artistic speech," said Diana Bourgeois, president of the Imperial Sovereign Court of the State of Montana, an organization that puts on drag reading events and one of the plaintiffs. "The court's order today protects our right to be commentators and artists and to create a safe, joyful and welcoming environment through our expression."
Like many Republican-led states, Montana's conservative lawmakers have passed other laws targeting transgender people. The state is among those to ban gender-affirming care for minors – which is also being challenged in court. It also passed a bill to define sex as only "male" or "female" in state law.
The law also made Montana the first state to specifically ban drag kings and drag queens – which it defined as performers who adopt a flamboyant or parodic male or female persona with glamorous or exaggerated costumes and makeup – from reading books to children in public schools or libraries, even though the performances do not have a sexual element.
The judge said the law does not define "flamboyant," "parodic" or "glamorous," among other terms.
Morris has scheduled an Aug. 26 hearing on the lawsuit's request for a preliminary injunction, which could continue to block the law while the case moves through the courts.
"We look forward to presenting our written response and full argument at the upcoming preliminary injunction hearing to defend the law and protect minors from sexually oriented performances," Emily Flower, a spokesperson for the Department of Justice, said in a statement.
The bill's sponsor, Republican Rep. Braxton Mitchell, has said that to him and his constituents, "keeping hyper sexualized events out of taxpayer funded schools and libraries" does not violate the First Amendment.
---