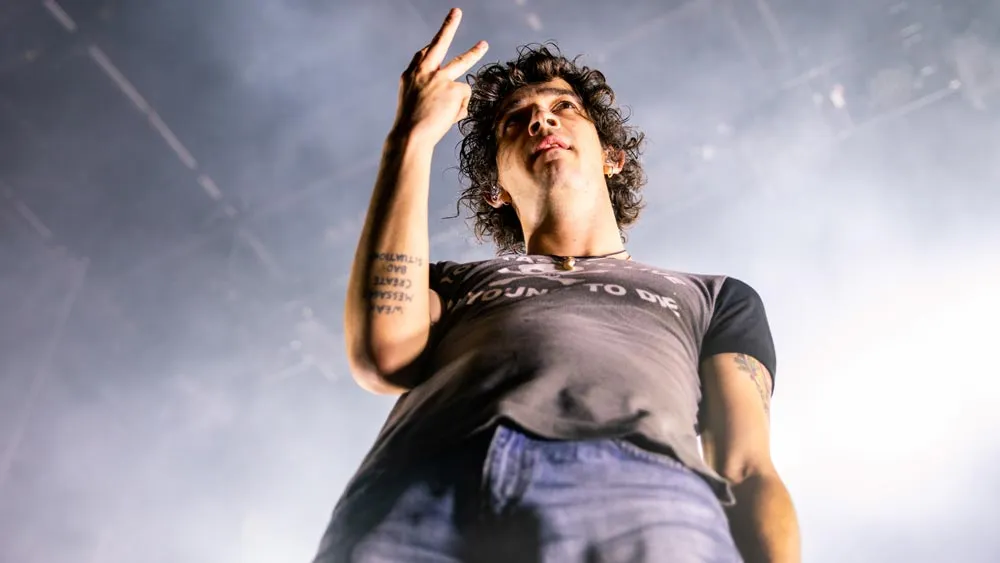 Matt Healy Keeps Misstepping on His Redemption Tour
1975 singer Matty Healy has been on something of a redemption tour lately ever since his rumored relationship with Taylor Swift was cut short after Swifties uncovered that he made derogatory comments about rapper Ice Spice and mocked Chinese and Hawaiian accents, reported Rolling Stone.
Determined to prove he isn't a dirtbag, Healy has been seemingly pulling out all the stops to get people to like him while he still has the public's attention.
At first he tried to brush off the whole racist mockery as faux outrage in a profile interview for the New Yorker.
"If it does, you're either deluded or you are, sorry, a liar. You're either lying that you are hurt, or you're a bit mental for being hurt," he said.
After that controversy seemingly cooled down, he has now recently tried to crawl back into everyone's good graces by "standing up" to Malaysia's record on LGBTQ+ rights. And if your response was, huh? You're not alone.
During 1975's show last Friday at the Good Vibes festival in Kuala Lumpur, Healy launched into a rant about not being able to have sex with whomever they chose.
"I don't see the fucking point of inviting The 1975 to a country and then telling us who we can have sex with," Healy said during the set. "Unfortunately you don't get a set of loads of uplifting songs because I'm fucking furious. And that's not fair on you, because you're not representative of your government. Because you're young people, and I'm sure a lot of you are gay and progressive and cool."
It all seemed very cringey and pandering, and festival officials cut the band's set short as a result. The Malaysian government has an "unwavering stance against any parties that challenge, ridicule or contravene Malaysian laws." The band and its management no doubt knew this, so Healy's speech felt even more performative to fans in the audience.
Speaking to the BBC, Kuala Lumpur-based drag queen Carmen Rose said Healy's comments were "unruly" and said he wasn't thinking of the consequences Malaysians will face from his words.
In a Twitter thread, Malaysian music industry exec Joe Lee wrote, "If anything, what Matt Healy and The 1975 have done, is discount and disrupted YEARS of work by local activists who have been pushing for change and understanding AND endangering our vulnerable minority communities."
That sounds about right. The following day, Malaysia announced that The 1975 are banned from the country. The band have also since cancelled other dates in Indonesia and Taiwan.
In fact the only person that seems happy that Healy ran his mouth is his mother, Denise Welch.
"He's my son," Welch tweeted with a link to the article explaining that they had been banned from the country. Seemingly proud, she punctuated the remark with a rainbow flag.
Indeed, Mother Healy, he is your son, and he needs to be gathered up.
Watch Healey's performance below.
---