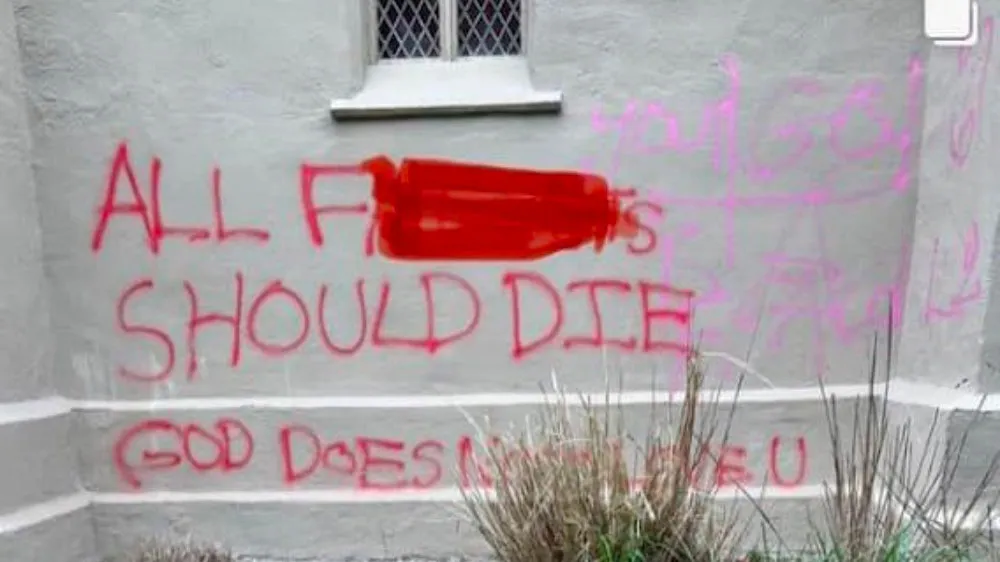 Anti-Gay Graffiti Sprayed on LGBTQ-Friendly Church in Boston
An LGBTQ-friendly church in Boston's Jamaica Plain neighborhood has been left to deal with the fallout of anti-LGBTQ+ vandalism just as Pride Month begins.
As reported by The Boston Globe, the First Baptist Church on Centre Street opened on Thursday to find that the building's steeple had been spay painted with anti-gay slurs and the phrase, "God does not love you."
According to church officials, the vandalism occurred sometime around 2 and 7 a.m.
The church prides itself on being welcoming and accepting of all, including the LGBTQ+ community, and the church pastor, Rev. Ashlee Wiest-Laird said that she believes it is a targeted act of intimidation.
"It's obviously meant to be intimidating," said Rev. Wiest-Laird told the Globe. "It's meant to be intimidating and hateful."
However, Suffolk District Attorney Kevin Hayden issued a statement Thursday morning denouncing the graffiti and standing firm that intimidation would not be tolerated.
"This dangerous, hurtful messaging is an instant reminder of the hatred within too many hearts in our city and cities across the nation," he said. "We will do everything possible to protect members of the LGBTQIA+ community in Boston and Suffolk County. But our efforts must be supported by national leaders in both parties speaking in unison against these insidious impulses in our society."
The incident comes two days before the return of Boston's Pride Parade after a four-year absence.
---