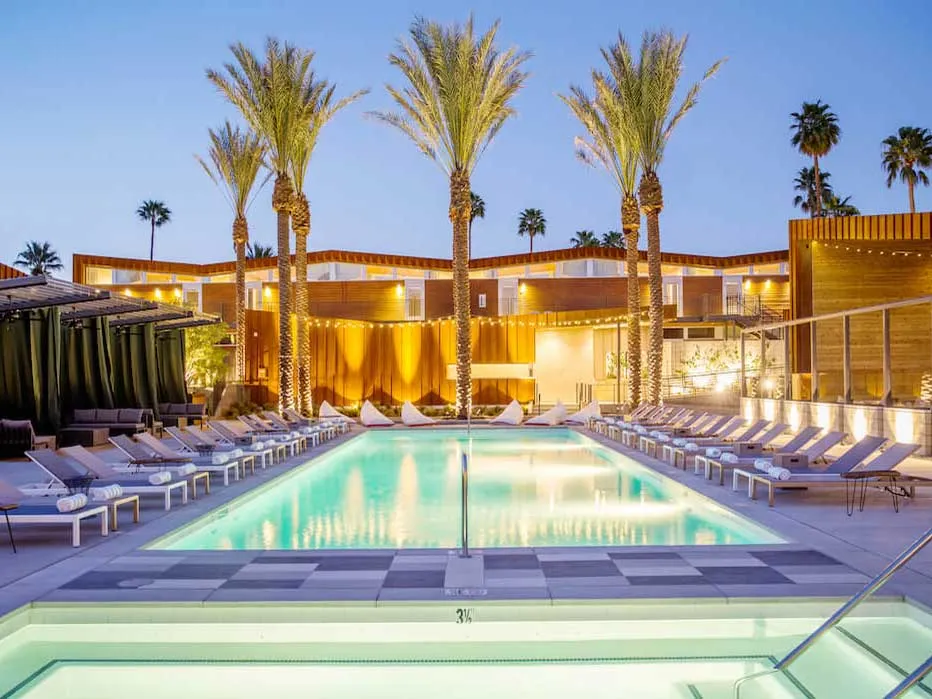 The Simple Hack for Finding Your Perfect Palm Springs Hotel
Fall has arrived in Palm Springs, which means that the LGBTQ+ calendar is majorly heating up just as temps are blissfully cooling down. Next up on the PS roster at the end of October is this year's edition of Palm Springs Leather Pride, with the more all-encompassing Palm Springs Pride and its scores of related events soon following in early November.
Which begs the perennial question for the LGBTQ+ visitor to Palm Springs: Where to stay? Few accommodation scenes are as varied and shifting as that of this resort paradise, which can make choosing the right hotel a challenging and time-intensive process for the unwitting traveler.
Enter Palm Springs Preferred Small Hotels, an alliance of nearly 80 of the desert oasis's top boutique properties, offering a widely diverse array of settings, styles and scenes – plus an easy-to-use search engine for drilling down your ultimate inn, and even getting yourself completely booked at the same nightly rates offered on the properties' own sites. Whether you're looking for a local home base that's fun and frisky, secluded and serene, stylish and Insta-worthy, or humble and historic, PSPSH has you covered. And of course, in the town that elected America's first all-LGBTQ+ city council in 2017, it goes without saying that all of these properties are queer-friendly.
Here are just a few of the many fantastic Palm Springs Preferred Small Hotels options.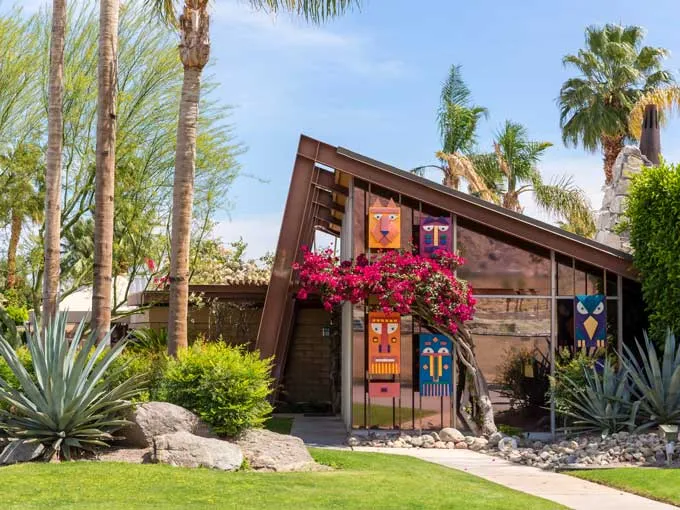 Triangle Inn
For the traditional gay men's resort lover, Triangle Inn is an intimate eight-suite property located in the heart of Warm Sands, along the hub of the city's gay resort scene. Run by warm and delightful couple Michael Green and Stephen Boyd (who also live on the property), Triangle Inn is clothing-optional and loaded with mid-century style, set as it is on the site of the one-time Impala Lodge, which was designed by local modernism legend Hugh Kaptur and opened in 1958. Special bonus: Green is also the head honcho at the Palm Springs Cultural Center, so you'll always be clued in about the best stuff going on around town.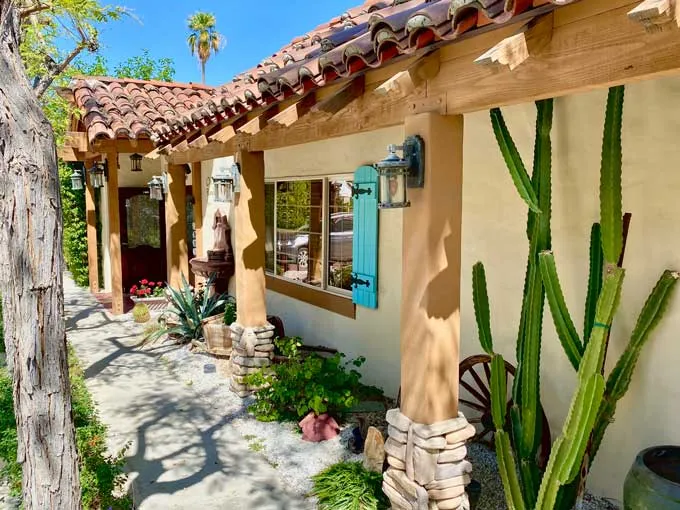 Old Ranch Inn
For history lovers who want to stay at the center of town, Old Ranch Inn is set in the Historic Tennis Club neighborhood, just steps away from the heart of downtown Palm Springs and the main gay bar strip on East Arenas Road, and in the other direction, the natural beauty and hiking trails of Tahquitz Canyon. Not a gay hotel per se, the beloved eight-room property has been owned since last year by husbands Jason Ball and Troy Jones. It's also pooch-friendly.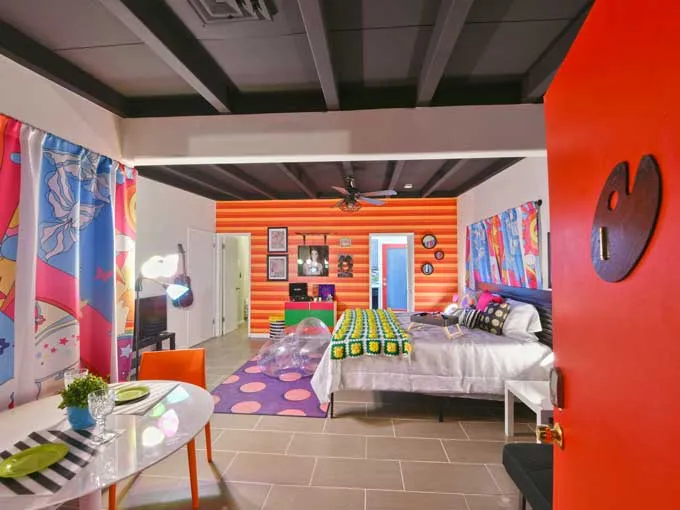 The Art Hotel
Lovers of color and culture will be hard-pressed to find more of them in one place than The Art Hotel, a complete 2020 renovation (by husband and wife team Jerry and Tracy Turco) of the former Sandalwood Hotel, a mid-century property from 1960 located on the north end of Indian Canyon Drive. As its name suggests, the property is filled with visual art – much of it by local artists – and each of the eight rooms comes with rare perks for music aficionados including a guitar, a vintage record player, and a curated vinyl collection. An outdoor mural by New York City street artist Damon Johnson has become a popular Instagram backdrop. For small groups of up to 15, the property is also perfect for full buyouts.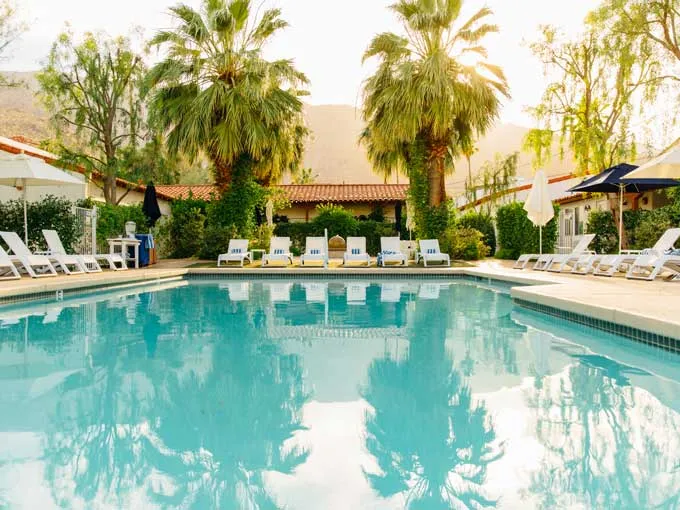 Arrive and Alcazar
For those who prefer somewhat larger properties and the amenities and liveliness that come along with them, two of Palm Springs' most stylish and popular mid-size boutiques, Arrive and Alcazar, are also members of the PSPSH family. The sleek, 32-room Arrive arrived in town in 2016, and prides itself on its uniquely modern approach to things – e.g., handling guest/staff communications by text messaging. The uptown Palm Springs property also opens its stylish pool and cabanas to locals, allowing for social interplay between guests and natives. Bonus that it's on the same block as 1501 Uptown Gastropub, which despite opening at the height of the pandemic in 2020 has become one of the city's buzziest eateries.
About a mile to the south (and just north of downtown), the gleamingly white Alcazar opened in 2011 on a gorgeous property that originally dates from 1929. Guests at the 34-room hotel love the serene but sociable atmosphere, evocative of the classic Palm Springs resort experience. Popular restaurants Cheeky's and Birba are both right next door, and Townie Bikes are available to borrow for anything that's too far away to just walk.
Check out the Palm Springs Preferred Small Hotels site for full details about these and the 70+ other great properties that make up the PSPSH family – and to book the perfect boutique stay for your next Palm Springs visit.
---