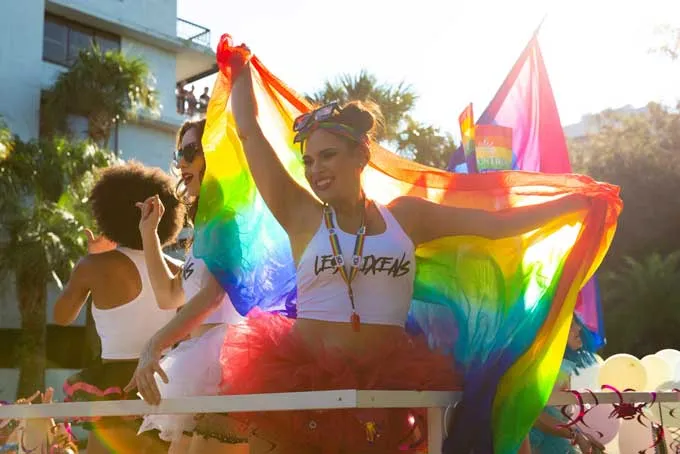 October in Orlando: It's Time to Come Out with Pride
Orlando's Gay Days in June have firmly planted themselves on the national LGBTQ+ travel calendar – but somewhat lesser known to non-locals is October's exciting annual Orlando Pride celebration, headlined by the Come Out with Pride Festival and supported by a full week of related queer events happening all around the world's theme park capital.
Timed to align with National Gay and Lesbian History Month in October and National Coming Out Day on October 11, this year's Come Out with Pride Festival will take place on October 15 from noon to 9:30 p.m. with a parade, performances, booths, dancing, plenty of culinary and libation options, and a show-stopping grand finale. Now in its 18th year of welcoming folks from across Central Florida and well beyond to come together for a lively celebration of inclusivity and unity, the Pride festival this year takes the theme "A Place for Us," reflecting the LGBTQ+ community's united stance in response to the current challenging climate.
For the first time ever, Saturday's Come Out With Pride Festival will feature three stages of exciting entertainment: The Diva Stage, hosted by local legend Angelica Sanchez, which will showcase drag and diva performances from some of Orlando's most popular LGBTQ+ establishments and groups, as well as "RuPaul's Drag Race" headliners Lady Camden and Yvie Oddly; the Dance Stage, featuring high-energy DJs, club-style lighting, and plenty of fun surprises and activations; and the Local Stage, part of the festival's new Hyper Local Zone, which will highlight popular Orlando-based bands and musicians like Cesar de la Rosa. The festivities will run from noon to 9:30 p.m. in Lake Eola Park in downtown Orlando.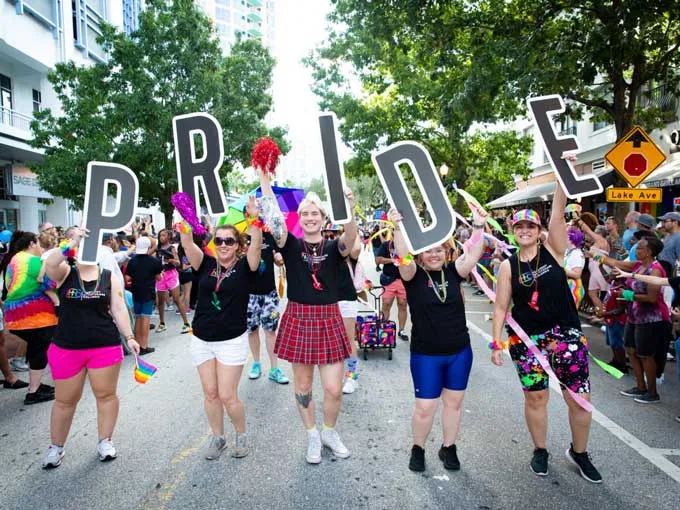 As it always is, the centerpiece of Come Out with Pride will be The Most Colorful Parade, which will see more than 100 groups strolling a mile-long route around Lake Eola Park, starting at 4 p.m. at the corner of Orange Avenue at Washington Street. This year's grand marshals will be actor Michael James Scott, community leader Shea Culliff, and student leader and activist Will Larkins, who will all be joined posthumously in spirit by renowned Florida entertainer Doug Ba'aser, who passed away in July.
For those looking to upgrade their Orlando Pride adventure, a Chill Out Zone ticket will include outdoor seating, cooling fans and porta-potties in a fenced-in and shaded area, as well as a cocktail, a beer, and unlimited soda and water. A VIP Experience ticket will take the pampering to another level, with food and dedicated bars inside three air-conditioned VIP tents, luxury bathrooms, and premier bleacher viewing areas.
Other attractions at the day-long Come Out with Pride Festival will include Pride Marketplace, featuring more than 200 community-supporting vendors along Robinson Street; three separate food courts with over 40 vendors offering selections from Central Florida's diverse culinary scene; drinks and mixology by Orlando's most popular bartenders; the Rainbow Ranch Family Zone, featuring arts and crafts, performances, and readings; a Sober Pride area with a mocktail bar and photo booth; and a new Youth Pride Zone presented by NBC Sports. Wrapping up the action-packed day will be an explosive grand finale featuring a performance starring Broadway's Michael James Scott and a special fireworks display over Lake Eola.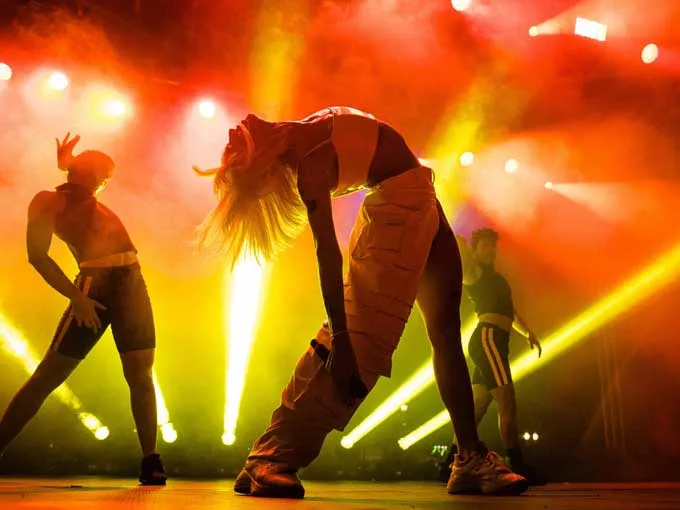 The Most Colorful Parade and the Come Out with Pride Festival will cap off a full week of Pride-related activities around the city of Orlando. On October 9, the 5th Annual Drag Race 5k will commence at Harbor Park, while in the evening, the four ensembles of the Orlando Gay Chorus will perform at the Timucua Arts Foundation. On October 10, a special Meet the Filmmaker event at the Enzian Theater in Maitland will present a screening of the Pulse survivor documentary "Jeannette," along with an extended Q&A with subject Jeannette Feliciano and director Maris Curran.
On October 11, an LGBTQIA+ Survivor Vigil will take place at Orlando City Hall at 7 p.m. On October 12, a Pride Showcase will go down at Savoy Orlando, which will also host a Movies Out Loud screening the next night. Also on October 13, We Shall Overcome at the Walt Disney Amphitheater will honor LGBTQ+ people of color who have been trailblazers for human rights. On October 14, Pride Shabbat services will take place at 1010 West, while Savoy Orlando hosts the official Come Out With Pride kick-off party, and the Milky Way Bar + Bites Crawl hosts a Pride Edition through the Milk District, and the Phish Phest Reunion Party brings the lesbian hour back to The Hammered Lamb.
After the fireworks on October 15, Ace Cafe Orlando will host the much-anticipated Rainbow House Official Saturday Night Event, with a special appearance by "RuPaul's Drag Race" queen Lady Camden. On October 16, The Hammered Lamb will be the site of the official Pride Recovery Brunch, while the Orlando Gay Chorus's 14th annual Uncut Cabaret will happen at the Renaissance Theatre, and the Happiness Tea Dance will keep the Pride flowing at The Veranda.
So make your plans now to join the Pride fun – and stay an extra day or two to check out Orlando's many Halloween and foodie events happening in October. Find great deals at VisitOrlando.com.
---