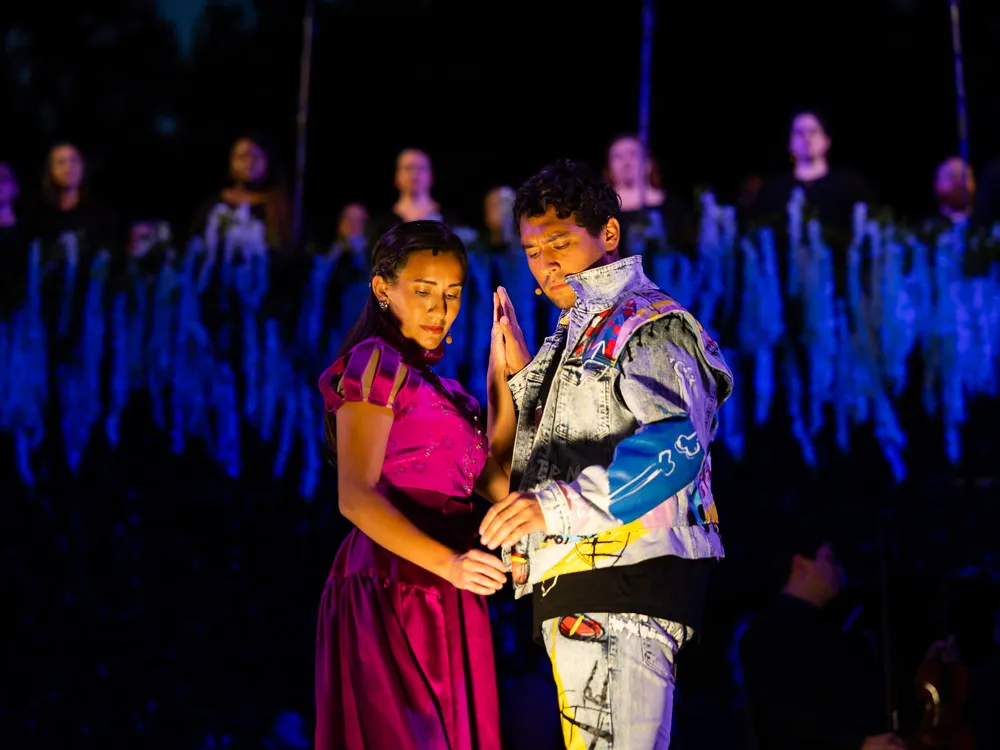 Review: Boston Lyric Opera's Outdoor 'Romeo & Juliet' a Treat
During the last decades of the 19th century, Gounod's 1859 "Faust," was arguably the most frequently performed opera in the repertoire. Several composers fashioned works based on Goethe's play; but Gounod's version maintained universal popularity well into the 20th century. In 1883, it was the opera chosen to inaugurate the newly formed Metropolitan Opera in New York. In listening to the work, one can readily appreciate why this tuneful, beautifully crafted stage-work was held in such high esteem. However, many diehard opera fans cite Gounod's 1867 "Romeo & Juliet" as the composer's definitive masterpiece. When listening to this exquisite lyrical effusion, one can easily appreciate such an attribution. Boston opera-goers were given a rare opportunity to experience "Romeo & Juliet" this week free of charge in an outdoor production mounted by Boston Lyric Opera.
The remarkably resilient BLO continues to find interesting venues around Boston in which to perform, and manages to persevere in spite of severe economic challenges and staggering pandemics. For the opening of its new season, the company has selected the vast expanses of the Boston Common as a backdrop for its production. Partnered with the Commonwealth Shakespeare Company, BLO's "Romeo & Juliet" was presented in a semi-staged version before an audience of thousands, reclining on blankets and beach chairs while absorbing Gounod's exquisite melodies.
The score was cut in several places, to accommodate passages of the original Shakespearean dialogue, performed by two local actors, Ed Hoopman and Cheryl D. Singleton. The BLO orchestra and chorus performed admirably under the firm hand of music director David Angus. However, as is the case with any operatic performance, it is the solo singing that determines the ultimate success of the production. And BLO's cast did not disappoint.
Tenor Ricardo Garcia and soprano Vanessa Becerra were both ideally suited to their roles as the star-crossed lovers. Garcia's voice had just the right, heroic timbre for Romeo. It was rich in the middle register, but unsteady in the high, loud passages. Fortunately, he was able to transition to a lovely head voice, as he did in the finale of his main aria, "Ah, leve-toi soleil." He definitely improved as the performance progressed, proving quite effective in the tragic final scene.
Becerra was a joy to hear. Her perfectly placed, lyric soprano soared throughout the entire performance. She appears to be more of a true lyric than a coloratura soprano; and, therefore, the tempo was somewhat slow in the demanding "Waltz Song." Yet she negotiated it quite well, and was terrific in the "potion aria" of the last act. Both she and Garcia acted their roles with appropriate passion.
The remaining performance of Boston Lyric Opera's production of "Romeo & Juliet" takes place on Saturday, August 13 at 8 p.m. at the Parkman Bandstand, Boston Common.
---