Taking Flight: TWA Hotel Launches Its Highly Anticipated Lounges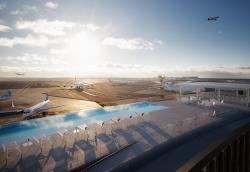 JFK Airport's TWA Hotel has opened three stunning venues for hotel guests and visitors:

The Sunken Lounge reignites the magic of Eero Saarinen's landmark 1962 TWA Flight Center, restored as the premier lobby bar.
MUST ORDER: Come Fly With Me, inspired by Frank Sinatra's 1958 album cover and garnished with a rainbow of swizzle sticks modeled after TWA's original set.

The Pool Bar & Observation Deck boasts a 63-by-20-foot infinity edge pool (turned heated pool-cuzzi in colder months) with unparalleled views of multiple JFK runways. MUST ORDER: A Mile High Spritz to complement those rooftop pool vibes.

Connie, one of only four Lockheed Constellation L-1649A left in the world, transports you back into 1958. Step onto the tarmac and aboard her renovated cabin, where vintage-inspired cocktails flow and snacks are served with a smile.
MUST ORDER: An Aviation of course, but don't forget to stop by the cockpit to check out the original authentic controls.

"Operating The Sunken Lounge, The Pool Deck, and Connie at TWA Hotel is an incredible opportunity and we're thrilled to bring each of these unique concepts to life in their own way," says Scott Gerber, Principal and CEO of Gerber Group, the venue's operator. "The millions of guests from around the world, as well as locals who join us, can expect the exceptional service, cocktails and bites we're known for, infused with a sense of history and discovery that only these venues can bring."
This story is part of our special report titled "Slumber Party." Want to read more? Here's the full list.
Comments on Facebook