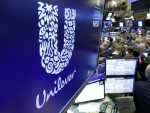 Consumer products giant Unilever, whose brands include Dove soaps and Lipton teas, said Monday it aims to halve its use of non-recycled plastics by 2025.
Thousands of medallion taxi drivers parked their pink-and-white cabs to block major Mexico City thoroughfares for hours Monday in protest of ride-hailing apps such as Uber, causing long delays for motorists.
As the U.S. warned allies around the world that Chinese tech giant Huawei was a security threat, the FBI was making the same point quietly to a Midwestern university.
Samsung Electronics said Friday it has ended the production of smartphones in its last factory in China.
The European Union's highest court says that Facebook can be ordered by an individual member state to remove or block access to material which was previously declared unlawful and says that it can have a worldwide impact.
Back when the Mississippi River flowed wild, its ever-shifting waters acted as a continent-sized earth mover, picking up sand and dirt from the North, depositing it in the Delta region and eventually creating the land that is now south Louisiana.
Towering wind turbines may soon jut up from the picturesque patchwork of Druze farmland in the Golan Heights, angering villagers who see the project as a threat to their agrarian way of life.
A U.S. congressional committee has requested a trove of internal Facebook documents that the company's critics say will demonstrate how the social media giant unfairly leveraged its market dominance to crush or absorb competitors.
While trying to lose weight, Becky Beach found assistance in an unlikely place: thousands of online videos featuring people binging on massive amounts of ramen, burgers, chicken wings and seafood boils brimming with crab and lobster.
A new article from The Moscow Times tells the story of a man who claims his iPhone turned him "toward homosexuality." He is now seeking monetary damages from Apple in court.