1 thru 10 of 3957 Stories
Rihanna reveals some new details about her forthcoming ninth album.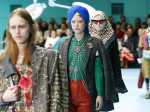 Nordstrom has apologized to Sikhs for selling a turban they found offensive, but a representative with the U.S. community's top civil rights organization said they are still waiting to hear from the Gucci brand that designed it.
As the Cote d'Azur extravaganza has unspooled over the last week, photographer Petros Giannakouris has focused his camera lens on the smaller fashion details of the festival's famed red carpet.
It's been a minute since a new fashion design competition has occurred. Enter: "Next in Fashion," soon to come on Netflix.
Gloria Steinem, Cecile Richards, Michelle Obama. Barbie? The Council of Fashion Designers of America will follow up those prestigious honorees of its Board of Directors' Tribute Award with the ever-evolving doll.
In honor of Pride Month this June, Reebok has introduced its limited edition 'Pride Pack', bringing vibrant updates to the iconic Club C, Classic Leather and Freestyle Hi. A portion of the proceeds from the collection will be donated to Fenway Health.
Rihanna certified her status as a cultural fashion icon with her groundbreaking new deal with LVMH Moët Hennessy Louis Vuitton, the world's largest luxury group.
The sneaker seller will add a foot-scanning tool on its app this summer that will measure the length, width and other dimensions of customers' feet after they point a smartphone camera to their toes.
According to one scholar, the influence black people have had on Muslim fashion goes back at least eight decades.
Nearly three months after sharing his first set of photos for a Calvin Klein campaign, singer Shawn Mendes is again causing Twitter to go wild over his latest revealing photo for the clothing company.
1 thru 10 of 3957 Stories