President Donald Trump avoided directly answering when asked whether he currently is or has ever worked for Russia after a published report said law enforcement officials, concerned about his behavior.
A leading Senate Republican close to President Donald Trump says Trump isn't giving in on his demands for a wall along the U.S.-Mexico border, the issue that's caused the partial government shutdown that's now in its fourth week.
You won't see Beto O'Rourke announce whether he's running for president in 2020 for a while. But you may see him do almost anything else in the meantime.
As the partial government shutdown slipped into the record books Saturday as the longest ever, members of Congress were out of town, no negotiations were scheduled and President Donald Trump tweeted into the void.
The vice president has been one of the administration's most visible emissaries during the shutdown fight, meeting with lawmakers, sitting for interviews and leading staff-level talks.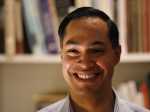 Assailing President Donald Trump for "a crisis of leadership," former Obama Cabinet member Julian Castro joined the 2020 presidential race Saturday.
President Donald Trump is proposing a dramatic end-run around Congress to build his promised border wall with Mexico, many Republicans are uneasily cheering him on.
The Democratic presidential sweepstakes might seem like a tale of Joe Biden and the Seven Senators, but there are plenty of governors and mayors looking for a chance to steal the spotlight.
Democratic Rep. Tulsi Gabbard of Hawaii has announced that she is running for president in 2020.
With the deceptive use of a video, President Donald Trump on Thursday heartily thanked his White House predecessor for supporting his policy at the Mexican border. Barack Obama has offered no such support; only criticism.