1 thru 10 of 6560 Stories
Vegan bacon, broccoli rice and other veggie foods will need new names to stay on Louisiana's grocery store shelves next year.
As Trump mounts his bid for reelection, he is offering himself as the outsider once again — but it's a much more awkward pitch to make from inside the Oval Office.
Despite a new Federal Election Commission filing, former Congressman Aaron Schock has confirmed that he will not be seeking another term in 2019.
Pete Buttigieg, in an interview, offered the speculation that if he were to be elected president of the United States, he might not actually be the first gay man to hold the office.
Authorities say a man has died after a shooting involving a police officer in South Bend, the Indiana city where Democratic presidential candidate Pete Buttigieg is mayor.
President Donald Trump's early strength in Florida on the night of the 2016 election was the first sign that he was about to score an upset victory. But as another campaign heats up, Democrats aren't ceding the Sunshine State.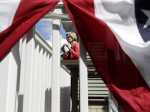 After receding from the national stage, the free college movement is resurfacing as a central rallying point for Democrats as they set their sights on the White House.
Candidates seeking to beat favorite Boris Johnson and become Britain's next prime minister warned Sunday that the Conservative Party needs a real leadership contest, not just a coronation for the flamboyant front-runner.
India's recent national election delivered a historic victory to Prime Minister Narendra Modi's Hindu nationalist party, but also exposed the influence of money, power and questionable morality on the world's largest democracy.
President Trump's latest volley of rhetoric ranges from flat-out false to mostly untrue.
1 thru 10 of 6560 Stories