A Los Angeles woman says she and her date were told to leave a popular deli after sharing a same-sex kiss; the owner says the reason was not homophobia, but rather a "no making out policy."
Music legend Richie Supa speaks candidly of the 60s and the era following the Stonewall Uprising where counterculture often led to addiction.
The Supreme Court is throwing out an Oregon court ruling against bakers who refused to make a wedding cake for a same-sex couple.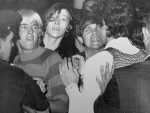 They didn't set out to change history; they weren't the first LGBT Americans to mobilize against bias.
Police were searching Saturday for a retired medical school professor and AIDS researcher from North Carolina who went missing during a marathon swimming race down New York's Hudson River.
The Los Angeles Police Department is gathering evidence and video footage in an administrative investigation into an off-duty officer who shot and killed a man who authorities say attacked him inside a Costco Wholesale warehouse store.
A swastika has been found in a Jackson County cemetery where World War II soldiers are buried.
An off-duty police officer opened fire inside a Costco Wholesale warehouse store, killing a man who had attacked him and wounding two others, the Corona Police Department said.
Planned Parenthood is building the stage for another possible fight over abortion in Alabama: a large women's clinic that's under construction despite the state's passage of a near-total ban on abortions.
The cast of Fox & Friends showed their support for the Texas "Save Chick-fil-A" Bill Wednesday with a segment catered by Chick-fil-A.