Watch: Gay Political Donor Hit with 'Revenge Porn' Suit After Two Deaths in His Home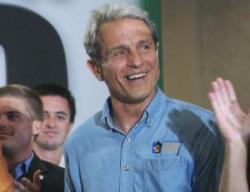 The saga of prominent political donor Ed Buck, in whose apartment two African American men died of drug overdoses, has taken a fresh turn with additions to a civil suit that now accuse Buck of human trafficking and distributing revenge porn, The Daily Beast reports.
As previously reported at EDGE, a 55-year-old onetime Gay Games gold medalist named
Timothy Dean died earlier this year at Buck's West Hollywood home, reportedly from an overdose.
Dean's death was the second such fatality to take place at Buck's residence. In July 2017, 26-year-old Gemmel Moore succumbed to what an autopsy report characterized as an overdose of meth. Entries in Moore's journal suggested that Buck had shot him up with the drug on multiple occasions, media reports said.
Buck is known as a well-connected donor to Democratic politicians, including Los Angeles District Attorney Jackie Lacey. The Daily Beast reported that Lacey claims that she refunded that money to Buck. Lacey also denied last March that donation, which was in the sum of $100, had any bearing on her handling of the men's deaths.
"Every life, regardless of a person's age, race, economic status and even whether they use illegal drugs, has value," Lacey stated in an open letter, the Daily Beast reported. "If that life is lost because of the unlawful actions of another, rest assured that my office will do everything possible to bring the perpetrator to justice."
The accusations of human trafficking and revenge porn stem from amendments to a wrongful death suit brought against the prominent donor by Gemmel's mother, LaTisha Nixon. The suit, originally filed Feb. 26 of this year, alleges that Buck preyed upon younger African-American men, calling him "a wealthy older white man who has a well-documented history of isolating black men for predatory sexual encounters during which he injects them with crystal methamphetamine in the confines of a drug den in his West Hollywood apartment."
The newly added claims say that Buck offered payment to Moore to get him to travel from Texas to California for "commercial sex acts," and also allege that Buck circulated a graphic video in which Moore appeared.
According to a CBS News report, the suit levels the charge that Buck "regularly solicits sex from black men in exchange for temporary housing and/or monetary compensation."
Buck's attorney, Seymour Amster, has denied culpability on behalf of his client, telling the media after Timothy Dean's death earlier this year that Buck had gotten a call from Dean in the early morning hours of January 7. Dean insisted on coming over to Buck's home despite the hour, Amster said. Shortly after Dean got to Buck's home, according the Amster, Buck noted that "his friend was acting with bizarre behavior. Shortly thereafter it was obvious his friend needed medical assistance. Ed called paramedics. They arrived, they were unable to revive him, and unfortunately, he died in the apartment."
The suit also names Lacey and accuses the District Attorney's office of civil rights violations for "refusing to impartially prosecute white people for their felonious criminal acts against black victims," the Daily Beast article said.

Watch the CBS news clip below.
Kilian Melloy serves as EDGE Media Network's Assistant Arts Editor. He also reviews theater for WBUR. His professional memberships include the National Lesbian & Gay Journalists Association, the Boston Online Film Critics Association, The Gay and Lesbian Entertainment Critics Association, and the Boston Theater Critics Association's Elliot Norton Awards Committee.
Comments on Facebook