Gay Los Angeles: The Latest
New restrictions were being slapped on travel from countries in southern Africa by the hour as the world scurried Saturday to contain a new COVID variant.
Stephen Sondheim, the songwriter who reshaped the American musical theater in the second half of the 20th century with his intelligent, intricately rhymed lyrics, his use of evocative melodies and his willingness to tackle unusual subjects, has died. He w
The discovery of a new coronavirus variant sent a chill through much of the world Friday as nations raced to halt air travel, markets fell sharply and scientists held emergency meetings to weigh the exact risks, which were largely unknown.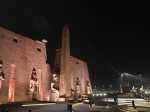 Egyptian authorities were unveiling Thursday a renovated ancient promenade in the city of Luxor dating back 3,000 years, the latest government project undertaken to highlight the country's archaeological treasures.
When you see Chris Diamantopoulos on screen, you may get a sense of déjà vu. The actor regularly pops up in movies and TV shows as a variety of characters, and he's fine if you find yourself trying to place where you've seen him before.
South African scientists have identified a new version of the coronavirus this week that they say is behind a recent spike in COVID-19 infections in Gauteng, the country's most populous province.
Retailers are expected to usher in the unofficial start to the holiday shopping season Friday with bigger crowds than last year in a closer step toward normalcy
A slew of nations moved to stop air travel from southern Africa on Friday, and stocks plunged in Asia and Europe in reaction to news of a new, potentially more transmissible COVID-19 variant.
National Geographic magazine's famed green-eyed "Afghan Girl" has arrived in Italy as part of the West's evacuation of Afghans following the Taliban takeover of the country, the Italian government said Thursday.
A new coronavirus variant has been detected in South Africa that scientists say is a concern because of its high number of mutations and rapid spread among young people in Gauteng, the country's most populous province,
President Joe Biden on Thursday wished Americans a happy and closer-to-normal Thanksgiving, the second celebrated in the shadow of the coronavirus pandemic, in remarks welcoming the resumption of holiday traditions by millions of U.S. families.
Like its title, "The Last Rite" piles on the cliches.
Buoyed by solid hiring, healthy pay gains and substantial savings, shoppers are returning to stores and splurging on all types of items.
Vaccinating kids against COVID-19 also means reducing silent spread, since most have no or mild symptoms.
Congress has created a new requirement for automakers: Find a high-tech way to keep drunken people from driving cars.
EDGE editors pick some our favorite men's grooming, skincare and wellness products to gift this holiday season.
Find gratitude and stay sober during the holidays with these simple strategies.
Millions of Americans will be loading up their cars or piling onto planes to gather again with friends and family this Thanksgiving.

A very pregnant Ladyfag presented Battle Hymn at Rumi Event Space with a special birthday celebration for Amanda Lepore, with DJ's Eli Escobar and The Carry Nation.