Gay Los Angeles: The Latest
Sebastian Stan's new film "Monday" follows the red-hot relationship between a DJ (Stan) and an immigration lawyer (Denise Gough). Both actors commented on their level of comfort with the film's copious nudity.
K-pop star and king of the thirst trap Wonho is turning heads again with his latest eye-grabbing pic on Twitter.
In interviews with Jake Paul and Ben Askren before the Triller Fight pay-per-view boxing match in Atlanta on Saturday, "SNL's" Pete Davidson asked Paul an awkward question.
Congress has poured tens of billions of dollars into state and local public health departments in response to the coronavirus pandemic, paying for masks, contact tracers and education campaigns to persuade people to get vaccinated.
Closing arguments began Monday at the murder trial of former police Officer Derek Chauvin in the death of George Floyd.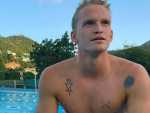 Aussie singer and swimmer Cody Simpson hit a speed bump on his way to the Olympics this past weekend.
In almost all cases, you can shred or throw away any documents such as W-2s, 1099s or other forms or receipts three years after you file your tax return.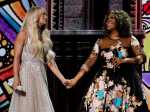 Though female country stars didn't compete for the night's top prize — Luke Bryan was named entertainer of the year — they owned Sunday's ACM Awards.
The three weeks of testimony at a former Minneapolis police officer's trial in the death of George Floyd were filled with indelible moments.
Less than three months after former President Donald Trump left the White House, the race to succeed him atop the Republican Party is already beginning.
Alma Wahlberg, the mother of entertainers Mark and Donnie Wahlberg and a regular on their reality series "Wahlburgers," has died, her sons said on social media Sunday. She was 78.
This taut, informative 80-minute documentary illuminates the hidden history about how LGBTQ activists fought to remove the classification that being gay was a disease.
Mickey's high-waisted red shorts and Minnie's polka-dot flared skirt with a sensible yellow heel won't be changing any time soon, but for Disney Park "cast members" (aka employees), new policies indicate that times are changing.
A British healthcare worker left his job as a medical assistant after six years to pursue a full-time OnlyFans career after receiving a one-percent raise.
During a year when millions were stuck at home and unemployment rates reached a record high, credit card debt took an unexpected downward turn.
How can you evaluate new gadgets in the typical 15- to 20-minute test drive if you don't quite know what they do or what to look for?
The pandemic has torn a multibillion-dollar bite out of the fabric of Europe's fashion industry, stopped runway shows and forced brands to show their designs digitally instead.
The need for masks continues to be a contentious issue. As the federal government doubles down on their importance, some states have thrown caution — and face coverings — to the wind.
Airport chaplains have become close witnesses to people's worsening mental condition. "No doubt, the pandemic has accelerated the need for our services to a new level," said the Rev. Greg McBrayer.
In certain circles of San Francisco, a case of syphilis can be as common and casual as the flu.