Gay Los Angeles: The Latest
As "The Handmaid's Tale" returns in April for season four, its creator is reluctant to predict when the dystopian drama will be ready for its final act.
Britain's Queen Elizabeth II is encouraging people to be vaccinated against COVID-19, saying the shot is quick, harmless and will help protect others against the disease.
NYC Pride announces the official theme for 2021, "The Fight Continues," as the kick-off to this year's events and programming.
"Big" Bill Eld, one of gay cinema's first porn stars, didn't last long in the business, as director Toby Ross recounts in his ruminative odd 'docudrama.'
Police arrested a same-sex couple for sharing a kiss on a public beach, declaring that the reason the men were being handcuffed was that the display of affection took place where "children are present."
Netflix on Friday released a study it commissioned from top academic researchers that shows the streaming giant is outpacing much of the film industry in the inclusivity of its original films and television series.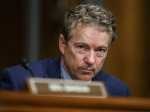 Sen. Rand Paul, Republican from Kentucky, threw himself into an insinuation-filled transphobic rant aimed at Dr. Rachel Levine, a pediatrician and nominee for the post of assistant secretary of health.
This week, the CDC said gym users should wear masks while working out and urged gyms to improve ventilation and encourage outdoor physical activities whenever possible.
Hulu has announced the return of "Love, Victor," the spinoff series of the LGBTQ comedy film "Love, Simon."
Prince Harry, who decamped from England to Southern California last year, rapped the theme song to the 1990s sitcom "The Fresh Prince of Bel-Air" during a late-night talk show interview in which he said he didn't walk away from his royal duties.
A Bavarian radio station apologized Friday for a host's comments comparing popular South Korean K-pop band BTS to the coronavirus, saying his choice of words had gone too far but was in no way meant to be "hurtful or racist."
"God of the Piano" explores tortured genius and shame.
Transgender models continue to make inroads in the fashion industry, but not without risk. Now they're speaking up to advocate for fair and safe working conditions.
The pandemic has motivated many who have been isolated at home or unable to leave their senior communities to learn something they may have resisted until now: how to buy groceries and more online.
As owners are forced to shut businesses, they've had to figure out what to do next. For many entrepreneurs, the answer has been anticipating the next trend and creating a company to take advantage of it.
On the surface, getting out of a car lease isn't difficult. It's the potential financial penalties for doing so that are the issue. Minimizing this financial fallout is key.
It was a lockdown well-spent for Daniel Del Core. The German designer chose the unlikely moment when the world was reeling from the coronavirus last spring to conceive a new brand, under the Italian surname he inherited from his immigrant grandfather.
Covid-19 infections from variant strains are quickly spreading across the U.S., but there's one big problem: Lab officials say they can't tell patients or their doctors whether someone has been infected by a variant.
Qantas Airways does not expect to resume international travel apart from New Zealand until late October after the Australian population is vaccinated for COVID-19, the airline's chief executive said on Thursday.
British police have fined dozens of people for breaking coronavirus restrictions after officers found 150 guests packed into an illegal nightclub in England over the weekend.