Gay Los Angeles: The Latest
NASA is rolling out the International Space Station's red carpet for Tom Cruise to make a movie in orbit.
Larry Kramer, one of the most prominent activist to the AIDS crisis in the 80s and 90s, died Wednesday in Manhattan, according to The New York Times. He was 84.
President Donald Trump on Wednesday threatened social media companies with new regulation or even shuttering after Twitter added fact checks to two of his tweets.
NBC "Tonight" show host Jimmy Fallon has apologized for doing an impersonation of fellow comic Chris Rock while in blackface during a 2000 episode of "Saturday Night Live."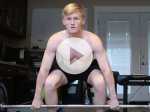 Cole Baker tackled 300 reps of six different exercises. Can you handle it, too?
The president of Zambia has announced a pardon for a same-sex couple that had been sentenced to 15 years in prison for the crime of being in a loving relationship.
Is a pandemic the perfect time to launch a new and relatively expensive streaming service? AT&T sure hopes so.
Kathy Griffin has charged back into controversy with a wisecrack about a "Syringe with nothing but air inside it" — seemingly, her prescription for the current president.
The original Fab Five of "Queer Eye" will soon face off against on the reality show's current Fab Five on an upcoming episode of "Celebrity Family Feud."
Blood clots that can cause strokes, heart attacks and dangerous blockages in the legs and lungs are increasingly being found in COVID-19 patients, including some children.

A Virginia school board defended its transgender bathroom ban before a federal appeals court, as a transgender man barred from using the boys bathroom in high school argued that the policy discriminated against him and violated his constitutional rights.
HBO Max takes to the runway in the new reality competition series "Legendary," promises to burn Paris down and bring the houses of the underground ball scene back into the mainstream!

Joe Biden has hired a national director for voter protection, a role his campaign says will focus broadly on voter rights, including the disenfranchisement of people of color amid the COVID-19 pandemic.
This is the week when America's official coronavirus death toll reaches six digits. One hundred thousand lives wiped out by a disease unknown to science a half a year ago. What does the number mean?
Hospitals around the country are afraid to send out hundreds of thousands of bills related to COVID-19 testing. That's because Congress mandated there would be no copays and no out-of-pocket costs for patients. But who's paying?
The auto alliance of Nissan and Renault said Wednesday it will be sharing more vehicle parts, technology and models to save costs as the industry struggles to survive the coronavirus pandemic.
As temperatures rise, so does the beating on our skin. Fortunately, there's an arsenal of skincare lines to tackle the daily grind.
Trump has joined the long line of those who, desperately seeking real cures, have found fakes.
Latam Airlines, South America's biggest carrier, sought U.S. bankruptcy protection Tuesday as it grapples with a sharp downturn in air travel sparked by the coronavirus pandemic.
When Mr. Gay World 2020 had to be put off to next year, the plan was for first runner-up from 2019 to serve an interim term. Then an ironic twist emerged - one with a heroic tinge.