Gay Los Angeles: The Latest
Outside the courtroom where actor Jussie Smollett is fighting charges accusing him of lying to Chicago police about being the victim of an anti-gay, racist attack, his publicist has introduced a roster of supporters to the assembled TV cameras.
A state panel agreed Monday to spend nearly $2 million to settle two federal lawsuits brought against the University of Iowa in 2017 after a religious group denied a gay student a leadership role.
The list released Tuesday identifies the words that proved most challenging for newsreaders and people on television to pronounce this year.
Best protection from the new omicron variant? Get vaccinated if you haven't yet, get a booster if you're eligible and step up other precautions you may have relaxed.
Fired CNN anchor Chris Cuomo said he's dropping his SiriusXM radio show, a decision that followed a sexual harassment allegation.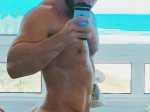 Thirst-traps have exploded in queer culture, giving every hunk the chance to share themselves to the world.
In a new interview, the "Scream" creator details how his own gay coming of age mirrors the survival rules of a horror film.
Ryan Landry and his Gold Dust Orphans have returned to their new South Boston digs with the writer/star appearing again as his iconic character, Mrs. Grinchley. This time, though, with a touch of Dickens.
In a recent interview, Hugo Weaving claims that gay actors wanted nothing to do with "The Adventures of Priscilla, Queen of the Desert." He played drag queen Mitzi Del Bra in the 1994 cult classic.
In the 1970s and 1980s, Fred Halsted was a pioneer in hardcore queer depictions on screen. EDGE spoke with film historian Elizabeth Purchell about Halsted's controversial films and career.
Last Wednesday in conjunction with World AIDS Day, German queer activist Riccardo Simonetti posted an IG of himself on the cover of Siegessäule Magazin that will likely provoke controversy. He is the European Union's LGBTQ+ goodwill ambassador.
Allan Arkush's 1983 rock-fueled comedy "Get Crazy" arrives on Blu-ray with a terrific presentation sourced from a new 2K master. This underrated films earns reassessment and deserves your attention.
Over the past 100 years, around 110 people have owned controlling portions of NFL teams. Of that select group, all but two have been white.
Vaccinating kids against COVID-19 also means reducing silent spread, since most have no or mild symptoms.

As Americans shop for the holidays, they will likely see a swarm of offers to get their gifts now but pay for them later in fixed monthly installments.
The new 2021 Bronco SUV pays homage to its predecessors and serves as an intriguing alternative to a well-known off-roading icon: The Jeep Wrangler.
Here's what to do if you still have gifts left to purchase this month.

It's been more than six months since many Americans finished their vaccination course against covid; statistically, their immunity is waning.
A Norwegian Cruise Line ship with at least 10 passengers and crew members infected with COVID-19 docked Sunday in New Orleans.
Sidetrack the Video Bar hosted their 10th Santa Speedo Run to benefit Center on Halsted, the LGBTQ+ community center. Registration began at noon and after a singalong of "Jingle Balls" participants ran a mile through Lakeview East.