1 thru 15 of 3087 Stories
It's back to the future as NASA astronauts launch again from the U.S. — aboard a retro-style "Right Stuff" capsule.
There are many legitimate concerns about how gyms and fitness studios can safely reopen without furthering the spread. But infectious disease experts say risk can be greatly mitigated.
It all started with the dream of growing a rose on Mars. That vision, Elon Musk's vision, morphed into a shake-up of the old space industry, and a fleet of new private rockets.
The first astronauts launched by SpaceX are breaking new ground for style with hip spacesuits, gull-wing Teslas and a sleek rocketship — all of it white with black trim.
When President Donald Trump doesn't like the message, he shoots the messenger. So it was when he he branded a study's researchers, financed in part by his own administration, his "enemy."
British researchers testing an experimental vaccine against the new coronavirus are moving into advanced studies and aim to immunize more than 10,000 people to determine if the shot works.
Cities around the country are taking creative steps to tame stormwater as climate change increases the number and intensity of hurricanes and other storms
Twice this week, Trump has not only dismissed the findings of studies, but suggested — without evidence — that their authors were motivated by politics and out to undermine his efforts.
As President Donald Trump pushes to reopen the country despite warnings from doctors about the consequences of moving too quickly during the coronavirus crisis, he has been lashing out at scientists whose conclusions he doesn't like.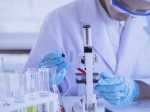 Although there was an enthusiastic response to the news, the purpose of all phase I trials is primarily to demonstrate safety and tolerability. While the early results are tantalizingly positive, what Moderna has not revealed is raising some doubts.
Cloth face masks worn during the coronavirus pandemic should be washed regularly, according to the U.S. Centers for Disease Control and Prevention.
While state media hails some of them as heroes, doctors and nurses interviewed by The Associated Press say they are fighting both the virus and a system that fails to support them.
While other countries have devised national approaches, a patchwork of efforts has emerged in the U.S. where states are left to create their own program.
Injected once every eight weeks, recent studies reveal that the drug cabotegravir safely and effectively prevents HIV acquisition in men who have sex with men and transgender women who have sex with men.
Doubts were growing on Thursday over whether ambitious plans by European governments to use contact-tracing apps to fight the spread of the coronavirus will be able to be implemented .
1 thru 15 of 3087 Stories