1 thru 10 of 6805 Stories
About 3 million businesses benefit from Europe's normally wide-open borders, helping make the continent the world's top tourism destination with half of all global arrivals.
The mouthpiece of China's ruling Communist Party said U.S. moves to end some trading privileges for Hong Kong "grossly interfere" in China's internal affairs and are "doomed to fail."
Pollution from human and agriculture waste spilling into the seas off Rome has decreased 30% during Italy's coronavirus lockdown, preliminary results from a nationwide survey of seawater quality indicate.
The European Union on Saturday urged U.S. President Donald Trump to rethink his decision to cut American funding for the World Health Organization amid global criticism of the move.
President Donald Trump announced Friday he would withdraw funding from the World Health Organization, end Hong Kong's special trade status & suspend visas of Chinese graduate students suspected of conducting research on behalf of their government.
Activists criticized a new Mexican government ad campaign on violence against women Thursday, saying it minimizes the problem and depicts women as aggressors, too.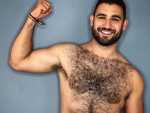 When Mr. Gay World 2020 had to be put off to next year, the plan was for first runner-up from 2019 to serve an interim term. Then an ironic twist emerged - one with a heroic tinge.
A Polish prosecutor has charged an IKEA manager with violating the religious rights of an employee sacked for voicing strong objections, within the company, to a corporate event supporting tolerance for LGBT people last year.
For LGBTQ immigrants already living tremendously marginalized and precarious lives, the deadly pandemic is adding even more layers of danger and uncertainty.
The strongman leader of Russia's province of Chechnya went live on Instagram Wednesday to insist that he was feeling well, in an apparent attempt to dispel media reports about his hospitalization with COVID-19.
1 thru 10 of 6805 Stories