Top Story
Minnesota Gov. Tim Walz apologized to CNN, saying he takes total responsibility for the arrest of one of the network's crews Friday as they reported on violent protests in Min...
1 thru 10 of 53525 Stories
The massive protests sweeping across U.S. cities following the police killing of a handcuffed black man in Minnesota have elevated fears of a new surge in cases of the coronavirus.
A Fox News reporter was pummeled and chased by protesters who had gathered outside the White House early Saturday as part of nationwide unrest following the death of George Floyd.
The Pentagon said Saturday it was ready to provide military help to authorities scrambling to contain unrest in Minneapolis.
A rocket ship built by Elon Musk's SpaceX company thundered away from Earth with two Americans on Saturday.
First-term Minneapolis Mayor Jacob Frey appeared to be doing everything right.
Overall, the cost of food bought to eat at home skyrocketed by the most in 46 years, and analysts caution that meat prices in particular could remain high.
Despite more storms in the forecast, two NASA astronauts have begun making their way to the launch pad for another attempt at a history-making ride into orbit.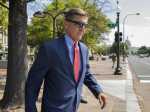 Transcripts of phone calls that played a pivotal role in the Russia investigation were declassified and released Friday.
The mouthpiece of China's ruling Communist Party said U.S. moves to end some trading privileges for Hong Kong "grossly interfere" in China's internal affairs and are "doomed to fail."
Pollution from human and agriculture waste spilling into the seas off Rome has decreased 30% during Italy's coronavirus lockdown, preliminary results from a nationwide survey of seawater quality indicate.
1 thru 10 of 53525 Stories