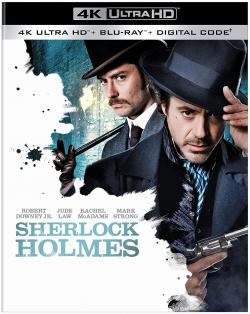 Sherlock Holmes has made his reputation finding the truth at the heart of the most complex mysteries. With the aid of Dr. John Watson, his trusted ally, the renowned "consulting detective" is unequaled in his pursuit of criminals of every stripe, whether relying on his singular powers of observation, his remarkable deductive skills, or the blunt force of his fists. But now a storm is gathering over London, a threat unlike anything that Holmes has ever confronted...and just the challenge he's looking for. After a string of brutal, ritualistic murders, Holmes and Watson arrive just in time to save the latest victim and uncover the killer: the unrepentant Lord Blackwood. As he approaches his scheduled hanging, Blackwood--who has terrorized inmates and jailers alike with his seeming connection to dark and powerful forces--warns Holmes that death has no power over him and, in fact, his execution plays right into Blackwood's plans. And when, by all indications, Blackwood makes good on his promise, his apparent resurrection panics London and confounds Scotland Yard. But to Holmes, the game is afoot. Racing to stop Blackwood's deadly plot, Holmes and Watson plunge into a world of the dark arts and startling new technologies, where logic is sometimes the best crime-fighting weapon...but where a good right hook will often do the job.

From Village Roadshow Pictures and director Guy Ritchie (Snatch, RocknRolla), Sherlock Holmes stars Academy Award™ nominee Robert Downey, Jr. (Iron Man series), Academy Award™ nominee Jude Law (The Talented Mr. Ripley), Rachel McAdams (Wedding Crashers, The Notebook) and Mark Strong (RocknRolla, Syriana, Shazam).
Enter this contest
If you already have an account with EDGE, all you need to do is log in; we'll pull your address information from your account and simply ask you to verify it. If you do not yet have an account with us, register now! It's easy and free, and you'll never have to type in your personal information again. If you prefer to enter this information manually, you can use the manual entry link below.
Register
Click here for contest rules.
* Please be aware that creating multiple accounts for the same person will disqualify you.