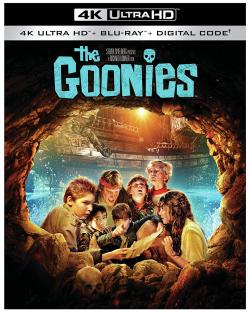 From the imagination of Steven Spielberg, The Goonies plunges a band of small heroes into a swashbuckling surprise-around-every corner quest beyond their wildest dreams! Following a mysterious treasure map into a spectacular underground realm of twisting passages, outrageous booby-traps and a long-lost pirate ship full of golden doubloons, the kids race to stay one step ahead of a family of bumbling bad guys... and a mild-mannered monster with a face only a mother could love.

The Goonies stars Sean Astin (The Lord of the Rings trilogy), Academy Award® nominee (2009) Josh Brolin (No Country for Old Men, Avengers: Endgame), Corey Feldman (The Lost Boys franchise), Martha Plimpton (TV's "Raising Hope"), Ke Huy Quan (Indiana Jones and the Temple of Doom) Joe Pantoliano (The Matrix) and Lupe Ontiveros (TV's "Lies in Plain Sight").

The Goonies was directed by Richard Donner (Superman) and written by Chris Columbus (Home Alone, Harry Potter series, Mrs. Doubtfire) from a story by executive producer Steven Spielberg. Donner produced with Harvey Bernhard (The Lost Boys) and Spielberg executive produced with Frank Marshall and Kathleen Kennedy (Indiana Jones series, Back to the Future, Curious Case of Benjamin Button).
Enter this contest
If you already have an account with EDGE, all you need to do is log in; we'll pull your address information from your account and simply ask you to verify it. If you do not yet have an account with us, register now! It's easy and free, and you'll never have to type in your personal information again. If you prefer to enter this information manually, you can use the manual entry link below.
Register
Click here for contest rules.
* Please be aware that creating multiple accounts for the same person will disqualify you.