Catch the latest reports on your favorite (or not-so-favorite) celebrities at PopUps.
Lenny Kravitz, 56, is the cover of the latest issue of Men's Health magazine where he shows off his ripped body and opens up about being a vegan as well as his friendship with ex-wife Lisa Bonet and her husband Jason Momoa.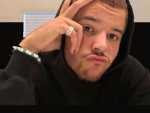 Last week, pop singer Halsey took to social media to have a word with her fans who are thirsting after her younger brother.
Rapper Macklemore, perhaps best known for his LGBTQ love song "Same Love," is looking quite different these days, and Twitter is taking notice when he showed off his new look on social media this week.
After her VMAs spectacular, Lady Gaga might be readying a new single off her latest album "Chromatica."
Justin Bieber is readying new music, just a few months after his album "Changes" was released earlier this year.
After a hiatus, Lil Nas X returned to social media Thursday to share a fabulous new selfie where he's wearing a fabulous blue button-up jacket, matching sunglasses with flames and nail polish, too.
Elton John is catching up with actor Taron Egerton, who played the iconic pop star in the biopic "Rocketman."
Gus Kenworthy seemed to have a fabulous Labor Day weekend getaway, sharing photos of himself and friends in the Utah desert — specifically Kanab, Utah and Coral Pink Sand Dunes State Park.
Justin Bieber is getting another tattoo, adding to his already massive collection of ink.
"RuPaul's Drag Race" winner Aquaria is showing off their Lady Gaga gear, including a "Chromatica"-themed jockstrap.