Review: 'Sweet Liberty' Fun on Blu-ray, but Not Much More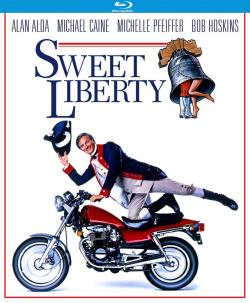 From 1972 to 1983, Alan Alda starred in the Emmy-lauded series, "M*A*S*H," based on the stingingly satiric 1970 Robert Altman film. In the late '70s Alda appeared in several critically acclaimed movies, including "Same Time, Next Year," "California Suite," and "The Seduction of Joe Tynan," which he also penned (he had written and directed a slew of episodes of "M*A*S*H).
In the decade that followed he would write and direct four films (his only efforts to date), beginning with the comedy "The Four Seasons" in 1981. His second, "Sweet Liberty," in 1986, took on Hollywood, but proved to be a rather mild satire - though it boasted a terrific cast, many of whom were in demand at the time, including Michael Caine, Bob Hoskins, and Michelle Pfeiffer.
That same year, the ubiquitous Caine starred in Woody Allen's seminal, "Hannah and Her Sisters," and would go on to win his first Oscar for Best Supporting Actor for the role. Hoskins splashed with "Mona Lisa," and would receive a Best Actor nomination and many other accolades for that role. And Pfeiffer was on the verge of superstardom; in the next two years she would appear in "The Witches of Eastwick," "Married to the Mob," and "Dangerous Liaisons" (her first Oscar nomination.) Pfeiffer followed in the footsteps of legends like Jane Fonda and Jessica Lange, who went from ingenue to acting titans.
The "Sweet Liberty" plot involves small town history professor, Michael Burgess (Alda), who wrote a book about the American Revolution that was adapted into a screenplay. The cast and crew of the film hurricane into town and take over. Much to Burgess's horror, the story has been "Hollywoodized" and many liberties have been taken with the truth, all on orders from the moronic director (Saul Rubinek). The screenwriter (Hoskins) asks Burgess to help him with the script and with getting the two leads (Caine and Pfeiffer) on board with rewrites. Things get zany from there.
The film is quite ambitious and, unfortunately, takes too mild an approach. Alda seems more interested in making sure his character romances Pfeiffer (which is wholly unbelievable and, today, creepy — even back then, it was a little creepy) than in thoroughly probing the lunatic depths of small-town life meets revisionist Hollywood. Alda was also, quite obviously, a fan of Woody Allen, but did not have Allen's wit or sense of wonder, nor his ability to imbue scenes with irony.
All this isn't to say that "Sweet Liberty" isn't enjoyable. It is. The film is worth a look just to watch Caine and Hoskins ham it up. And Pfeiffer has an extraordinary scene regarding an old diary that is just magnificent. Alda himself plays the same version of himself he always does, which is not a bad thing, just expected.
But there are so many missed opportunities. A helicopter scene should have been so much funnier. A subplot involving Burgess's mother (played by the egregiously underused icon Lillian Gish) goes absolutely nowhere. I'll never understand writer-directors who cast these truly gifted actors and then waste them!
Even when Alda tries to be daring, such as in a late scene involving nudity, he just can't bring himself to take it far enough. He does, however, manage to examine just how poorly the writer is regarded in Tinseltown. And there's a neat rollercoaster sequence!
The Kino Lorber Blu-ray looks and sounds excellent, and features the theatrical trailer and a new audio commentary by film historian/filmmaker Daniel Kremer and film historian/biographer Nat Segaloff. They provide some fascinating tidbits about the cast and filming.
For a mild diversion, and to see a trio of amazing actors (Pfeiffer, Caine & Hoskins) having some fun, pick up "Sweet Liberty." For a truly biting Hollywood satire, though, pick up Robert Altman's "The Player" instead.

"Sweet Liberty" is currently available on Blu-ray.
Frank J. Avella is a film and theatre journalist and is thrilled to be writing for EDGE. He also contributes to Awards Daily and is the GALECA East Coast Rep. Frank is a recipient of a 2019 International Writers Retreat Residency at Arte Studio Ginestrelle (Assisi, Italy), a 2018 Bogliasco Foundation Fellowship, a 2016 Helene Wurlitzer Residency Grant and a 2015 NJ State Arts Council Fellowship Award. He is an award-winning screenwriter and playwright (CONSENT, LURED, SCREW THE COW, FIG JAM, VATICAN FALLS) and a proud member of the Dramatists Guild.
https://filmfreeway.com/FrankAvella
https://muckrack.com/fjaklute
Comments on Facebook