Review: Hopkins is Sublime in 'The Father'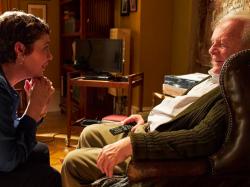 It seems that Europeans have the edge when it comes to telling elegant tales on the sensitive subject of dementia. It's hard to forget the image of Jean-Louis Trintignant and Emmanuelle Riva as the devoted elderly couple in Micheal Hanke's  "Amour," from 2012. They stole all our hearts and won every award imaginable in a drama that touched our very souls.
Now we have writer/director Florian Zeller's debut feature film "The Father," which he adapted from his award-winning play of the same name. The play has been staged in 45 countries, and when Frank Langella starred in it on Broadway in 2016, he won a Best Actor Tony.
The film stars Sir Anthony Hopkins as Anthony, a wealthy 80-year-old man who lives in a large mansion block apartment overlooking a park in central Lindon. His daughter Anne (Olivia Colman) lives nearby and visits him daily. As the film opens, she is calmly encouraging him not to fire the latest caretaker she's brought into his flat, as he has done with so many others. 
She explains she is dating a new man and is about to move to Paris. She wants to see him settled with a new support system. Anthony appears forgetful, but initially still with all his faculties, as he determinedly argues against having another stranger in the house.
However... and without giving anything away... what seems like simple drama takes on a complicated dimension. What we see on the screen from then on are really parts of Anthony's fevered imagination, which fights with his increasing dementia. For example, when we next see Anne she is played by Olivia Williams, and is now married and living with her husband in the apartment.  
Each scene  we now see switches from reality to imagination to the point that Anthony cannot tell one from the other. We just know that either way, as his condition gets worse, the chances  of it ending happily decrease by the minute. 
Hopkins is sublime in a masterful performance that is so convincing about his predicament that it sends shivers down your back. If he is not nominated for some major acting awards, then there is no justice in this world.
Colman, taking a break from her showy royal roles, turns in a finely nuanced performance as the cool, collected daughter determined to do the right thing for her troubled father. It works so superbly on screen as a balance to Hopkins' emotional roller coaster.
Full credit to the powers that be, who had the good sense to allow Zeller to film his own work (after Christopher Hampton translated it). He ensured that his exceedingly beautiful drama had us reaching for our Kleenex way too often. He also addresses the question of dementia, and dealing with elderly parents, with great dignity and sensitivity.
However, the film should carry a cautionary warning for elderly viewers, as it is possible a little too close for comfort for some of us.

"The Father" is available digitally today.
Roger Walker-Dack, a passionate cinephile, is a freelance writer, critic and broadcaster and the author/editor of three blogs. He divides his time between Miami Beach and Provincetown.
Comments on Facebook