Review: Anthony Hopkins is Miraculous in 'The Father'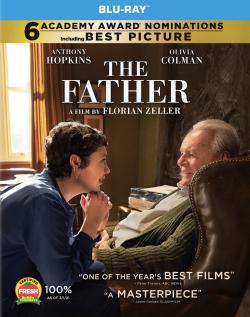 Anthony Hopkins was the surprise winner for Best Actor at this year's Academy Awards for "The Father," and as much as my vote would have gone to Chadwick Boseman, Hopkins earned his honor.
"The Father" dares to take us into the mind of a man who is losing his, becoming lost in confusion, disorientation, and desperation. Hopkins is nothing short of miraculous as an elderly man struggling with dementia.
This masterful gem is director and co-writer Florian Zeller's first feature, yet it has the feel of a work crafted by a seasoned pro. Zeller paints a real and heartbreaking portrait without facile manipulations but with grace and honesty and a keen eye to every detail.
The Oscar-winning screenplay by Zeller and Christopher Hampton ("Dangerous Liaisons") peels back all the protective layers and delves into the surreality and endless loops, memory lapses, and timefucks that are ever present in the head of their protagonist. It's a difficult sit for anyone who's had a loved one suffer from dementia or Alzheimer's (check and check), but it is also familiar, oddly comforting, and often funny — like revisiting a place where those memories are stashed, allowing them to become less painful.
Olivia Colman, who received her second Oscar nomination for "The Father" after winning for "The Favourite," is a wonder to watch, from her opening credits walk to the close ups of her increasingly distraught face as she watches a man she adores begin to crumble and dissolve.
Mark Gatiss, Imogen Poots, Rufus Sewell, and Olivia Williams are also superb.
The importance of the cinematography (by Ben Smithard), production design (Oscar nominee Peter Francis), and editing (Oscar nominee Yorgos Lamprinos) in a film like this cannot be overstated. It's the subtleties that astound.
Sony Pictures Entertainment has done a fine job with the Blu-ray. The transfer is terrific in both visuals and sound; Hopkin's character loves to listen to opera, which is wonderfully highlighted on the soundtrack.
"To me writing is like dreaming," French novelist turned playwright turned screenwriter/director, Zeller says in one of three excellent Special Features on the Blu-ray. Besides two short featurettes, the disc includes a handful of powerful Deleted Scenes that boast great work by Colman.
"The Father" is a must-see, if only to experience two of the finest actors shine brightly in award-caliber work. And the Best Picture nominee will also make your heart hurt... in all the ways that matter.
Blu-ray, DVD and Digital Bonus Materials
Deleted Scenes

Homecoming: Making "The Father"

Perception Check: Portrait of "The Father"

"The Father" is currently available on Blu-ray, DVD and digital platforms.
Frank J. Avella is a film and theatre journalist and is thrilled to be writing for EDGE. He also contributes to Awards Daily and is the GALECA East Coast Rep. Frank is a recipient of a 2019 International Writers Retreat Residency at Arte Studio Ginestrelle (Assisi, Italy), a 2018 Bogliasco Foundation Fellowship, a 2016 Helene Wurlitzer Residency Grant and a 2015 NJ State Arts Council Fellowship Award. He is an award-winning screenwriter and playwright (CONSENT, LURED, SCREW THE COW, FIG JAM, VATICAN FALLS) and a proud member of the Dramatists Guild.
https://filmfreeway.com/FrankAvella
https://muckrack.com/fjaklute
Comments on Facebook