Review: 'The Last Married Couple In America' Falls Short of Greatness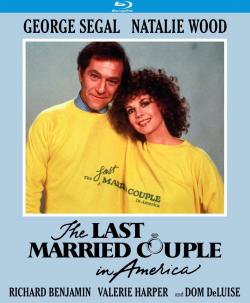 In 1969, Natalie Wood starred in "Bob & Carol & Ted & Alice," Paul Mazursky's stinging social satire that seemed to capture the zeitgeist of the changing times. The film was about two married couples that were wanting/being pressured to dip their toes into the sexual revolution. The genius of the film, besides the great performances, was the keen and biting screenplay (by Mazursky).
I'm sure Gilbert Cates was hoping lightning would strike twice when, a decade later, he cast Wood in "The Last Married Couple in America," opposite George Segal. The film's premise certainly showed a great deal of promise, it being that marriage had become antiquated with everyone around our central California-comfortable couple, Mari and Jeff (Wood and Segal), either on the skids or just kaput -or, oh, sleeping around with everyone else. The problem: Cates was no Mazursky and, more importantly, the screenwriter John Herman Shaner ("Goin' South," "The Island of Dr. Moreau") was, also, no Mazursky.
This doesn't mean the film doesn't have its share of funny, offbeat, and wonderful moments, as well as a grounded and lovely performance by the always-underrated Wood. (And this was the last completed theatrical release before her untimely and tragic death in 1981.)
Wood started out as an extraordinary child actress ("Tomorrow is Forever," "Miracle on 34th Street") before graduating to teen roles ("Rebel Without a Cause," "The Searchers") and being among the few (with thesp-friends Roddy McDowall and Elizabeth Taylor) who graduated to celebrated adult roles ("Splendor in the Grass," "West Side Story," "Love with the Proper Stranger"). She would amass three Oscar nominations and then take a bit of a hiatus (to raise her family). At the time of "Last Married Couple," she was entering a new, exciting phase doing great work on television ("The Cracker Factory," "From Here to Eternity"), and proving she had the chops of a Faye Dunaway when need be.
What is also interesting about Wood is that her performances were sometimes erratic, unless she had the right director to guide her. (I think this can be argued about most gifted actors).
George Segal, who we just recently lost, splashed in 1966 in Mike Nichol's "Who's Afraid of Virginia Woolf?" (his lone Oscar nomination) and went on to work with some of the top female actors in Hollywood, including Barbra Streisand ("The Owl and the Pussycat"), Glenda Jackson ("A Touch of Class"), Marsha Mason ("Blume in Love"), Goldie Hawn ("The Duchess and the Dirtwater Fox"), and Jane Fonda ("Fun with Dick and Jane"). So, his pairing with another screen goddess was no surprise.
Director Cates would cut his teeth in features ("I Never Sang for My Father," "Summer Wishes, Winter Dreams") before settling into some great TV work ("Consenting Adult," "Absolute Strangers"), where his sensibilities were more appropriate. He went on to produce numerous Oscar broadcasts. Here he does his best with the material he has.
The film is a series of amusing episodes (chief among them, Valerie Harper's seduction of Segal and the gift she leaves him with) blended with missed opportunities (the party climax) with a facile, TV-movie message. And that's the main problem with "The Last Married Couple in America." It feeds audiences the same bullshit that old Hollywood comedies did for eons (but the classic comedies did it with much more style and finesse): That fidelity is key to any relationship's success, and seeking outside sex always leads to unhappiness (and, in this case, impotence). Okay, but does fidelity always yield bliss? Cates and Shaner refused to see outside the claustrophobic box they created for themselves — especially at the end of such a tumultuous decade (the '70s).
Segal is excellent, and Harper makes the most of her small role. The film boasts an impressive supporting cast that includes Richard Benjamin, Dom DeLuise, Bob Dishy, Marilyn Sokol (always abrasively good), as well as Mark Lonow and Sondra Currie (in a scene that should have been wilder than it was). But Wood is the real reason to watch.
The theme song, "We Could Have It All," sung by Maureen McGovern, is an added pleasure, and was apparently a hit in 1980.
Kino Lorber does a nice job with the Blu-ray.
The only Special Features are the theatrical trailer and a new, fact-filled Audio Commentary by film Historian Lee Gambin.
"The Last Married Couple in America" is most notable for Natalie Wood showing off her comedic gifts. One could only imagine what she might have done with a "Foul Play" or a "Same Time Next Year." Sadly, we will never know, but her standout screen performances in otherwise forgettable films proves she had the chops necessary to sustain a long and illustrious career — had she lived.

"The Last Married Couple in America" Blu-ray is available May 4, 2021.
Frank J. Avella is a film and theatre journalist and is thrilled to be writing for EDGE. He also contributes to Awards Daily and is the GALECA East Coast Rep. Frank is a recipient of a 2019 International Writers Retreat Residency at Arte Studio Ginestrelle (Assisi, Italy), a 2018 Bogliasco Foundation Fellowship, a 2016 Helene Wurlitzer Residency Grant and a 2015 NJ State Arts Council Fellowship Award. He is an award-winning screenwriter and playwright (CONSENT, LURED, SCREW THE COW, FIG JAM, VATICAN FALLS) and a proud member of the Dramatists Guild.
https://filmfreeway.com/FrankAvella
https://muckrack.com/fjaklute
Comments on Facebook