Review: Quirky 'French Exit' Frustrates, Charms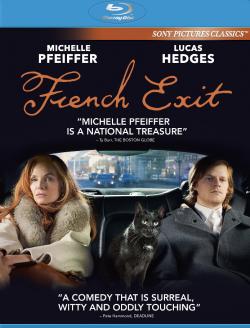 A cross between the quirky-quirk characters of Wes Anderson and the drolly quirky banter of Whit Stillman, the new Michelle Pfeiffer-led comedy "French Exit" is equal parts frustrating and oddly compelling.
With an arch performance by Pfeiffer that is fascinating when it doesn't feel too crafted, there is something here to find yourself invested in, even if the characters drive you mad.
Based on the book by Patrick DeWitt (who wrote the screenplay), the film follows widowed New York socialite Frances Price (Pfeiffer), who finds out she has no money left and is up shit's (or Schitt's) creek. Her twenty-something son Malcolm (Lucas Hedges) has secretly gotten engaged to a girl named Susan (Imogen Poots), whom he's unclear if his mother will approve of.
Before he can tell her his plans, Frances is offered her friend Joan's (Susan Coyne) apartment in Paris to live in for free while she sells everything she owns and figures out her next move. She lets Malcolm know they are broke and moving, and, in sort of an apathetic haze, he joins her.
Let this be known as the second film this winter season that has Hedges on a trans-Atlantic cruise with a family member (the other being "Let Them All Talk) as he and his mother set sail to Paris via an ocean liner. There, he meets Madeleine the Medium (Danielle Macdonald), who has the unusual gift of foretelling when people will die.
Once in Paris, mother and son reluctantly meet up with an old acquaintance from the States, a Mme. Reynard (a wonderfully goofy Valeri Mahaffey), who immediately befriends them whether they want the friendship or not. Meanwhile, Frances has stacks of money she starts to blow through, which makes some those surrounding her worry about what she might be planning.
The script, by DeWitt, has a playful air about it, and it is a joy to see Pfeiffer on screen again. The role can, at times, come across as over-the-top, but as the film progresses she pacifies this in scenes where we find out her true feelings and motivations.
The entire affair seems slightly off-putting at first, as everyone talks a bit strangely and they all seem a bit too cool and awkward to be real. That said, you can't be anything other than riveted by Pfeiffer. What becomes more interesting as the movie moves through its second act are the characters around the periphery that wind up completing a surprising ensemble. They are all charming, weird, and endlessly entertaining.
DeWitt and director Azazel Jacobs have so much to say about expectation, social status, acceptance, empathy, and choice that the script feels too much like the book, in that it covers a lot of territory. But at the same time, it ends up feeling cozy and satisfying.
"French Exit" won't be for everyone, but everyone will be able to appreciate the droll, callous, haughty performance by Pfeiffer, who hasn't made this big of an impression on film since her days as Catwoman or as lounge singer Susie Diamond in "The Fabulous Baker Boys. Let's hope she doesn't make a French exit anytime soon.
"French Exit" arrives on BLU and DVD June 15
Kevin Taft is a screenwriter/critic living in Los Angeles with an unnatural attachment to 'Star Wars' and the desire to be adopted by Steven Spielberg.
Comments on Facebook