Gay Los Angeles: The Latest
Christopher Meloni says he's embracing his "zaddy" status "to the best of my ability," even though, Meloni joked, "Maybe I'm the zaddy of the moment. And I humbly accept that, thank you!"
Welcome to EDGE's New Music Friday, our guide to the best singles and albums released every week! This quiet week brings us new releases from Elton John and Charlie Puth, Coldplay and BTS, Alessia Cara and more.
What looks to be a must-see production in London next year is "Cock," a revival of Mike Bartlett's 2009 play that stars Brit actors Taron Egerton and Jonathan Bailey.
We are proud to announce the 30th anniversary of the BENT LGBTQ Film Festival.
Lil Nas X took to Twitter to answer some questions about his highly anticipated album and revealed he hoped for collaborations with Lady Gaga and Nicki Minaj.
A veteran TV news executive says CNN anchor Chris Cuomo sexually harassed her by squeezing her buttocks at a party in 2005.
A DoorDash delivery driver in Sandwich, Massachusetts has been charged after scrawling harassing comments on the wrapping paper of a Subway sandwich order he delivered to a gay couple.
Though many up-and-coming drag queens would love to be a "Ru girl," a unique drag identity is emerging from Denmark's capital of Copenhagen. Here, the scene fuses performance and activism.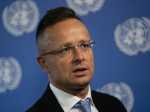 The right-wing populist government in Hungary is attracting conservative thinkers from the United States who admire its approaches to migration, LGBTQ+ issues and national sovereignty.
A movie year of fits-and-starts, delays and reversals has sometimes been difficult to track. Knowing just where and how a new movie premieres has become a sport of its own.
A short-term regimen of daily pills that can fight the virus early after diagnosis and conceivably prevent symptoms from developing after exposure is in development.
This ten-episode adaptation of Isaac Asimov's sci-fi classic becomes an intense thrill ride that's carried along by exquisite design work and suspenseful character arcs.
The Justice Department and officials in six states have filed a lawsuit to block a partnership formed by American Airlines and JetBlue, claiming that it will reduce competition and lead to higher fares.
A 12-year-old is going viral for taking a stand against homophobia in gaming and being an example of LGBTQ allyship we all need.
Here are some options to use your rewards from credit cards or hotels to help pay for your next vacation rental.

Which one of these hot hatches is the better buy? Edmunds' experts put the two speedy compacts head-to-head to determine a winner.
Milan is once again basking in the joy of snarled traffic for Milan Fashion Week, a sneak peek at what real normalcy might look like one day.
Hospitals and nursing homes in New York are bracing for the possibility that a statewide COVID-19 vaccine mandate for health care workers could lead to staff shortages when it takes effect Monday.
Marketed as "Virgin Voyages — No Kids, No Kidding," the adult-only (18+) ship, in many ways, departs from traditional ship design. EDGE sent our travel editor for a firsthand look.
Princesses, Queens, Princes and Kings of the rainbow community took over Disneyland Resort Anaheim for a special weekend full of friends, fun, and plenty of Disney rainbow merchandise.