Top Story
Israeli researchers raised a glass Wednesday to celebrate a long-brewing project of making beer and mead using yeasts extracted from ancient clay vessels —some over 5,000 yea...
SpaceX has launched 60 little satellites, the first of thousands that founder Elon Musk plans to put in orbit for global internet coverage.
An autistic man walks out of a store without paying for a toy he picked up. He's followed by a storekeeper demanding he come back inside. The situation quickly escalates, and police are called.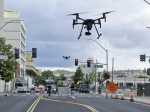 NASA has launched the final stage of a four-year effort to develop a national traffic management system for drones, testing them in cities for the first time beyond the operator's line of sight.
Facebook removed more than 3 billion fake accounts from October to March, twice as many as the previous six months, the company said Thursday. Nearly all of them were caught before they had a chance to become "active" users of the social network.
The dating app is getting an overhaul thanks to Taimi App, which aims to reimagine how members of the LGBTQ connect to one another.