Top Story
While we in the 21st century can only wait for the day when our contributions to society take precedence over the private matter of who we love and marry, gay gingers can find in R...
A woman whose father was executed for murder in Tennessee 13 years ago asked a judge on Monday to order the testing of DNA evidence in the case.
Democratic presidential candidate Elizabeth Warren has escalated her tiff with Facebook by running an ad — on Facebook — taking aim at its CEO, Mark Zuckerberg.
The federal government has been trying for decades to save the northern spotted owl, a native bird that sparked an intense battle over logging across Washington, Oregon and California decades ago.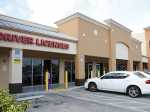 The U.S. Census Bureau is asking states for drivers' license records that typically include citizenship data after the U.S. Supreme Court blocked plans to include a citizenship question in its 2020 population count.
The world's largest 3D printer has created the world's largest 3D-printed boat. And the University of Maine demonstrated Thursday that it's seaworthy.