Top Story
Alabama Public Television has chosen not to air an episode of the PBS children's show "Arthur" because it included a same-sex wedding.
1 thru 10 of 48421 Stories
Texas Gov. Greg Abbott has signaled he will sign legislation that Republicans say is a defense of Chick-fil-A and religious freedom, but gay lawmakers sometimes tearfully railed against it on the House floor as a license to discriminate.
The shooting deaths of two transgender women and the stabbing of a third are being investigated to determine whether they are connected, police in Dallas said Tuesday.
One of Africa's best-known authors and gay rights activists, Binyavanga Wainaina, has died at age 48, a colleague and friend said Wednesday.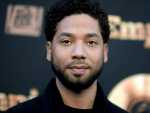 A former judge who wants a special prosecutor appointed in the Jussie Smollett case is back in court with new motions to obtain her goal.
The discovery of handwritten wills in the home of the late Aretha Franklin could ignite a dispute among family members about the estate of the "Queen of Soul."
More Democrats are calling — and more loudly — for impeachment proceedings against President Donald Trump after his latest defiance of Congress by blocking his former White House lawyer from testifying.
North Korea has labeled Joe Biden a "fool of low IQ" and an "imbecile bereft of elementary quality as a human being" after the U.S. presidential hopeful called North Korean leader Kim Jong Un a tyrant during a recent speech.
Administrators at Ohio State University should release the names of all coaches, trainers and personnel who knew of but failed to act on complaints about a now-dead team doctor who sexually abused male students for nearly two decades.
Dozens of students walked out ahead of Vice President Mike Pence's commencement speech at Taylor University Saturday.
The battle for Cuba's economic future is being waged on its beaches. And at its all-inclusive resorts, dive sites and cobblestoned colonial plazas.
1 thru 10 of 48421 Stories