PopUps: In Vogue Interview, Justin Bieber Says He Had 'a Legitimate Problem with Sex'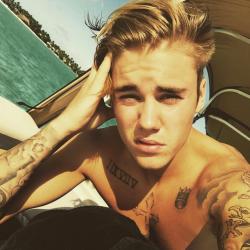 Justin Bieber and his wife, model Hailey Bieber, are covering the March issue of Vogue and the "Sorry" singer opens up about his addictions, including sex.
During his most troubled times, which were notably covered by tabloids and gossip publications, Justin explained he was using Xanax, which Vogue writes "allowed him to somnambulate through a social life never squared with his upbringing."
"I found myself doing things that I was so ashamed of, being super-promiscuous and stuff, and I think I used Xanax because I was so ashamed," he told the magazine. "My mom always said to treat women with respect. For me, that was always in my head while I was doing it, so I could never enjoy it.
"Drugs put a screen between me and what I was doing. It got pretty dark," the singer added. "I think there were times when my security was coming in late at night to check my pulse and see if I was still breathing."
Justin also opened up about having an addiction to sex. After breaking up with Hailey, they reconnected last June when Justin was more than a year into being completely celibate — something the singer chose on his own. He told Vogue he had "a legitimate problem with sex" and it was his last remaining vice — an addiction that no longer gave him pleasure. Justin explained that not having sex was a way for him to feel closer to God.
"He doesn't ask us not to have sex for him because he wants rules and stuff," he told the magazine. "He's like, I'm trying to protect you from hurt and pain. I think sex can cause a lot of pain. Sometimes people have sex because they don't feel good enough.
"Because they lack self-worth. Women do that, and guys do that," Justin continued. "I wanted to rededicate myself to God in that way because I really felt it was better for the condition of my soul. And I believe that God blessed me with Hailey as a result. There are perks. You get rewarded for good behavior."
Later on, Justin explains one reason why he and Hailey married so quickly was the desire to have sex again. But that's not all.
"When I saw her last June, I just forgot how much I loved her and how much I missed her and how much of a positive impact she made on my life. I was like, Holy cow, this is what I've been looking for," he told Vogue.
It should be noted that Justin is one of the most prominent members of Hillsong, an Australian megachurch that also operates in New York City and has a number of celebrity members. There, he met Pastor Carl Lentz in 2014 and the two formed a close bond and Lentz is often credited to getting Bieber back on the right track.
Elsewhere in the Vogue interview, the couple talks about being homebodies, their marriage, Justin's wild days, the music industry and more. Click here to read it in full.

This story is part of our special report titled "PopUps." Want to read more? Here's the full list.
Comments on Facebook