Top Story
Aaron Schock is back in the news for being photographed at a LA gay hang out with a Speedo-clad companion.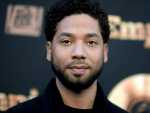 A former judge who wants a special prosecutor appointed in the Jussie Smollett case is back in court with new motions to obtain her goal.
Twenty-five years after premiering "Pulp Fiction" in Cannes, Quentin Tarantino returned to the French film festival with neither great vengeance nor furious anger but a gentler fairy tale about 1960s Los Angeles.
Following in the lucrative footsteps of "Beauty and the Beast" and others, Disney is taking another shot at "Aladdin," this time in live-action. The film, from director Guy Ritchie, opens nationwide Friday.
In its last blast, "The Big Bang Theory" topped the TV ratings by a light-year.
The discovery of handwritten wills in the home of the late Aretha Franklin could ignite a dispute among family members about the estate of the "Queen of Soul."