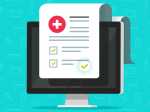 The U.S. government claimed that ditching paper medical charts for electronic records would make health care better, safer and cheaper. Ten years and $36 billion later, the digital revolution has gone awry.
"Game of Thrones" actress Emilia Clarke revealed Thursday that she has had two life-threatening aneurysms, and two brain surgeries, since the show began.
Every year, hundreds of pregnant Russian women travel to the United States to give birth so that their child can acquire all the privileges of American citizenship.
Medicines proven to treat opioid addiction remain vastly underused in the U.S., the nation's top medical advisers said earlier this week.
The Trump administration and coal industry allies are insisting that a federal black lung trust fund will continue to pay benefits to sick miners despite a drastic cut in funding.
Gov. Phil Bryant says he's not worried about lawsuits as Mississippi prepares to enact one of the strictest abortion laws in the nation.
Contracts with so-called restrictive covenants are now common in medicine, although some states limit their use.
Wendy Williams says she's living in a "sober house" because of addiction struggles.
Infectious diseases — some that ravaged populations in the Middle Ages — are resurging in California and around the country, and are hitting homeless populations especially hard.
While studies have shown that straight teeth and a nice smile have a positive effect on self-esteem, social interactions and job prospects, the numerous health benefits received as a result of wearing braces shouldn't be discounted, orthodontists say.