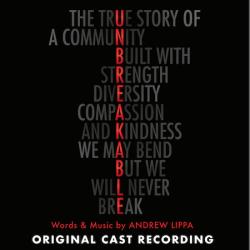 Ghostlight Records has announced the release of Unbreakable — Original Cast Recording in physical, digital and streaming formats on Friday, February 8. Spanning 120 years of unsung history, Unbreakable is an epic choral work exploring the gay experience in America through the words and music of Andrew Lippa. It was recorded live at its world premiere featuring The San Francisco Gay Men's Chorus with soloists Britney Coleman, Marcus J. Paige, Lisa Vroman, and Andrew Lippa at Nourse Theater in San Francisco, CA in June 2018. The CD package includes a 36-page booklet with full lyrics, performance photos, a synopsis, and liner notes from show producer and Academy Award-winner Bruce Cohen. The album is produced by multiple Grammy Award-winner Leslie Ann Jones, with Andrew Lippa serving as executive producer. Pre-order the album at ghostlightrecords.com/unbreakable-original-cast-recording.html

Unbreakable will be presented by ten more choruses across the country in the 2019-2020 season.

Focusing on a curated selection of stories throughout American LGBTQ history from 1900 through the present day — inspired by the African American playwright August Wilson, who wrote a collection of 10 plays chronicling the black experience in the 20th century — Unbreakable is a heartrending and ultimately triumphant look at where we've been, what we've come through, and who we are today. Most of all, Unbreakable is a tribute to the perseverance and power of a people who would not be defeated and could not be broken.

Unbreakable features subjects including Harvard's "Secret Court" of 1920, the life of transgender and gay activist Sylvia Rivera, The Lavender Scare, the remarkable work of Nobel Peace Prize winner Jane Addams, and Bayard Rustin, a black gay social-justice advocate who worked alongside Martin Luther King, Jr.

Lippa explains: "Unbreakable is celebration; it is derision; it is memory; it is aspiration; it is wholeness and brokenness and loss and suicide and disease and triumph and creativity and joy. It is us. Unbreakable is a 14-movement experience in words and music, filled with powerful yet sometimes forgotten figures. It is filled with the kind of singing that can move mountains and the kind of singing that can break hearts. Unbreakable is, at its core, an evening about hope and family, about belonging and believing, about trusting in change and knowing that, in time, it comes."

"To be Unbreakable means you are made of something strong," he continues. "Our gay community IS made of that kind of strength. Throw your worst at us: misguided law; disease; derision; dismissal. We will always rise. We will always hold hands and remind you we are, and always have been, Unbreakable."

Enter to win!

Thanks for visiting EDGE!
Enter this contest
If you already have an account with EDGE, all you need to do is log in; we'll pull your address information from your account and simply ask you to verify it. If you do not yet have an account with us, register now! It's easy and free, and you'll never have to type in your personal information again. If you prefer to enter this information manually, you can use the manual entry link below.
Register
Manual Entry
Click here for contest rules.
* Please be aware that creating multiple accounts for the same person will disqualify you.