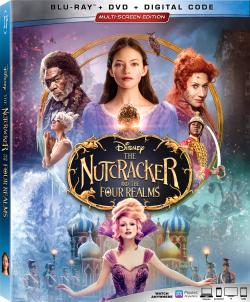 Disney's "The Nutcracker and the Four Realms"

The Stunning, Magical Adventure Arrives Home on Digital and on Blu-ray™ Jan. 29

Disney's dazzling adventure "The Nutcracker and the Four Realms"- inspired by E.T.A. Hoffmann's classic tale and the beloved ballet "The Nutcracker"- carried audiences along with 14-year-old Clara (Mackenzie Foy) to a magical, mysterious world with breathtaking performances by Misty Copeland plus sweets, snowflakes, soldiers, scurrying mice... and no shortage of surprises. Destined to become an annual viewing tradition for adventurers of all ages, the film arrives home instantly with never-before seen extras and deleted scenes on Digital and Movies Anywhere, and on 4K Ultra HD, Blu-ray™ and DVD Jan. 29, 2019.

Bonus features include a discussion with American Ballet Theatre's Misty Copeland about her role as the enchanting Ballerina Princess, her personal history with "The "Nutcracker" ballet, and her inspirational and historic rise within the world of dance. Extras take viewers on the set of "The Nutcracker and the Four Realms" to meet both new and reimagined characters, and discover how the Land of Sweets, Land of Snowflakes, Land of Flowers and mysterious Fourth Realm were created to such dazzling effect. Deleted scenes provide a look at magical moments that didn't make the final version of the movie.

In "The Nutcracker and the Four Realms," Clara travels along a golden thread, presented at Drosselmeyer's (Morgan Freeman) annual party, eagerly searching for a one-of-a-kind key that will unlock a music box that holds a priceless gift. When she enters a mysterious parallel world, Clara encounters a Nutcracker soldier named Phillip (Jayden Fowora-Knight), a gang of mice and three Realm regents, including the Sugar Plum Fairy (Keira Knightley). Ultimately, she must brave the ominous Fourth Realm, home to the tyrant Mother Ginger (Helen Mirren), to retrieve the key and return harmony to the unstable world.

The stunning feature film will be packaged and released in several different formats, giving families the flexibility to watch it on a variety of different devices. Viewers can instantly watch the film in Digital UHD, HD and SD, and bring home a physical copy of the film as the Ultimate Collector's Edition (4K UHD, Blu-ray and Digital Code), Multi-Screen Edition (Blu-ray, DVD and Digital Code) or a single DVD.

Movies.Disney.com/the-nutcracker-and-the-four-realms

Enter to win!

Thanks for visiting EDGE!
Enter this contest
If you already have an account with EDGE, all you need to do is log in; we'll pull your address information from your account and simply ask you to verify it. If you do not yet have an account with us, register now! It's easy and free, and you'll never have to type in your personal information again. If you prefer to enter this information manually, you can use the manual entry link below.
Register
Manual Entry
Click here for contest rules.
* Please be aware that creating multiple accounts for the same person will disqualify you.