Under international pressure to contain fires sweeping parts of Brazil's Amazon, President Jair Bolsonaro on Friday authorized use of the military to battle the huge blazes while thousands took to the streets to protest his environmental policies.
A white Florida man who told detectives he had a "pet peeve" about illegal parking in handicapped spots was convicted late Friday of manslaughter for the fatal shooting of an unarmed black man outside a convenience store.
Construction crews broke ground Thursday on a small portion of the $664 million border fence project in the Arizona desert that is funded through President Donald Trump's national emergency declaration.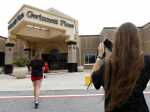 Soon after Netflix released "Stranger Things," fans of all ages came into Bradley's Big Buy grocery store in Palmetto, Georgia, dressed like characters from the show, and wandered toward the Eggo waffles aisle, cameras in hand.
President Donald Trump launched a furious and highly personal Twitter attack Friday against the Federal Reserve and Chairman Jerome Powell, fuming that the Fed once more "did NOTHING!" and wondering who is "our bigger enemy" — Powell or China's leader.
A federal appeals court on Friday reinstated a lawsuit filed by two Minnesota filmmakers who want the right to refuse to film same-sex weddings, saying that videos are a form of speech with constitutional protections.
Federal appeals judges have upheld a ruling that the state of Kentucky must pay $224,000 in legal expenses stemming from a former county clerk's refusal to issue same-sex marriage licenses.
A city council candidate in Michigan said Friday she has no plans to end her campaign after shocking a public forum when she said she wants to keep her community white "as much as possible."
When Donald Trump floated the idea of buying Greenland, it was met with derision, seen as an inappropriate approach of an erstwhile ally. But it might also be an Aladdin's Cave of oil, natural gas and rare earth minerals just waiting to be tapped.
"On Becoming a God in Central Florida," starring Kirsten Dunst and debuting on Showtime Sunday, is a twisted take on the American dream.