City officials say a tiger mauled a zookeeper at the Topeka Zoo in northeastern Kansas. A Sumatran tiger named Sanjiv tackled the worker in an enclosed outdoor space.
The ex-neighborhood watch volunteer who killed an unarmed black teen in Florida in 2012 has been banned from the dating app Tinder. An emailed statement from Tinder cited users' safety as a reason for removing George Zimmerman's profile.
The outpouring of aid that once greeted Central American migrants as they trekked in caravans through southern Mexico has been drying up.
At an Easter vigil in St. Peter's Basilica, Pope Francis on Saturday encouraged people to resist cynicism or pursuing the "glitter of wealth," and to avoid seeking life's meaning in "things that pass away."
Sen. Mitt Romney says he's "sickened" by the dishonesty the Russia investigation found in the Trump White House, but the president fires back that Romney should have put the same energy into running for president in 2012.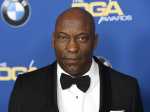 "Boyz N the Hood" director John Singleton suffered a stroke last week and remains hospitalized, according to his family. Additional details, including his condition, were not immediately available.
Seven Utah lawyers are violating rules of conduct because they are polygamists, according to a new complaint filed with the Utah Bar Association.
Nationwide physician-staffing company EmCare says a breach exposed personal data for about 31,000 patients, including in some cases their Social Security numbers and clinical information.
A Washington state lawmaker has angered nurses and spawned a flurry of viral hashtags and memes on social media by saying that some nurses may spend a lot of time playing cards in small, rural hospitals.
A man suspected of involvement in a mysterious dissident group's February raid on North Korea's Embassy in Madrid was arrested in Los Angeles by U.S. authorities.