Britain has just a few weeks to break its Brexit impasse, with the fate of the country's departure from the European Union, and of Prime Minister Theresa May, both hanging in the balance.
The nation's business economists foresee a sharp slowdown in U.S. economic growth over the next two years, in sharp contrast to the Trump administration's predictions that growth will accelerate this year and next.
Hugh Jackman says he's looking forward to coming back to Broadway next year as a classic roguish traveling salesman in a play he first performed in as a teenager.
Ryan Murphy's first show for Netflix, the satirical comedy "The Politician," just got an extra dose of star power.
Schoolteacher raises of $5,000 are on the table in Texas — a proposed pay hike that ranks among the biggest in the U.S. since a wave of teacher unrest began last year. But protests aren't why the money is suddenly available.
Norwegian officials said Monday they have opened an investigation into why a cruise ship carrying more than 1,300 people set sail despite storm warnings, forcing a major evacuation.
A vintage plane that went from flying passengers in the 1950s to running drugs in the 1970s visited Times Square on Saturday before its next transformation into a cocktail lounge at the former TWA terminal at Kennedy Airport.
Complications and even deaths of several out-of-state women in recent years have spiked concerns over safety of the cosmetic procedures, prompting a bill before the Florida Legislature this year to impose stricter regulations.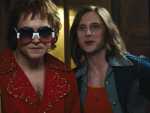 The director of the Elton John biopic "Rocketman" took to Twitter to address rumors that a gay sex scene was cut from the film.
U.S. health officials are taking another look at the safety of breast implants, the latest review in a decades-long debate.