1 thru 10 of 116413 Stories
Disney kicked things off with "Star Wars," revealing glimpses of some new footage from "Star Wars: Episode IX — The Rise of Skywalker." The film, which hits theaters Dec. 20, ends the Skywalker saga that began over 40 years ago.
President Donald Trump heads into a summit with global economic powers confronting the consequences of his preference for going it alone in a polarized nation and an interconnected world.
Trump has built a crew of economic advisers known more for their allegiance to him than their policy chops.
Barely a year after most of the world's major countries were enjoying an unusual moment of shared prosperity, the global economy may be at risk of returning to the rut it tumbled into after the financial crisis of 2007-2009.
Texas' muscular gun-rights lobby swiftly pushed back after Gov. Greg Abbott raised the possibility of tighter firearms laws in response to a gunman killing 22 people at an El Paso Walmart.
From the economy to veterans and immigration, Trump routinely claims achievements of former president Barack Obama as fully his own or distorts the truth to undermine the Democrat's legacy. On problems uniquely his own, Trump deflects.
Democratic voters appear to be reassessing their approach to health care, a pragmatic shift on their party's top 2020 issue.
The Democratic presidential field is shrinking but not quickly enough to ward off the prospect of a long, bruising fight for the nomination.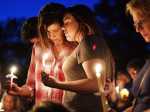 Family members and police routinely face agonizing decisions when otherwise lawful gun owners reveal an impulse to harm themselves or others, and a more states are enacting laws that let authorities take away their weapons.
A healthy population of red-legged frogs is hopping in Yosemite National Park, helped by a reintroduction program with the San Francisco Zoo.
1 thru 10 of 116413 Stories